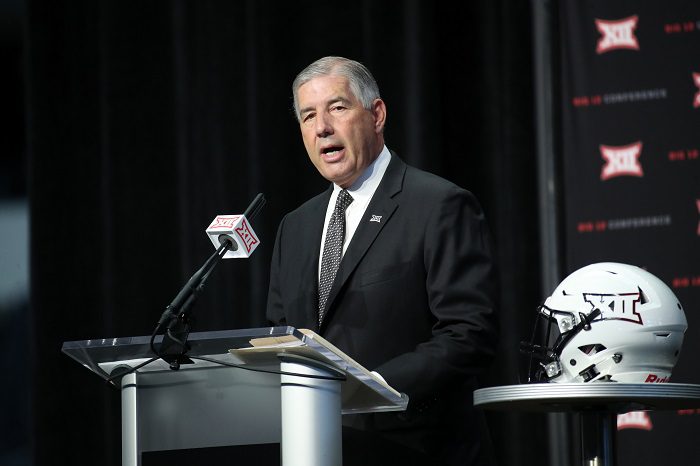 Big 12 commissioner Bob Bowlsby has been through one whale of a year. In July, Oklahoma and Texas made it known that they, the flagship programs of this conference, would be leaving for the SEC. In September, the Big 12 voted to accept BYU, Cincinnati, Houston, and UCF into the conference to replace OU and UT.
Now, Bowlsby is getting the last laugh, because Texas just had one of the worst seasons in its entire history and Oklahoma has just lost its head coach and will not be in the Big 12 Championship game for the first time since it was brought back in 2017.
During an interview today on SiriusXM Radio, Bowlby was asked about the Lincoln Riley and Brian Kelly moves, and Ross Dellinger of SI Now transcribed his response:
"Those were certainly surprises. Coach Riley had been mentioned in conjunction with the LSU position, and I really thought that there wasn't much credence to that because I just, I know what a fine guy Lincoln Riley is. He's an outstanding coach, obviously, but he's a high-quality person and he is mature beyond his years. And so, you know, it was a little bit surprising for me that he jump ship (for USC), but I wasn't surprised that he wasn't interested in the LSU position because culturally that's just not what Lincoln is. And I was frankly surprised by the Brian Kelly move."
Don't drop the mic too hard Bob, you might break it. Obviously, the LSU job is not in high regard in Bowlsby's mind, but it's hard to blame him based on their track record.
Nonetheless, Bob Bowlsby continues to make the most of his 2021, despite the odds being stacked against him mid-year.