Baylor Bears
Baylor Freshman QB Blake Shapen Sets a Big 12 Championship Game Record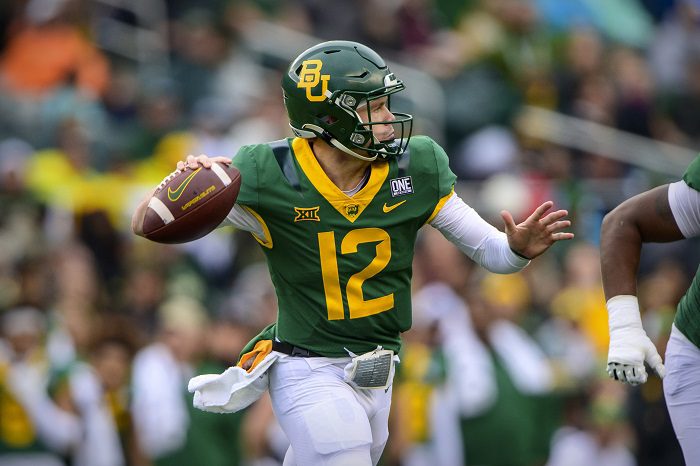 The Baylor Bears went into halftime with a 21-6 lead over the Oklahoma State Cowboys in the 2021 Big 12 Championship Game, and freshman quarterback Blake Shapen was a huge reason why. And along the way, Shapen set multiple records.
The freshman had the most consecutive completions by a Big 12 quarterback to start a game in the in 15 years as he began the game going 17 for 17.
This is also a Big 12 Championship Game record, along with a record for any game in AT&T Stadium, as was announced in the press box during the game.
Shapen finished the first half going 17/21 for 151 passing yards, three touchdowns and zero interceptions.
Baylor is ranked No. 9 in the country and is 10-2 on the season coming into this game, with their only losses coming against Oklahoma State and TCU.
Baylor is playing in its second Big 12 Championship Game in the last three seasons. They lost the 2019 conference title game to Oklahoma in overtime under for mer head coach Matt Rhule.
The Bears are trying to win the Big 12 Title for the first time since 2014, when they shared the title with the TCU Horned Frogs.
The Big 12 Championship Game is airing on ABC.