Big 12 News
Big 12 Commissioner Bob Bowlsby: College Football Playoff Expansion For 2024 'in Some Jeopardy'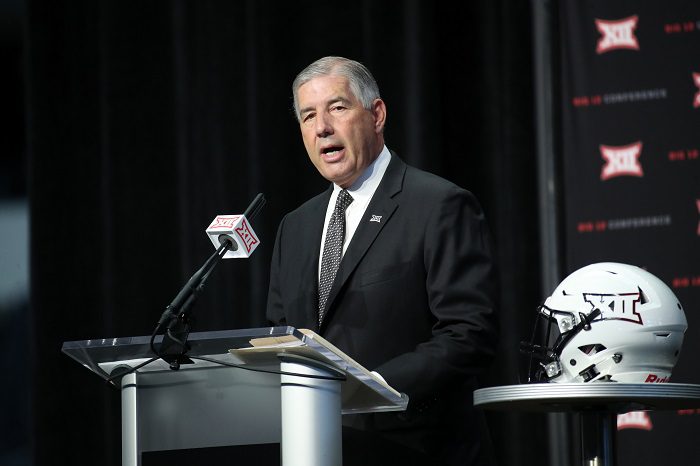 Bob Bowlsby dropped an interesting tidbit prior to Saturday's Big 12 Championship game between Baylor and Oklahoma State.
Bowlsby was talking to the media and when the College Football Playoff came up in discussion, Bowslby admitted expansion may have to wait longer than was originally played.
"Well, just for purely logistical reasons, year 11 [2024] is probably in some jeopardy at this point, just because there's good and appropriate things you have to do in order to host the games," Bowlsby said.
The current College Football Playoff contract runs through the 2025 season. The CFP management committee is made up of 10 conference commissioners and Notre Dame's athletic director. The group met early this week and in Dallas and still could not reach consensus on a a proposal to expand the playoff from four to 12 teams.
The biggest hang up appears to be over whether or not conferences should receive automatic bids.
There are two proposals being looked at. One proposed a format includes 12 teams, which included automatic bids to the highest-ranked six conference champions. After Texas and Oklahoma announced their move to the SEC, and the ensuing cavalcade of conference realignment, the ACC-Big Ten-Pac-12 Alliance proposed that each of the Power 5 conferences get an automatic bid.
Bowlsby went on to say on Saturday, "I think it's also a possibility that we wouldn't be able to do it for year 12 [2025] and we'll be talking about what do we do in year 13 and beyond because you know, for all intents and purposes, the CFP goes away [after 2025]. There is no operating agreement beyond 2025-26 and there are no contracts that bind us beyond '25-26."
The next scheduled meeting of the commissioners and the presidents is around the national championship game in Indianapolis on Jan. 10, but the commissioners could convene again sooner.