Baylor Bears
The Good, the Bad and the Ugly From the 2021 Big 12 Championship Game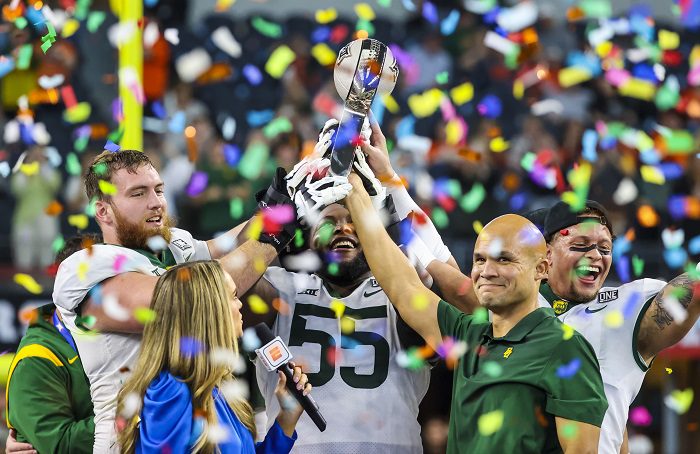 Is there a better way to end the regular season with a conference title on the line at Jerry World? I think not. It was a wild finish as we crown a new Big 12 champion in Baylor, as the Bears beat Oklahoma State 21-16. For Baylor, it's their first Big 12 Championship Game win ever and their third conference title. There were plenty of great moments in this game, as well as head scratching ones as I share the good, the bad and the ugly from the Big 12 Championship Game.
The Good
The Defenses
Forget about one or the other because both defenses came to play on Saturday. Baylor forced four key turnovers and held Oklahoma State out of the end zone for the first two quarters. The Bears were able to apply pressure on Spencer Sanders throughout the game and it paid off. Just when they needed a stop the most, they were able to get the game-clinching fourth down stop to end the game.
Despite falling short, give Oklahoma State defensive coordinator Jim Knowles credit too. Oklahoma State's offensive struggles put his defense in some tough spots and more often than not, they pulled through. They made some excellent second half adjustments as they kept Baylor scoreless in the second half and held them to just 36 yards of offense in the final two quarters.
Baylor Head Coach Dave Aranda
I know Mike Gundy won Big 12 coach of the year, but if we could I would give it to Dave Aranda. This man took over a Baylor program that lost a ton from that 2019 squad that made a Big 12 title appearance. When he got to Waco, he didn't have long with his team before Covid-19 hit and essentially shut everything down. After a rocky two-win 2020 season, he was able to turn things around quickly. In just one year, Baylor went from a 2-7 season to an 11-2 year that was capped of with a Big 12 championship. Congrats to Baylor and hats off to Dave Aranda who is quickly becoming one of the best coaches in all of college football.
Baylor QB Blake Shapen
Without Gerry Bohanon, I wasn't sure how this Baylor offense would look. I understand they struggled in the second half, but I was extremely impressed with Blake Shapen in the first half of the game. Shapen completed his first seventeen passes of the game and threw three touchdown passes in the first half. He kept his composure throughout the game which was astonishing considering the stakes of this game. His 17/17 start was a Big 12 Championship Game record and AT&T Stadium record as well.
The Bad
Oklahoma State's Dreams
This was supposed to be Oklahoma State's Day. The day where the win the Big 12 title and make their way into the top four to get a playoff spot. Instead, they fell inches short and were a half yard away from their dreams becoming a reality. I haven't seen Oklahoma State play as poorly as they did today since the beginning of the season and there could have not been a worse time to have a meltdown. The Cowboys have a Big 12 championship and playoff caliber defense, but unfortunately their offense is not at that level. I still think the future is bright with Mike Gundy at Oklahoma State, but they let a big one get away on Saturday.
The Ugly
Oklahoma State QB Spencer Sanders
There is no other way to say it: Spencer Sanders played poorly in the championship game. While he was under pressure, he made some poor decisions that cost his team in some crucial spots. Sometimes you've got to live to play another down and against Baylor, Spencer didn't do that. Throughout the year, he managed to cut down his turnovers from years past, but for whatever reason, those mistakes came back. In their last game against Baylor, Spencer turned the football over three times and got away with it, but that wasn't the case the second time around as he had four interceptions and came up just short.
The Phantom Timeout
Of course, on the biggest play of the season in the Big 12 conference there was some controversy. On fourth and goal with the game on the line, Baylor signaled for a timeout and the officials blew the whistle. The only problem? Neither team had any timeouts left and both teams had to scramble to get back to the huddle to get ready to run the final play. It was a complete mental lapse by the officiating crew because a whistle should have never been blown for the game to stop.