Baylor Bears
Winning Football, Consistent Stoicism Now Define Baylor Coach Dave Aranda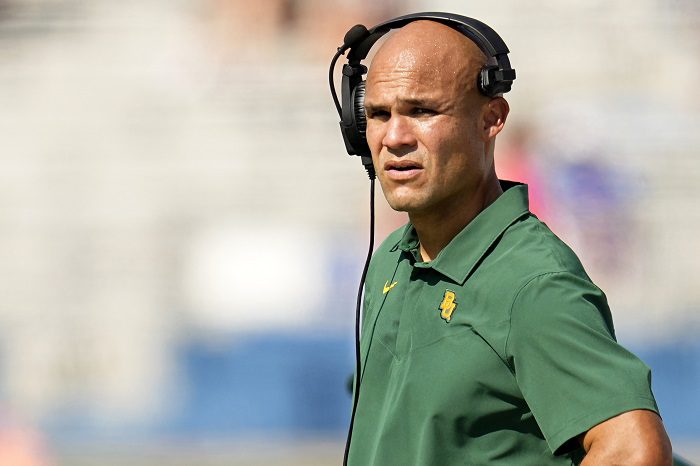 ARLINGTON, Texas — Any questions about getting Dave Aranda that extension now, Baylor fans?
Better put a poison pill in that thing too, lest a blue-blood program come after him in the future.
Any wonder why Aranda was connected to practically every major job on the market the past few weeks? The proof was on the field on Saturday.
The Bears capped an 11-2 season with its first Big 12 Championship Game win and its first Big 12 title since 2014.
It wasn't on the field a year ago around this time, as Aranda and the Bears wrapped up a forgettable 2-7 campaign with COVID-19 cancellations, Zoom game plan installations and lots of questions about the future. Back then, oddly enough, the Bears lost to Oklahoma State.
The first question Aranda was asked postgame was if he could contrast where the Bears were then with where they are now, likely headed to a New Year's Six bowl game. His response?
"No … no …," he said, his voice trailing off as if he wasn't sure if he had more to say or not.
The answer, and his delivery of it, elicited laughter from the media, an unintended bit of humor from the taciturn coach whose stoic reaction to Baylor safety Jairon McVea's game-saving tackle in the final seconds is going to be your most-used GIF of 2022.
It's been a year, people.
Dec. 12, 2020. Baylor hosts Oklahoma State to end the season. The Bears lose. No, not quite like that. The Bears lose, 42-3. It's ugly. In a sense, the perfect capper to his first season. Hired to replace Matt Rhule in January. COVID hit in March. No true offseason. First two regular-season games canceled due to COVID.
"I think to be in that spot and then to be in this one is two different sides of the track," Aranda said.
Aranda mentioned "off-the-field" a couple of times in his opening statement on Saturday. When you hear 'off-the-field' it's usually followed by 'problems.' He elaborated a bit later, not in specific terms. But the frustration of last season was palpable. He talked about how everyone could "feel the eyes on them" and everyone was looking to see if "something was going to break."
Players came to him. But it's not why you think.
"I think some of them came into my office and go, 'You know, Coach, you need to cuss us out. You need to get after us and yell at us,'" Aranda said.
Aranda doesn't seem like a cusser, someone who is going to fly off the handle for no reason. That wasn't the context.
The players wanted coaching. They WANTED to be pushed harder. Imagine that?
"I think these are some of the things I just brought up in that opening statement was that — just the far disconnect and kind of how I would very much want to win," Aranda said.
So how do you bridge that disconnect?
Oddly enough, given the time, Zoom.
Aranda mentioned Zoom meetings after last season with players and parents, surely some players considering transferring. He did his best. So did his staff. He wanted everyone to stay. He admitted players and parents alike asked him critical questions, and he said they were warranted. Most stayed. A few left.
"So for the guys that stayed, it's just (my joy for their win today) — it's very strong, and it means a lot to me," Aranda said.
Bridging the gap meant Aranda and his staff had to put their trust in a quarterback that had waited his turn for three years in Gerry Bohanon, who had a fine season. It meant putting their trust in his backup, Blake Shape, who had barely taken snaps this season before Bohanon was hurt.
It meant trusting his vision for the program — running the football and building a stifling defense that held nearly every opponent this season below their season scoring average. It meant moving Abram Smith BACK from defense and to running back once again — and him putting together a killer season as a result.
It meant not giving up the ship after the first loss to Oklahoma State in October, a 24-14 loss in which Baylor forced three turnovers but couldn't clear the win. It was Oklahoma State head coach Mike Gundy who gave him some sage advice before that game.
"I remember the first time we played Oklahoma State and meeting Coach Gundy there at midfield during team stretch," Aranda said. "He came on over and first thing he said was, 'It is really hard to win. It's hard to win in this league.'"
But Baylor kept doing it, even in the face of that head-scratching loss to TCU the weekend after Gary Patterson's abrupt departure. The Bears' season on the line the next weekend, they beat Oklahoma at home, with Aranda taking fire for kicking a last-second field goal for Big 12 tiebreaking purposes. So we're gonna give the guy grief for planning ahead, even though his Bears still needed to win out and have Oklahoma State break Oklahoma's heart in Bedlam last week just to get their spot in the Big 12 title game?
And there was Saturday, where that defense repeatedly bailed him out.
Stoicism aside, the love between Aranda and his players is evident, even if he gave a hard "No" to the question about him liking attention.
"He came in, did the dirty work early, changed a lot of things within the program for the better, and it's awesome to see the success he's having this year," Baylor's Terrel Bernard said. "I've said this before, but he is the most humble, one of the hardest working guys that I know. He's a man of integrity, a man of faith, and we all want to give our all for him. We respect him so much, and he'll never take the credit, but a lot of credit is due to him."
Aranda knows the attention is coming, whether he likes it or not. But Aranda says he can be himself at Baylor.
If this version of the Bears is Aranda 'being himself,' well buckle up for consistent stoicism and winning seasons. Because that is what appears to be coming.
You can find Matthew Postins on Twitter @PostinsPostcard.