Baylor Bears
The Race to be the Big 12 Conference's New 'Top Dog' is on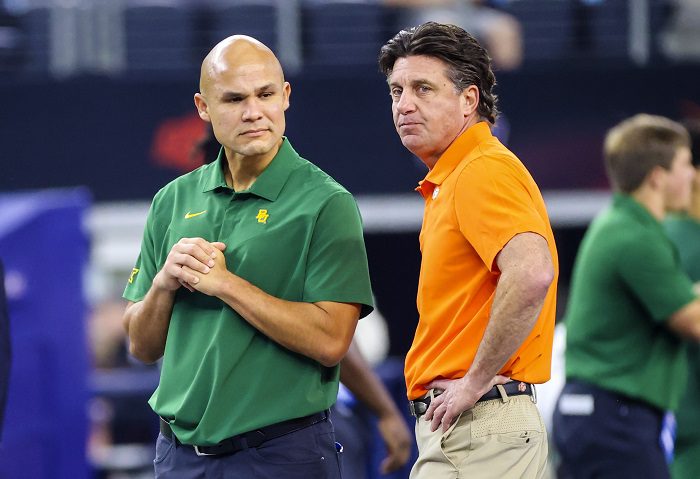 I remember when the hangover finally lifted. It was Oct. 25. Texas Tech announced that it had fired Matt Wells.
Really? After less than three seasons? I get it, I guess. He was 13-17. But everyone had to survive a COVID 2020 and he had the Red Raiders on the doorstep of bowl eligibility. Just one win. That's all.
But maybe the writing was on the wall and I just wasn't connecting the dots. Earlier that month the Red Raiders announced it had received the largest one-time gift in the program's history — $20 million from Dustin Womble for a new football training facility.
Then came the ultimate faux pas. Wells, on his weekly radio show, struggled to tell the host what he liked about Lubbock. A few days later, he was gone.
Perhaps Wells' failure to give Lubbock a 'Chamber of Commerce' moment was a convenient excuse to let him go. But, two months later, Wells' firing, I feel, now has a deeper meaning.
Hocutt became the first to realize that there was an opportunity, an opportunity to become the new 'big dog' in the Big 12. The opportunity may not bear fruit for a few years, but in order to be positioned to claim it, perhaps he realized the time was 'now' to get moving.
Oklahoma and Texas are leaving, and there is a void to be filled. Someone has to do it, right?
OU and Texas Bolt
I admit. When I first heard the news, I was like, 'No way.'
It was July 21 at SEC Media Days. It was less than a week after the Big 12 held its media days at AT&T Stadium. I was there. So were Pete Mundo and Derek Duke of Heartland College Sports. There was no hint of what was coming.
Within two weeks of the Houston Chronicle report, it was official — Oklahoma and Texas were headed for the SEC. Personally, I hate it. Why? Because, in my lifetime, OU and Texas have been 'leaders.' By joining the SEC, they became 'followers.' And as a football fan, that hurts.
The Big 12 was dead. At least that was what I thought. But the job, at that time, was to cover its 'demise.' And, every day, we did, to the point where, sometimes, I felt we were writing the web site's obituary.
But, by September, the Big 12 had expanded. BYU, Cincinnati, Houston and UCF joined the league and their membership would overlap the departures of Oklahoma and Texas by at least one year. Everything seemed … settled. And we had a football season to play, of course. I contend, and I outlined it in my opinion piece in September, that adding those four schools was the best, and only, option if the Big 12 wanted to remain a viable Power 5 conference.
Hangovers are funny, though. Eventually, they go away. And the Big 12 had a big one after all of that. It probably required more than my old college remedy — two Advil, two glasses of water and two pieces of bread, something homemade long before the days of 'hangover science' (it's all over my Facebook feed for some reason).
The Big 12 Future
When the hangover goes away, the brain fog goes away. You can think clearly. And it must have started occurring to these athletic directors that the future didn't include Oklahoma and Texas.
Oklahoma had won six straight Big 12 football titles. Texas had not, but it's Texas, so the Longhorns have a gravitation pull one cannot deny.
But, with the pair leaving the league, as George Jones once sang, "Who's gonna fill their shoes?"
I wonder if that occurred to Hocutt when he decided to fire Wells?
But there's no denying that moves are being made that give us a peek at the future.
Six days after Hocutt sent Wells packing, TCU athletic director Jeremiah Donati and head coach Gary Patterson parted ways. Yes, TCU's institution of a head coach was done. Donati said he was looking for a more offensive minded head coach who understood the changing landscape of Name, Image and Likeness in college sports. This was less than a month after Patterson begging his boosters in the media to help his players out. Donati ended up hiring SMU's Sonny Dykes.
There were more subtle moves, too. Oklahoma State made head coach Mike Gundy an offer he couldn't refuse — a lifetime, five-year rolling contract that basically means that Gundy can stay in Stillwater as long as he wants. And why not? He's just, you know, the winningest head coach in OSU history. that's all. Why wouldn't you want him guiding this program into the new Big 12, especially now that he's finally found the religion of defense?
Baylor is out to lock up head coach Dave Aranda long-term. The Bears are building a new basketball arena and a new support facility for football. I suspect we'll hear in the coming months that the other remaining Big 12 schools will be pouring money into facilities and contract extensions (for those coaches that deserve it). I also suspect that some athletic directors may do what Hocutt did and let coaches go a bit earlier than one might agree with, just to get ahead of the curve. Heck, Hocutt managed to find MORE booster money this week to for a south end zone expansion and a new version of the iconic 'Double T' scoreboard.
The passing hangover is even filtering to the members that haven't joined the league yet. During the lead-up to early signing day on Dec. 15, Cincinnati secured its highest-ranked defensive lineman commitment and its first Elite 11 quarterback leading up to the 2022 signing period. Houston announced it was set to build a major new football support facility.
Need the best proof of all? Neither Oklahoma nor Texas made the Big 12 Championship game. Instead, it was Baylor and Oklahoma State. The pair put on a show on Saturday, with the Bears winning on the most heart-stopping play of the entire championship Saturday.
The hangover is over. The 'new' Big 12 seems to have found its path forward. Don't be surprised if the future moves by the teams in this league — and the ones that are joining — are bolder than we're used to.
In order to 'fill their shoes,' they'll have to be.
 You can find Matthew Postins on Twitter @PostinsPostcard.