Baylor Bears
Baylor Remains at Top of Big 12 Basketball Power Rankings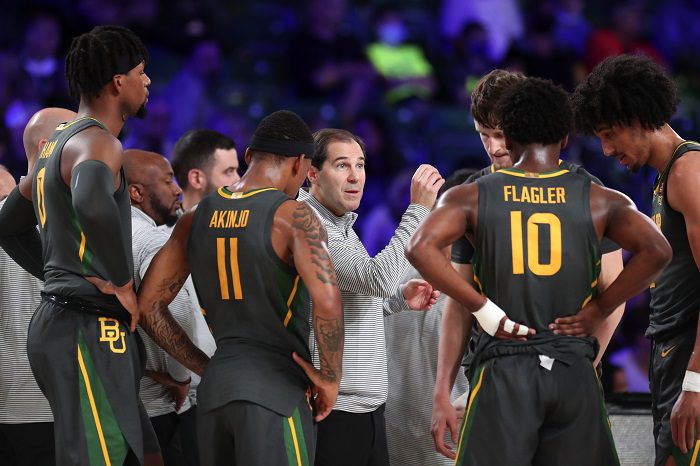 The Baylor Bears remained No. 1 in the Heartland College Sports Big 12 men's basketball power rankings after Week 4 of the 2021-22 season. Our Power Rankings will appear every Monday.
1. BAYLOR (8-0) (Last Week: 1)
Baylor blew out Arkansas-Pine Bluff as the Bears took a breath after their Battle 4 Atlantis win. With exams this week, the Bears are off until Sunday, but it's a big home game — Villanova. We'll learn a lot about where the Bears are as a team in that one.
2. IOWA STATE (8-0) (Last Week: 2)
The Cyclones took care of business against Arkansas-Pine Bluff, and then went to Creighton and won their Big 12-Big East Battle game. That's how you avoid a let-down after beating back-to-back Top 25 teams and crashing the Top 25. Now, can they beat Iowa at home?
3. KANSAS (6-1) (Last Week: 3)
No need to drop the Jayhawks after beating St. John's by 20 points. Christian Braun had a career-high 31 points. The Jayhawks aren't done being tested, though. UTEP, Missouri, Stephen F. Austin and Colorado are the next four games.
4. TEXAS (6-1) (Last Week: 4)
Texas had two relatively easy wins this week. The Longhorns also had two different leading scorers in those two games. You can start to see the chemistry coming together for this team. Two big tests are left — Seton Hall this week and Stanford on Dec. 19.
5. WEST VIRGINIA (7-1) (Last Week: 5)
The Mountaineers cruised through a pair of opponents last week, beating Bellamire and Radford. Now, with final exams coming, bigger tests are coming, too, starting with UConn on Wednesday. Taz Sherman (21 points per game) is playing like he took to heart every single note he received from NBA scouts this summer.
6. OKLAHOMA (7-1) (Last Week: 7)
The Sooners are coming together faster than expected with a new head coach and so many new pieces. The Sooners took a huge win at home over Florida last week, and will host Butler and travel to Arkansas this week. Head coach Porter Moser is not scared to play anyone. Keep an eye on Jalen Hill, who is averaging nearly 10 points per game and shooting better than 40 percent from the 3-point line.
7. TEXAS TECH (6-1) (Last Week: 6)
No shame in Tech's loss to Providence. The Red Raiders played well and showed they're ready for high-level competition, which is good because more is coming on Tuesday when they face Tennessee in the Jimmy V Classic. It's a great chance for Tech to show they're worthy of more Top 25 votes.
8. KANSAS STATE (5-2) (Last Week: 9)
Moving the Wildcats up was pretty easy this week. The win over Wichita State on Sunday was one the program can build on. Markquis Nowell led the Wildcats with 16 points. The Wildcats host Marquette on Wednesday and Green Bay on Sunday.
9. TCU (6-1) (Last Week: 10)
The Horned Frogs bounced back to win two games against Austin Peay and Oral Roberts. The ORU win is a nice one, given the school is coming off a run to the Sweet 16. Seeing Damion Baugh slipping into double figures in that game is encouraging for TCU, which has Utah, Texas A&M and Georgetown coming up.
10. OKLAHOMA STATE (6-3) (Last Week: 8)
It was easy to move the Cowboys down after losing both games last week. Additionally, the Cowboys lost to Wichita State, whereas Kansas State beat the Shockers. Talent-wise, they're not the 'worst' team in the conference. But something isn't clicking right now. The Cowboys have the week off before hosting Cleveland State. They need it.