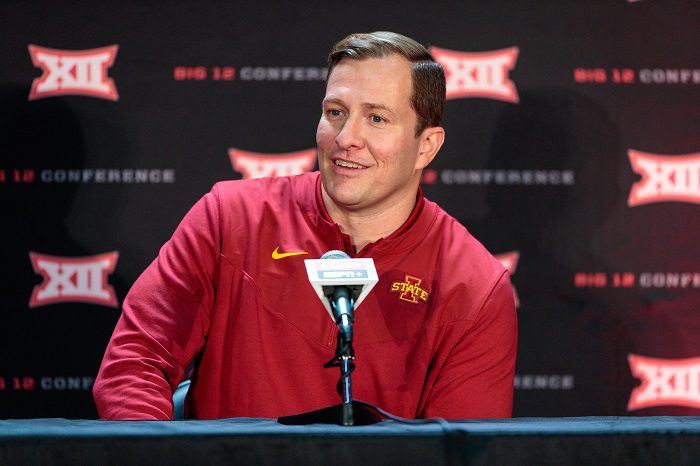 The Big 12 Conference is done with Week 4 of the 2021-22 mens's basketball season. Just some of the things that happened last week:
Iowa State athletic director Jamie Pollard talked about Iowa State's fast start to the season.
Baylor freshman Kendall Brown's emergence as a potential first-round prospect in next year's NBA Draft.
Kansas has the best odds of winning the NCAA Tournament among Big 12 teams.
Porter Moser won his 300th career game on a night when Oklahoma honored Lon Kruger.
Also check out our Big 12 Basketball Tracker for updated men's and women's news every day.
That, and so much more, happened in Week 4. Here are our three takeaways.
Re-assessing Iowa State's Ceiling
Entering the season, I wasn't high on Iowa State reaching .500. With a new head coach, high roster turnover and the departures of three players right before the season started, it felt like a recipe for a long, hard season with measured improvement. Don't forget the Cyclones only won two games last season.
Well, eight games in, the Cyclones are undefeated and nationally-ranked. So it's time to reassess their ceiling. Could the Cyclones be an NCAA Tournament team in T.J. Otzelberger's first season as head coach?
The last two weeks were big ones for Iowa State. Wins over two ranked teams in Xavier and Memphis put them in the Top 25. The win on the road over Creighton showed they have staying power, despite a 12-player roster.
So how GOOD could the Cyclones be?
Iowa State has four non-conference games left. The next one, against Iowa (7-1), is a big one, of course. But the following three games are games the Cyclones are quite capable of winning. All are at Hilton and all are against low- and mid-major teams. At worst, I see Iowa State being 11-1 entering Big 12 play.
Once Big 12 play starts in January, it's obviously a grind. Can the Cyclones survive that and, perhaps, win half of their Big 12 games? Do that and the Cyclones would reach 20 wins in my scenario. Plus, Iowa State has Missouri in the Big 12-SEC Challenge. And, there's the Big 12 Tournament.
Recent history suggests that 20 wins is not necessarily the baseline for a Big 12 team to reach the NCAA Tournament, either. Back in 2019 — the last tournament before COVID-19 — six Big 12 teams made the field. Iowa State made that tournament with 23 wins. But, Oklahoma and Baylor both made that tournament with 19 wins. In 2018, seven Big 12 teams made the field, with Texas (19) and Oklahoma (18) making the field with fewer than 20 wins.
So, Iowa State could make the field with 18 or 19 wins, and those victories over Xavier and Memphis are bound to be looked upon favorably by the committee. So will the grind of the Big 12, which should have one of the best KenPom and NCAA NET ratings by season's end.
It's a long way to March, of course. But the best thing the Cyclones did for themselves the past two weeks was dramatically increase their margin for error when it comes to making the postseason, whether it's the NCAA Tournament or the NIT.
Right now, I feel like the Cyclones are an NCAA Tournament team in-the-making. For what it's worth, so does ESPN's Joe Lunardi, who had the Cyclones on a No. 7 seed line in his latest Bracketology.
Put Some Respect On Oklahoma
Another team I wasn't terribly high on going into this season was Oklahoma. Again, same issues as Iowa State — new head coach, lots of roster turnover. Plus, first-year head coach Porter Moser put together a difficult non-conference schedule.
Well, eight games into the season, the Sooners are a double-double by Utah State's Justin Bean away from being undefeated going into a pair of big games this week against Butler and Arkansas. And the Sooners should already be in the Top 25.
So what's working? Well, Moser has found a stable starting lineup that works. He's started the same five players in each game — forwards Tanner Groves and Jalen Hill, along with guards Umoja Gibson, Jordan Goldwire and Elijah Harkless. He's blended together the best parts of the old (Gibson, Hill and Harkless were holdovers from last year's team) and the new (Groves and Goldwire transferred in).
The transfers are motivated. Groves is motivated by wanting to prove he can play at a high-major level after a sensational career at Eastern Washington. So far, Groves leads the Sooners in scoring (15.3 points per game) and rebounds (6.5 per game). Goldwire is motivated by proving he can produce more points with more opportunity. He's averaging 9.6 points and 4.3 assists per game. Goldwire has doubled his scoring output from last season at Duke.
Gibson and Harkless are giving the Sooners exactly what they gave them last year. Gibson is averaging 11.8 points per game and is shooting 37 percent from the 3-point line. Harkless is averaging 8.1 points per game and, like last year, is giving the Sooners great perimeter defense.
The revelation is Hill, a forward who was a bench player last season. He's averaging 9.8 points per game, is shooting 44.4 percent from the 3-point line and is nearly matching Groves' output on the boards (6.4 per game). Hill had 4.4 points and 2.9 rebounds last year and shot 44 percent from the field last season. He only shot 33 percent from the 3-point line a year ago.
With that starting lineup the Sooners can be competitive with anyone in the Big 12. Now, about the bench. Just two other Sooners are averaging more than 10 minutes per game — Jacob Groves and C.J. Noland. Moser and his starting five need a boost from their bench, if for no other reason than to bring the usage rate down for the starting five, who are all playing at least 25 minutes per game. Depth will be important come January.
A Schedule Slow-Down With Big Games to Come
December tends to represent a bit of a slow-down for both men's and women's basketball, as coaches and players try to balance exam schedules with getting in as many non-conference games as possible before league play begins. For instance, Oklahoma State is off this entire week.
But that doesn't mean the Big 12 men aren't looking for tests on the court the next couple of weeks.
Along with the rest of the Big 12-Big East battles games, several teams have big tests this week. Texas Tech faces Tennessee on Tuesday in New York City in the Jimmy V Classic. TCU faces 6-2 Utah on Wednesday. Iowa State, as mentioned, hosts Iowa on Wednesday night. Oklahoma has that showdown with Arkansas on Saturday, while Kansas renews the 'Border Battle' with Missouri the same day. Then, on Sunday, Baylor hosts Villanova.
That's a huge week of tests for the conference, and there are more to come. Texas Tech still has to play Gonzaga, Oklahoma State faces Houston and USC, Baylor travels to Oregon and Texas faces Stanford, all before Christmas Day.
You can find Matthew Postins on Twitter @PostinsPostcard.