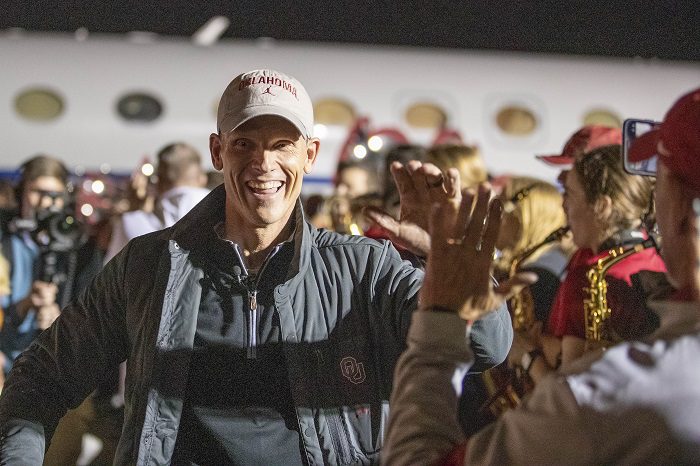 The Oklahoma Sooners have found their new head coach in Brent Venables, who comes from Clemson where he spent 10 seasons as the Tigers defensive coordinator. However, Venables is no stranger to Norman, as he was on Bob Stoops' staff from 1999-2011, with most of that tenure spent as the defensive coordinator or co-defensive coordinator. Venables has spent 29 years working as an assistant under just three head coaches: Bill Snyder, Bob Stoops, and Dabo Swinney. But yesterday he joined them in the ranks of college head coaches and will get his start at one of the most prestigious football programs in all of America.
But now that he's taken over as head coach in Norman, his plate is full, and here are three things he has to do ASAP as the head coach of the Sooner.
Hire the Right Offensive Coordinator
It sounds like Venables is already well into discussions with one of the best offensive coordinators in the country. Ole Miss's OC Jeff Lebby has helped the Rebels to the fourth-ranked total offense in 2021. The Rebels play-caller and quarterbacks coach is responsible for the development of Matt Corral, who should be the top quarterback in the 2022 NFL Draft Class. If something were to go wrong in negotiations with Lebby, there is another candidate that is catching some buzz. The Carolina Panthers fired offensive coordinator Joe Brady on Sunday afternoon after a disappointing start to his NFL career. However, his offensive pedigree is impressive at the college level. Brady is responsible for running one of the most prolific offenses in college football history – the 2019 LSU Tigers. The developer of Joe Burrow also had the attention of Caleb Williams, who had a high interest in playing for Brady before he left for the NFL. That leads me to my next key for Venables if he is to succeed.
Convince Caleb Williams to Stay
Caleb Williams might just be a generational talent at quarterback, but right now it is uncertain if he will remain in Norman. Lincoln Riley and his quarterback pedigree are what convinced the Williams family that Norman was where they needed to be. The Williams family reportedly loves the Oklahoma City area and plans to move there permanently, regardless of where Caleb ends up playing football. Now, Caleb has been adamant that Oklahoma is where he wants to be, but his development and preparation for the NFL are vitally important to both him and his family. If Venables can bring in the right coordinator to guide and shape Williams, then he should be able to keep the talented signal-caller in Norman. Make no mistake, that will be important if Venables is to be successful because if there is one thing Caleb Williams does better than play football, it's recruiting elite players to join him.
Retain Recruits
If you retain Caleb Williams, you retain offensive talent, both currently on the roster and incoming recruits. That will be vital, as the offensive staff has been left in shambles after Lincoln Riley left for USC. It will be important to act swiftly in getting an OC on campus and filling out the staff below him to keep the lifeblood of Oklahoma football intact. It is rumored that several of the remaining members of staff will be retained and that will help recruiting immensely. At the end of the day, recruiting is about relationships. That's why you saw Lincoln Riley take several big names with him to LA; those players committed to Riley, not to Oklahoma.
With that in mind, the 2022 recruiting class is in limbo, but if coaches like Demarco Murray and Bill Bedenbaugh are retained, it will be much easier to keep those recruits invested and get through this rough patch. With the early signing period coming next week, Venables and staff will need to spend the majority of their time out on the road and in the homes of recruits. If he can convince them to join him in Norman, and get through December without falling off the map, Oklahoma will keep on rolling without much of a speed bump. However, if the staff hits a snag somewhere and this thing comes off the tracks, OU could have something of a rebuild on their hands. Needless to say, the first few weeks of Venables's tenure could be the most challenging, but if he can be successful now it will pay dividends in the coming months.