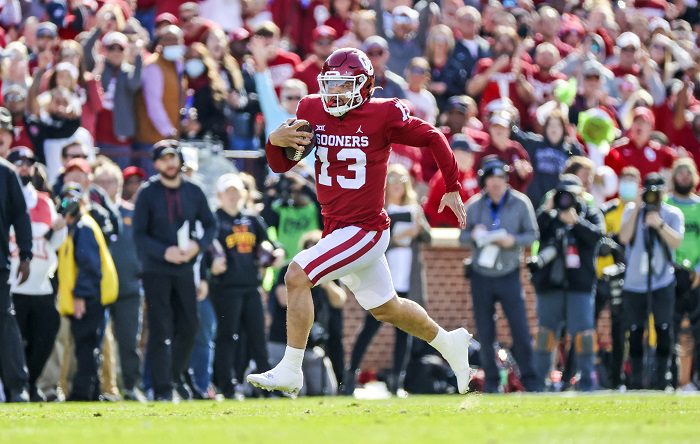 Among other issues in the aftermath of Lincoln Riley's explosive exit of Oklahoma is the limbo with which freshman phenom Caleb Williams finds himself. Williams took the college football world by storm back in October when he overtook preseason Heisman-favorite Spencer Rattler as the starter at OU. After a 66-yard touchdown run and an incredible comeback over the Texas Longhorns, ESPN's Kirk Herbstreit announced Williams as the "face of college football" on ESPN's College Football Podcast:
"I'm telling you, he is going to be the face of the sport for much of this year and definitely the next two years," Herbstreit said. "Caleb Williams is a name, if you're not familiar with, you need to become familiar with. He is going to be the face of college football because of the team and the coach that he plays for and because of how darn good he is and because he's on a team that's going to be ranked in the top five all years that he's there and he's just a guy that is electric and he is, as I say, must-see TV."
Well, part of that statement is no longer true, because Riley is in LA and his sudden disappearance hasn't set well with much of Sooner Nation. And if you were Caleb, how would you feel? This is the guy that vowed to develop you into the next Kyler Murray. He told you that he could help hone your skills and you would be the next guy in line at Oklahoma to take home a Heisman. Then, right after a crushing loss to Oklahoma State, you wake up to find out that he's leaving you, and your family who wants to stay in OKC permanently, for a "better" job. It has to sting, even if it's just a little. Yes, the world of college football requires movement and turnover, but there have been several players coming out and talking about how shocking this move was for the program. It may not have happened overnight like Riley said it did, but it sure felt that way to his former locker room.
So, with all of the turmoil surrounding him, his team, and his program, what should Williams do? Stay.
Time Heals All Wounds
The regime change at OU will not be easy for anyone, but especially the quarterbacks. You cannot argue the fact that Lincoln Riley is the best quarterback coach in all of college football, and it's not even that close. His pedigree speaks for itself: 10% of the NFL's starting quarterbacks were coached by Riley in college. That's unprecedented. But, as with all things, time will mend the pain of Riley's departure. It won't be easy, and it could take a while but the new staff is going to be centered around relationship building and trust. That is something that has to be appealing to Williams and his family in a time like this.
Now, Brent Venables, a defensive mastermind, is the head coach and is taking the program in a different direction. Reports are that Ole Miss offensive coordinator Jeff Lebby is Norman-bound. Quarterbacks like Dillon Gabriel and Matt Corral have had fantastic seasons under Lebby's tutelage, but the pedigree isn't quite the same. However, the difference in athletic ability between Kyler Murray and Dillon Gabriel is vast. Could Lebby's system prepare Williams for the NFL? Absolutely. The NFL is changing every week it seems, and continues to adopt ideas from the college level. Lebby's quick game, vertical passing lanes, and downhill running schemes are centered around stealing yards based on what the defense gives you. It's different than what Riley runs, yes, but there's more than one way to skin a cat.
Caleb's Team Needs Him
It has been eight days since the foundations in Norman were shaken to their core. Nine highly rated recruits have decommitted from the Sooners, several offensive players have entered the transfer portal and there is an overall sense of confusion around the offensive side of the ball. We all know that defensively, the Sooners will be fine under Venables. He is the top defensive mind in the country. But offensively, OU will need to pick up the pieces. It has already lost Jadon Haselwood to Arkansas, while Spencer Rattler, Austin Stogner, and Theo Wease are all looking to jump ship as well. Caleb needs to catalyze this team and pull them together because he is the unquestioned leader in the locker room.
It helps that all offensive position coaches, outside of Riley, have been retained. That should help keep some of the players invested under Caleb. But, if he stays and his team knows that they can count on him to be there through this tough transition it would go a long way in keeping the nucleus of this team strong. Williams is the point on which Oklahoma hinges right now; if he stays, Oklahoma will be competitive next year once again. If he leaves it could lead to several more transfers and OU could find themselves in the middle of a true rebuild.
College Football is a Mess Right Now
We are in an unprecedented time of turnover in college football and it seems like no coaching or roster is safe at this point. The only man in the country that hasn't been rumored for another job at this point is Nick Saban, and I say that half-jokingly. Oklahoma has been a staple of stability for years, and now it is one of the bigger jobs on the 2021 Coaching Carousel. The Sooners will have to bring in an OC (as stated above) and an entire defensive staff. They are not the only ones with this issue however, and if Caleb decided to leave he might just fall right into another situation like the one he is currently in. Plus, if Lebby is truly the next guy at Oklahoma, the list of offensive minds that are better than his at this point in time is very short. There may not even be a list; Lebby's offenses have outperformed Riley's in each of the past two seasons, only he has been facing an SEC schedule in doing so.
Simply put, Caleb's situation in Oklahoma might seem unfortunate at the moment, but it could end up better than it was before, and certainly better than anything he could walk into as the new guy. Sure, he might be one of the three most talented players in the country, but how many programs that are on Oklahoma's level have an open quarterback competition? Alabama has Bryce Young. Ohio State has CJ Stroud. Georgia has Brock Vandagriff waiting in the wings. It's not always greener in other pastures, and if he and his family feel burned by Lincoln Riley, then his best bet might just be to stay at home. I, for one, think that's exactly what he and his family will choose to do.