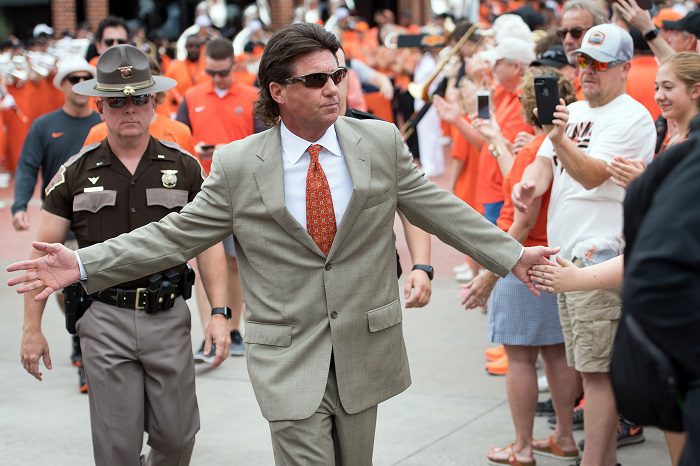 They ALMOST won a Big 12 title by being dominant on one side of the ball and average on the other. A few more breaks to overcome some deficiencies on that side and they almost certainly hoist the trophy. Good news is, the strong side of the team is loaded and looks to maybe even be better next year. 
Except the gut punch hit. The mastermind of that dominance is leaving for a better opportunity. By now anyone who follows OSU should know what I'm talking about.
That's right, I'm talking about the 2010 Oklahoma State Cowboy football team.
What you thought I was talking about Jim Knowles leaving for Ohio State? No, not yet although I'm sure I will soon. Right now I'm trying to talk some of my fellow Cowboys of the ledge by reminding them of another time the sky was falling.
Dana Holgerson remade the Pokes in 2010. He took over the offense and changed it to an aggressive Air Raid system from the run-orientated offense Mike Gundy had ran as OC and HC and then as HC-OC combo for a while. The points piled up and the fans rejoiced. Close loses to Nebraska and Oklahoma stung, but the future looked bright. Cowboy Nation was as excited as I had ever seen it.  
Then. it happened. Holgorsen left to be the new head coach at West Virginia and everyone turned into Chicken Little. The fear did not subside when Mike Gundy hired his best friend who hadn't called plays in 10 years, and even then, only had one year's experience doing it at Eastern Michigan.  But guess what? The new guy THRIVED!
Todd Monken took OSU's offense to the peak of college football. I still believe his version of the spread was the best ever of its kind until LSU dethroned it with Joe Burrow in 2019. The reason it worked so well was Monken didn't change things, he just came in and put his touches on the system already in place, a caveat that came with his hiring I believe.
One of the things that makes Mike Gundy such a good head coach is he's a parasite. When he hires you, he literally takes everything he can from you. When you hear people talk about "The Mike Gundy Offense" they are actually talking about Dana Holgerson's that Gundy co-opted. He's done the same with every offensive coordinator he's ever had. "The Mike Gundy Offense" should really be called the "The Gundy-Fedora-Brewer-Holgorsen-Monken-Yurcich-Gleeson-Dunn Offense" because each has put their individual touch on what OSU does. There's no secret playbook. Your playbook is an open, well, book.
I assume the same standard is in effect for defense. I doubt Knowles works alone in the dark when it comes to scheming things up. Someone's been paying attention, making notes, LEARNING. Probably at the behest of the head man.
Losing Knowles is a blow for sure, at least to the pride of the fan base, but competing with Ohio State for assistant coaches will always be a losing battle. Even if you can match the money they offer, there are perks to working at one of the best places in college football that Oklahoma State just can't match. They have a draw and a caché attached to their brand that the Cowboys will likely never have. It's a hurtful truth, but the truth nonetheless.
What needs to happen now is Mike Gundy needs to make the right hire. Not someone who wants to come in and change things, at least not completely, but it willing to build on what Knowles was doing.  Maybe promote defensive line coach Joe Bob Clements, who by all accounts is loved by the players and could maybe keep the family vibe going. Maybe go hire someone like Coastal Carolina's Chad Staggs, who is young and energetic and a rising star. Or maybe Gundy goes unconventional and brings in someone you'd never think like he did with Monken, Yurcich, and….
…Knowles!
That's right, so many of you have forgotten Knowles was a head-scratcher of a hire four years ago, but turned out to be brilliant.  
So calm down, Cowboy fans.  The sky isn't falling yet. Gundy has proven to be pretty darn good at hiring assistants, especially coordinators.  So take a deep breath and calm down. Be happy for Coach Knowles and trust the man with the mullet to make the right hire. He's done so far more often than he's whiffed in 17 years.