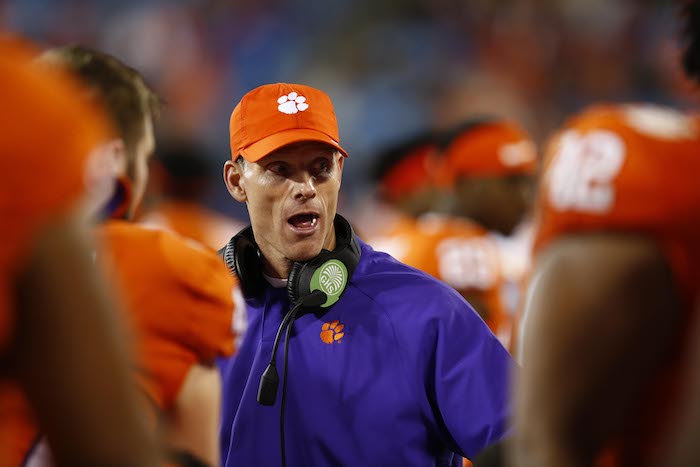 When word came out that Brent Venables would be named Oklahoma's 23rd head coach, throngs of Sooner fans flocked to Max Westheimer Airport in Norman to greet their new hero. When Venables, a former OU defensive coordinator, stepped off the private jet Sunday night, the fans went wild.
Venables returned to Norman after 10 years as Clemson's defensive coordinator and served the same position at the University of Oklahoma from 1999-2011. Crimson fans are excited that Venables will return rugged defenses back to the Sooners' football team.
In the 13 years, Venables was defensive coordinator at OU, the Sooners surrendered 18.3 points and 311 yards per game. That translates to 4.6 yards per play in 173 games while he was in Norman. In the 10 years since Venables took over the DC job at Clemson, OU has allowed 39 points and 379 yards per game (5.4 per play).
In his 10 years at Clemson, Venables' defenses yielded 17.8 yards and 311.3 yards per game (4.7 ypp).
As head of the defenses at Oklahoma and Clemson, Venables has been involved in eight national championship games— one title in four appearances for the Sooners and two in four appearances for the Tigers.
A return to great defense has to excite Sooners fans, but they should be more excited by a mystique, rather Sooner Magic, that has carried through the football program for more than a century—Venables' first name.
It begins with the letter "B." Oklahoma's best coaches had names that began with the letter "B." Bennie, Bud, Barry, and Bob. The last three—Wilkinson, Switzer, and Stoops won a combined seven national championships and 39 conference titles. Bennie Owen, who coached before wire services determined champions beginning in 1936, did not win a national championship, but he built the foundation that is Sooner football today. Bennie, Bud, Barry, and Bob combined to win 78 percent of OU's games.
Sooner Nation is counting on you, Brent, to continue the tradition of your letter "B" predecessors.