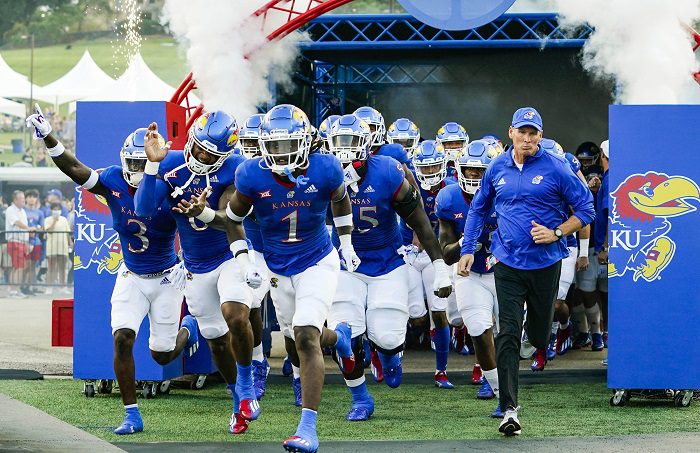 The Kansas Jayhawks (2-10, 1-8 Big 12) were picked by the Big 12 Media Poll to finish dead last in the conference in 2021, and that is precisely where they landed. No surprise there.
However, Lance Leipold's first season as Kansas' head coach must be considered a success. Not only did Kansas hit the over on Vegas' 1.5-win total, but the Jayhawks were also competitive in their last three games of the season as they began to look like a mediocre team as opposed to a terrible team. It sounds harsh, but the truth is that mediocrity is a big step up for Kansas.
Kansas also found some pieces to build around for next season, including RB Devin Neal, QB Jalon Daniels, and LB Rich Miller. However, Jayhawk fans with dreams of going bowling and beating rival Kansas State next season may have to be a little more patient. Kansas still has a long way to go, particularly in the trenches on both sides of the ball.
For Kansas to even be competitive with K-State, for example, the Jayhawks need massive improvements along the offensive and defensive lines. While it may be possible for Kansas to get to the postseason without beating its in-state rival, they are going to have to be good enough to be competitive in the Sunflower Showdown to be good enough to get to six wins.
Can they do that next season? It is, of course, way too early to start making predictions about 2022, but from here, it does not seem likely. What does seem likely, however, is that Kansas will continue to improve next season.
To better see where Kansas football is headed, here's a look at the 2021 Kansas Jayhawks season.
BEST WIN
The Jayhawks prevailed in overtime on a two-point conversion, and the Jayhawk faithful in attendance gleefully chanted "S-E-C! S-E-C!" while the beleaguered and beaten Longhorns slouched off the field. The win was Kansas' first Big 12 road win since beating Iowa State, 35-33, in Ames on October 4, 2008. The Jayhawks lost 56 straight Big 12 road games between that victory in Ames and the victory in Austin.
WORST LOST
At Oklahoma State, 55-3
The Jayhawks ran into a woodchipper in Stillwater a week after seemingly taking a step forward against Oklahoma (more on that below), and the game was even more lopsided than the score. KU did not convert a single 3rd down, going 0-13, and had just 143 yards of total offense compared to OSU's 535 yards. The Cowboys took their foot off the gas early, and it still didn't matter as OSU second-string QB Shane Illingworth threw for 2 touchdowns and back-up running back Dominic Richardson had 79 yards and 1 touchdown on 11 rushing attempts.
THE ONE THAT GOT AWAY
Kansas came ready to play against Oklahoma and took a 10-0 lead into halftime. By the end of the third quarter, KU was hanging on with 17-14 lead. The fourth quarter felt somewhat inevitable as Oklahoma pulled ahead, but it took Caleb Williams converting two 4th-downs to seal the win for Oklahoma.
One of Williams' 4th-down conversions was controversial as the OU signal-caller pulled the ball from RB Kennedy Brooks' arms (after Brooks had apparently been stopped behind the line to gain) and ran for the first down.
MY PICK FOR KU'S OFFENSIVE MVP
RB Devin Neal (Freshman)
Neal began the season as the back-up to Velton Gardner but quickly moved past Gardner as the team's most productive rusher. After Gardner entered the transfer portal, all pretense of Neal being the back-up were dropped as he became KU's featured back.
Neal had a breakthrough game in the loss at Duke as he rushed 17 times for 107 yards and a touchdown. He would hit the 100-yard mark two more times during the season: vs. Oklahoma, when he 100 yards and 2 touchdowns on 23 carries, and at Texas, when he had a season-high 143 yards and 3 touchdowns on 24 carries.
Neal finished the season with 707 yards and 8 touchdowns on 158 rushes (4.5 yards per carry) and 57 yards and 1 touchdown on 7 receptions (8.1 yards per catch). He had a season-high rush of 62 yards in the game at Duke. His best reception of the season went for 19 yards at Texas.
As Neal was a true freshman in 2021, KU fans can expect to see a lot more of him in seasons to come.
MY PICK FOR KU'S DEFENSIVE MVP
DE Kyron Johnson (Super Senior)
Johnson led the Jayhawks with 6.5 sacks, good for 7th in the Big 12. He also had four forced fumbles, good for 7th in the nation, 63 tackles, 2 fumble recoveries, and 1 pass defended.
Johnson's best game of the season and of his career came at Texas. Against the Longhorns, Johnson had 8 tackles, 2 sacks, 2 forced fumbles, and 1 fumble recovery. He also had 8 tackles and a sack the following week in the 31-28 loss to TCU.
Johnson has played in 9 or more games each season dating back to 2017. This was his fifth and final season with KU, and while it took him years to get there, he's leaving some big shoes to fill along the defensive line.
WHAT'S NEXT
2022 Recruiting Class
Kansas currently has 7 commitments to its 2022 recruiting class. According to 247sports, the Jayhawks' 2022 class currently ranks 9th in the Big 12 ahead of TCU, and their highest rated recruit is Kaleb Purdy, a 3-star safety from DeSmet High in St. Louis, MO.
Joe Baker, a 3-star offensive tackle from Southlake Carroll High in Southlake, TX, is the Jayhawks' second-highest rated recruit in the 2022 class, and he is one to keep an eye on in my opinion. I live near Southlake, and not only does Carroll regularly churn-out Olympians and highly rated recruits in every sport, but it also has an excellent football coaching staff led by Head Coach Riley Dodge, who does a fantastic job of getting kids ready to play at the next level.
Something to keep an eye on is that KU has yet to sign a single in-state recruit. While Kansas is not a recruiting hotbed like California, Florida, or Texas, the state does produce its share of talent, and for now, K-State has a stranglehold on the talent that is staying in-state. This has been the story for years and years now at KU, and it has contributed to the program's struggles.
One of the biggest advantages that K-State has each season in the Sunflower Showdown is that the game simply means more to K-State because it has far more Kansas kids on its roster. Moreover, it is somewhat illustrative that Kansas' best player on the current roster, Devin Neal, is a Kansan. In-state recruiting wins like Neal are rare for KU, and much of that has to do with KU not putting forth much of an effort in the state. This needs to change, and I suspect that Leipold is trying to do just that.
2022 Schedule
Sept. 3 – Tennessee Tech
KU opens the season at home with what should be a win against an FCS opponent.
Sept. 10 – at West Virginia
The Big 12 slate begins early for the Jayhawks with a difficult trip to West Virginia. WVU RB Leddie Brown and DE Darius Stills will be gone, but QB Jarret Doege may be back. This is going to be a tough game for the Jayhawks.
Sept. 17 – at Houston
KU stays on the road and gets a head start on getting to know future Big 12 opponent Houston. I have no idea what Houston's team will look like next season, but I expect this to be a tall task for the Jayhawks.
Sept. 24 – Duke
KU begins a three-game homestand as it wraps up its nonconference slate against the Blue Devils. After two tough road games, this will be KU's best chance to pick-up a second win before the Big 12 slate begins in earnest.
Oct. 1 – Iowa State
What will the Cyclones look like next season? It's difficult to say with the team losing so much offensive and defensive production from this season. However, it seems inevitable that Iowa State will take a step back, and perhaps Kansas can catch ISU at just the right time. Getting the Cyclones away from Jack Trice in Ames certainly helps.
Oct. 8 – TCU
The 2022 Horned Frogs are even more of a mystery as of today than the 2022 Cyclones. Who knows how good or bad TCU will be next season? However, if the way 2021 ended is any indication, Kansas will have a chance to win this game.
Oct. 15 – at Oklahoma
Another week, another team that is currently a big mystery heading into 2022. While the Sooners are currently in chaos, all the talent is not going to simply evaporate from Norman, nor will Oklahoma's home-field advantage. This will be a big challenge for Kansas.
Oct. 22 – at Baylor
The Bears will lose some key pieces over the offseason, but Dave Aranda clearly has the program roaring along in an upward trajectory. Even if Baylor takes a step back next season, it seems unlikely that Kansas can win in Waco.
Oct. 29 – Bye
Kansas gets a breather before the final four games of the season. What will KU's record be eight games into the season? Is it possible that the Jayhawks will have already surpassed their two wins of the 2021 season? If so, bowl eligibility will still be a realistic goal.
Nov. 5 – Oklahoma State
The Cowboys are another team facing a lot of offseason turnover, but it seems likely that OSU will at least be a team in the top half of the Big 12 in 2022, and as far as we know, Mike Gundy will still be there. I expect this to be too tall of a task for KU.
Nov. 12 – at Texas Tech
Again, who knows what Texas Tech will look like next season or who will be the quarterback? It's just guesswork from here, but I wouldn't expect Tech to be much better than this season and potentially worse because coaching transitions can be difficult. That said, KU may have broken that long road losing streak at Texas this season, but I wouldn't count on KU winning another Big 12 road game anytime soon.
Nov. 19 – Texas
It will be a revenge game for Texas, but what will Texas look like the weekend before Thanksgiving in 2022? If things go anything like they did in 2021 for UT, the Longhorns may well have already pulled the plug on the Steve Sarkisian era in Austin. Maybe the Jayhawks can make it two in a row against the Horns. S-E-C! S-E-C!
Nov. 26 – at Kansas State
It will be Senior Day in Manhattan, and K-State always gets up to play Kansas. While K-State is losing some key pieces from the 2021 team, the Wildcats will still have RB Deuce Vaughn and DE Felix Anudike-Uzomah. I expect Kansas' losing streak in the Sunflower Showdown to continue.
SUMMARY
Despite losing 10 games, KU's 2021 season must be considered a success. The win at Texas shook the college football world, and the Jayhawks were competitive in their final two losses of the season. That's something KU can hang its hat on this offseason.
Kansas still has a way to go to get back to a bowl game, and it probably won't happen in 2022, but it appears that Leipold is making strides in Lawrence, and KU is moving in the right direction. I wouldn't be surprised if KU doubled its 2021 win total in 2022.