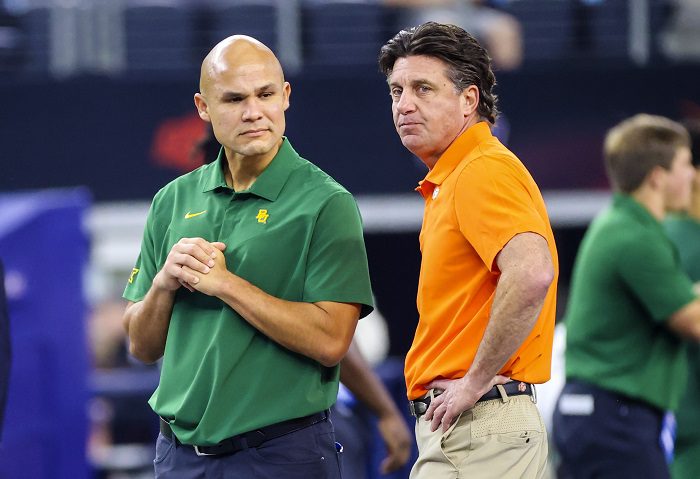 The Big 12 football regular season is in the books, and there is some final movement in our Big 12 Power Rankings. It was a thrilling finish to the season in the Big 12 Championship, with two teams who were apparently "leftovers" of the Big 12, ending up playing for the conference title. With that being said, here is your weekly reminder that these rankings can fluctuate greatly on a week-by-week basis, based on how teams have performed in their most recent games and who they've beaten, not what we predict the final Big 12 standings to be and not what the preseason rankings were.
So with all that being said, here's a look at our Big 12 Football Power Rankings heading into the bowl season.
1. Baylor Bears (Last Week: 2)
The Baylor Bears end the regular season in the top spot after a 21-16 win in the Big 12 Championship on Saturday for their first conference title since 2014 and third in program history. The year-over-year improvement for Baylor from a 2-7 season to an 11-2 season with a conference title is a huge testament to Dave Aranda, his staff, and the players who bought into a coach and staff, who likely did not recruit them, but who they stood behind in an era when one can transfer in the snap of a finger. It's been an incredible turnaround and is one of the best stories in college football.
2. Oklahoma State Cowboys (Last Week: 1)
The Oklahoma State Cowboys were a half-yard away from being Big 12 Champs and possibly College Football Playoff bound, but they could not get those 18 inches needed to win their first conference championship in a decade. The Pokes are heading to the Fiesta Bowl, which is still a huge opportunity, but not being able to finish the deal is going to sting for some time. Regardless, Oklahoma State exceeded expectations and deserves credit for that.
3. Oklahoma Sooners (Last Week: 3)
The Sooners were home after losing Bedlam and obviously it's been a tumultuous week and a half, but Oklahoma still had a very solid season by anyone's standards not named Oklahoma. There was plenty of on-field and off-field drama this past season, but now it's the Brent Venables era and we will get a glimpse into that in the coming weeks, including in the Alamo Bowl and beyond.
4. Iowa State Cyclones (Last Week: 7)
Iowa State did not meet its expectations this season, as they were the favorites to meet the Sooners in a re-match of the 2020 Big 12 Championship. But Iowa State ended the season with a dominant 48-14 win on Senior Day over TCU. The Cyclones end the season as the best of a crowded middle-of-the-pack Big 12, as there was a drop off in the standings from Oklahoma State (8-1) to Baylor and Oklahoma (7-2) to then a bunch of group of teams, starting with Iowa State finishing 5-4 in Big 12 play.
5. Kansas State Wildcats (Last Week: 4)
Kansas State closed the season with a pair of back-to-back disappointing losses at home to Baylor and on the road against Texas, with the latter certainly stinging more. Even though Skylar Thompson was missing at quarterback, it became clear that in a post-Skylar world, K-State is going to have offensive issues if they stayed the course, which led in part to the parting of ways with coordinator Courtney Messingham. We will possibly get a look to what the new offense could look like in the Texas Bowl next month.
6. West Virginia Mountaineers (Last Week: 5)
The Mountaineers became bowl eligible after winning their last two games against Texas and Kansas, with the latter being a little too close for comfort. For WVU fans, bowl eligibility is nice, but the expectations are higher, as they should be. And the question is: How does WVU take that next step? That's unclear, but in a day and age when programs are so trigger happy to fire coaches without a better option, staying the course is the best bet, for now.
7. Texas Tech Red Raiders (Last Week: 6)
Texas Tech closed out the season with a surprising win over Iowa State, a bad loss to Oklahoma State, and then played eventual Big 12 Champion Baylor down to the wire in the regular season finale. The Joey McGuire era has already included a ton of energy and excitement, plus some great hires. For the Red Raiders, it feels like there is synergy within the program and leadership at the University for the first time in a while. We'll see if it eventually pays off.
8. Texas Longhorns (Last Week: 10)
The Texas Longhorns pulled out of the basement after closing the season with a win over K-State, which snapped their seven-game losing streak. However, Texas is still not going to a bowl game after finishing 5-7. It was a tumultuous first year for Steve Sarkisian and the first step needs to be figuring out who exactly wants to be with this program under his leadership. Then, recruit his guys, hit the transfer portal hard if need be, and try to rebuild this program in his own vision.
9. TCU Horned Frogs (Last Week: 8)
TCU began the season as a potential dark horse in the Big 12, but by the end of the season, the Horned Frogs had moved on from legendary head coach Gary Patterson, and finished 5-7 on the season. Sonny Dykes is now in charge and he's made it clear there will be changes, quarterback competitions and more. The pressure is on to get TCU back into Big 12 contention.
10. Kansas Jayhawks (Last Week: 9)
Kansas was out of the basement for a couple of weeks, and despite their second half of the season including a win, and some strong showings against Oklahoma and West Virginia, they have to end the season in the No. 10 spot. But all in all, KU football fans should be as optimistic as they've been about the future in well over a decade. Let's see what is next for Lance Leipold and his program.