Big 12 News
Bob Bowlsby Talks CFP Expansion, Early Signing Period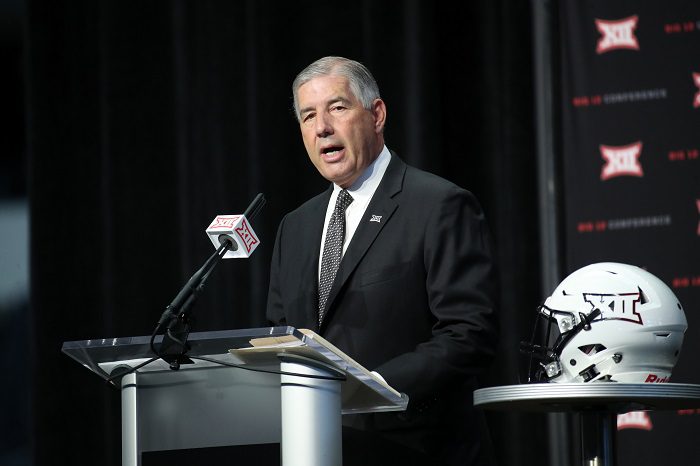 The world of College Football is everchanging, and the talking heads that are responsible for said change meet every once in a while to discuss what should or shouldn't be done to improve the sport.
Today Bob Bowlsby, along with many other large names in college athletics, had the opportunity to speak about the College Football Playoff at the Sports Business Journal Learfield Intercollegiate Athletics Forum in Las Vegas.
ESPN's Adam Rittenberg noted several of Bowlsby's remarks concerning the Playoff and the process of expansion:
According to Rittenburg, Bowlsby said the Big 12 would be incentivized to want a model with automatic qualifiers for Power 5 champions but he says it's not what's best for college football as a whole. Bowlsby also added that the deadline for expansion to happen by the 2024 season has likely already passed. Still seems like there could be a chance for the 2025 season – the final year of the initial CFP contract.
It sounds like expansion could take longer than anticipated, with seemingly new issues arising every time the commissioners meet to find a common ground. The issues that are brought up are legitimate and is the reason why these things take years to get right, but you have to wonder how much of it stems from the commissioners not "playing nice".
CBS Sports' Dennis Dodd tweeted Bolwsby response to working with SEC commissioner Greg Sankey:
There's nothing going on between those two, right?
Another topic that arose at the forum was the early signing period in college football, to which Bowlsby had another interesting response, courtesy of Adam Rittenburg:
Given the crazy year of coaching changes and the awful timing leaving major programs to pick up the pieces, the early signing date being moved might be the best option for coaches and their families.
Can you imagine being in Oregon's, Oklahoma's, or Notre Dame's shoes during the past two weeks? It can't be easy to try and keep the recruiting train rolling along without a conductor behind the wheel.
After a 2021 football season that was full of drama, change, and full stadiums it sounds like one thing is constant: Anything involving the NCAA could take a while, but it will get done. Eventually.