Big 12 News
Oklahoma Hires Ole Miss's Jeff Lebby as Offensive Coordinator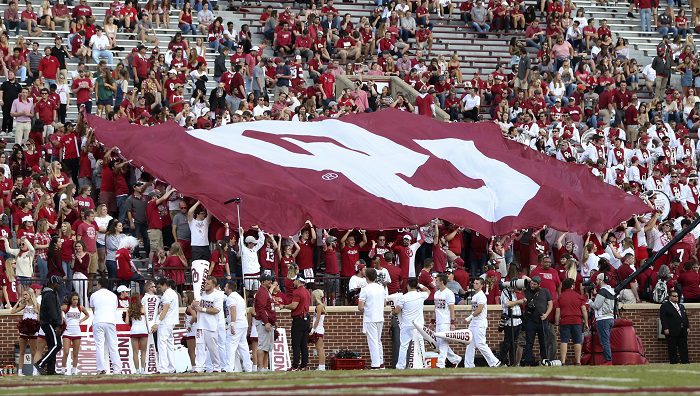 Lincoln Riley is one of the best offensive minds in all of football, not just at the college level. There is a reason why he has been targeted by NFL franchises since he took the head coaching job at Oklahoma in 2017.
So when he left Oklahoma for USC, it was reasonable to worry if you are a fan of the Sooners. The man can develop quarterbacks, just look at the pedigree: Baker Mayfield, Kyler Murray, and Jalen Hurts. When a guy like that up and leaves it's going to leave a mark on the program, and it has. Offensive commitments started dropping like flies last week, with the majority of them headed to USC. Players like Theo Wease and Austin Stogner started hitting the transfer portal and it looked like Oklahoma's offense was going to fall apart.
Well, things got better when it was announced that Oklahoma would retain its entire offensive staff, short of Riley and WR coach Dennis Simmons. One of the best offensive staffs in the country, including offensive line coach Bill Bedenbaugh and running backs coach Demarco Murray, has been able to stop the bleeding for now. Then, Wednesday morning things got really good for the Sooners.
Oklahoma has hired Ole Miss Offensive Coordinator Jeff Lebby to be the new play-caller in Norman. Lebby's unit has been top five in the country in each of the past three seasons, in 2019 with UCF and 2020-21 with the Rebels. That's not something Riley could claim in either of the past two seasons. In fact, Lebby's offense is the only one that has been top 5 in the country in each of the past three seasons. It's too early to call him an upgrade, but numbers don't lie; Lebby is an elite offensive mind, and a huge get for Venables and the Sooners.
Lebby's first order of business in Norman is going to be keeping Caleb Williams in Norman. It has been rumored that the Williams family and Lebby will have a discussion about Lebby's ability to develop and prepare quarterbacks for the NFL. If he can use Matt Corral as a template and convince Williams that Oklahoma is the best place for him to get ready for the NFL, then the 2022 version of the Oklahoma offense could be potent.
Convincing Williams could prove to be a task though, because Lebby's scheme is heavily predicated on RPO action and tempo; two things that aren't seen much on Sundays. Ole Miss averaged 2.89 plays per minute in the 2021 season, making it the fastest offense in the nation for much of the year. The quick-game and reads that Williams will need to learn would definitely help him develop his mental acuity as a quarterback, but it may not correlate directly into the NFL game like Riley's offense did.
Sooner Nation will hold its collective breath as Lebby tries to work his magic, because if he can, look out. That offense would be backed up by a Venables defense, and the entire country knows what that looked like at Clemson for the past decade.