Big 12 News
Three Takeaways From Iowa State's Cy-Hawk Win Over Iowa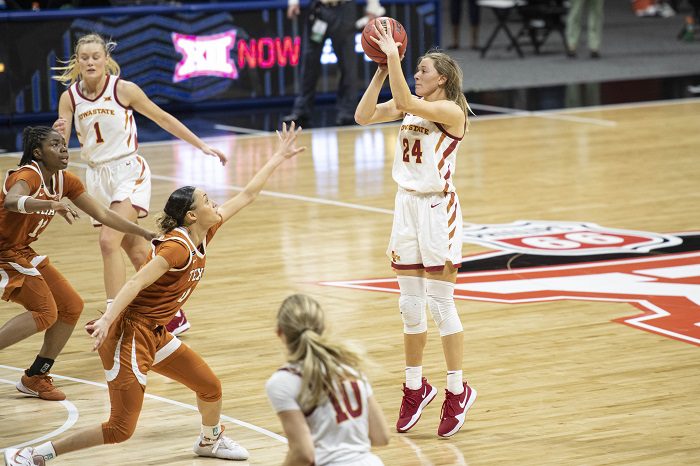 The Iowa State Cyclones defeated Iowa, 77-70, in the annual Cy-Hawk rivalry game at Hilton Coliseum in Ames, Iowa, on Wednesday night.
For No. 15 Iowa State (9-1), the victory snapped a five-game losing streak to No. 12 Iowa. Ashley Joens and Aubrey Joens both had double-doubles for Iowa State, with Ashley scoring 26 points and grabbing 11 rebounds, and Aubrey scoring 12 points and 11 rebounds. Lexi Donarski 16 points.
Iowa's Caitlin Clark had 26 points, while Monika Czinano had 13 points while McKenna Warnock added 11 points.
In a match-up of the top two free-throw shooting teams in the country, Iowa State won that matchup on volume, as the Cyclones shot 16-of-22 from the free-throw line and Iowa was just 5-of-6.
Iowa went on a 21-9 run in the second and third quarters to grab the lead, 45-43, in a game where Iowa State was up by 12 points early. But, with five minutes left in the fourth quarter, Iowa State had a six-point lead and the Cyclones never gave it up.
Here are three key takeaways from Wednesday's game.
A key win come tournament time
Barring complete disaster, Iowa State is going to the NCAA Tournament. The only question is seeding. And, a win like Wednesday can make a difference between, say a No. 4 seed or a No. 3 seed.
Iowa State has now played teams from Power 5 conferences in three of its last five games (Penn State, LSU and Iowa). But, Iowa is the first ranked team the Cyclones have defeated (LSU is now ranked, but the Tigers were unranked going into last week's matchup). With Iowa State already carrying a Top 11 NET rating, the victory over Iowa is considered a Quadrant 1 win, something the NCAA Tournament committee will weigh heavily come March. This was Iowa State's last real chance to add to its resume before Big 12 play begins next month.
Yes, the victory snapped the Cyclones' five-game losing streak to Iowa. But the win was a bit bigger than that, too. We'll find out how big in March.
Live and die by the 3-pointer
Want to hear something crazy? More than half of Iowa State's field goal attempts this season have been from the 3-point line. That doesn't sound right, does it? I mean, I know we live in the age of the 3-point shot, but still …
But, look at the Cyclones' season stat sheet at it's right there in black and white. Entering the Cy-Hawk contest the Cyclones had taken 563 field goals, and 286 of them were 3-point attempts. Do the math and that's 50.8 percent.
Entering Wednesday night no Division I women's team had attempted more 3-point field goals (286) and made more 3-point field goals (106) than ISU. The Cyclones were No. 31 in 3-point shooting percentage (37.06 percent).
That ratio didn't quite hold true against Iowa. The Cyclones attempted 67 field goals and 28 of them were 3-pointers (41.7 percent). But, the Cyclones shot an exceptional 45.5 percent from the arc in the second half after a tepid first half. That, along with the free-throw volume and points off turnovers (12 to 4 in the second half) helped fuel the Cyclones to the victory.
This is Iowa State. This is how the Cyclones play and this is how they're going to live and die, night to night.
Emily Ryan, Thief
Cyclones guard Emily Ryan made waves with nine steals in the season opener. Well, entering Tuesday's game she was among the Top 20 players in the country in total steals with 25, and she added a couple against Iowa. She's not only a great on-ball defender, but the video below is a great example of her ability to anticipate away from the ball.
When this play starts Ryan is in the background, on the left side of the ball. As the Iowa guard gives up the ball to the player to her right, she cuts toward the basket and the player Ryan is defending starts to move toward the middle of the court for a pass.
But pause it at the start and see where Ryan and her assignment are. Ryan is about two steps from the mid-line and her assignment is on the far wing. Ryan isn't cheating. She's playing the way most players are taught to defend away from the ball. She's hugging the mid-line to provide help to other defenders but keeping her assignment in her sight. Coaches call it a 'ball-me-man' triangle.
When her assignment starts to cut over, Ryan does exactly what she's supposed to do — slide up to cover her player. By the time Iowa's Kate Martin gives up the ball it's already over. Ryan is going to steal and the ball and take it to the other end for a lay-up. If anything, Martin should have kept the ball and looked to pass to another player. Ryan played it perfectly, and that's why she's one of the best defenders in the Big 12.
You can find Matthew Postins on Twitter @PostinsPostcard.