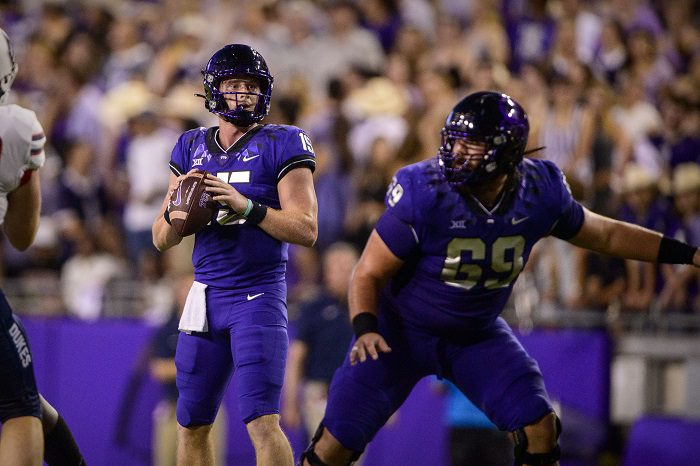 The TCU Horned Frogs (5-7, 3-6 Big 12) were picked to finish 5th in the 2021 Big 12 Media Poll. Others, including myself, thought TCU could be a dark horse contender for the Big 12 Championship game.
Clearly, TCU did not live up to these expectations. TCU's 3-6 record in the league play put them in a tie for 7th place (or 9th, depending on how you view it) with Texas and Texas Tech. When you add in head-to-head results, TCU finished eighth by virtue of beating Tech and losing to Texas. However, Tech managed to get to six wins and handed Houston its only regular-season loss to do it, so it's fair to say that TCU had a worse season than the Red Raiders.
THANKS, GARY
Like the Red Raiders, TCU decided to part ways with its head coach before the season was over as TCU said goodbye to Gary Patterson, after losing to Kansas State. While Texas Tech cutting ties with Matt Wells was only a mild surprise, the fact that legendary head coach Patterson did not finish the season was stunning.
I live in the Fort Worth area and have seen numerous purple and white signs that say, "Thanks Gary" in the Arlington Heights and Monticello neighborhoods. Patterson is beloved by Fort Worth and the TCU faithful, and for good reason.
I'm sure that many TCU fans feel the way I do: Contemplating TCU football's future without Patterson is like contemplating an image from the Hubble Space Telescope. Anything could be out there, and far more is unknown than known.
Before we look ahead at the Sonny Dykes era, here's a look back at TCU's 2021 Season:
BEST WIN
Except for Kansas beating Texas, this was the biggest upset of the Big 12 season. In fact, a strong case can be made that TCU's upset of Baylor was bigger than Kansas' over Texas.
Baylor entered the game in the driver's seat for a Big 12 Championship game appearance and ranked 12th in the CFB Playoff rankings. TCU had just parted ways with Patterson and lost five of its last six, including a 31-12 loss at the hands of K-State in which the Horned Frogs didn't find the endzone until the waning seconds of the game.
QB Chandler Morris made the first start of his career against Baylor and played like a Heisman contender. Morris had a hand in all three of TCU's touchdowns as he completed 29 of 41 passes for an eye-popping 461 yards and two touchdowns. He added a team-high 70 yards rushing and a touchdown on 11 carries.
WR Quentin Johnston had the second-best game of his career with 142 yards and a touchdown on five receptions. His longest reception of the day, good for 53 yards, made it the 7th game of his career with a catch of 40+ yards.
TCU's defense picked Gerry Bohanon off twice, had seven tackles for loss, one sack, and limited Baylor's offense to four explosive plays on the day. That, along with three Griffin Kell field goals, was just enough to put TCU over the top.
WORST LOST
A week after stunning Baylor, Morris and the Horned Frogs found themselves underfoot in a Cowboys defensive stampede. Oklahoma State teed off with seven sacks and twelve tackles for loss while holding TCU to just 273 yards of total offense.
Meanwhile, the Cowboys' ground game ran straight downhill for an astonishing 447 yards and eight touchdowns. OSU QB Spencer Sanders added 235 yards and a touchdown through the air.
It was a forgettable performance for TCU, mostly due to the misfortune of having caught Oklahoma State at precisely the wrong time.
THE ONE THAT GOT AWAY
Oof! This one hurt. QB Max Duggan tossed three TCU touchdowns, Taye Barber had five receptions for 114 yards and a TD, Zach Evans had 113 rushing yards on 15 carries, and the Horned Frogs picked off SMU QB Tanner Mordecai three times. Yet TCU still came up short.
In the end, it was TCU's inability to stop the run that kept the Iron Skillet in the hands of the Mustangs. SMU finished the day with 350 yards rushing on 52 attempts (6.7 yards per) and 595 yards of total offense.
While Duggan and the TCU offense did everything they could to win the game, SMU's ability to move the ball on the ground was more than they could overcome, and a wildly entertaining game slipped through the Frogs' grasp after falling behind 42-27 in the fourth quarter.
MY PICK FOR TCU'S OFFENSIVE MVP
QB Max Duggan (Junior)
A case could certainly be made for Evans and Johnston, and I'll admit to being a fan of Duggan – the guy has the heart of a lion – but Duggan had a strong season despite fighting through injury. Duggan completed 145 of 227 passing attempts for 2,048 yards, 16 touchdowns, and 6 interceptions. Despite being sacked 20 times, Duggan netted 352 rushing yards, good for fourth on the team, on 76 true rushing attempts (96 including sacks).
While Morris may well be the future for TCU behind center, Duggan says he plans to stick around in Fort Worth, and this is very good news for Dykes and TCU. Duggan's leadership and competitiveness are sure to be an asset for the program as it begins a new chapter.
MY PICK FOR TCU'S DEFENSIVE MVP
LB Dee Winters (Junior)
It was a historically bad season for TCU's defense – at least since Gary Patterson arrived in Fort Worth – but Winters was a light in the darkness. Winters finished the season with a team-leading 74 tackles. He also added two interceptions and a sack.
Winters' best game of the season came in the loss to West Virginia when he had 12 tackles, including nine solo tackles. He was also instrumental in the win against Kansas as he contributed eight tackles and an interception that set up TCU's offense on the KU 29.
As TCU fans probably remember, the Horned Frogs didn't manage to turn Winters' interception into points after failing to convert on 4th and 1 from the KU 9. However, Winters' interception matched a KU interception on the previous possession and kept KU, which led 14-7 at the time, from gaining more momentum.
WHAT'S NEXT
2022 Recruiting Class
TCU currently has four commitments to its 2022 recruiting class. According to 247sports, the Horned Frogs' 2022 class currently ranks 10th in the Big 12 behind Kansas. However, Sonny Dykes is already having success on the recruiting trail.
For 2022, that success is the latest addition to and the highest-rated player in the current class, 4-star wide receiver Jordan Hudson from Garland, TX. Hudson is rated as the 21st best receiver in the 2022 class and the 25th best player in Texas. It's a huge win for Dykes and TCU as Hudson chose TCU over offers from Alabama, Arkansas, Auburn, Baylor, LSU, Oklahoma, Oklahoma State, Texas, and Texas A&M, among numerous others.
Transfer Portal
In the age of the Transfer Portal, transfers are common every season and even more common when there's a coaching change.
Right now, the intrigue in Fort Worth is whether Zach Evans can be persuaded to remain in the program. As HCS' own Bryan Clifton reported, legendary TCU running back LaDanian Tomlinson is attempting to persuade Evans to step back out of the portal and remain with TCU.
2022 Schedule
Sept. 3 – at Colorado
TCU opens the season in the Rocky Mountains and Pac-12 country against the Buffaloes. Boulder is a tough place to play. The air is thin, and the fans can be downright nasty (at least they were when Colorado was in the Big 12). Both teams will be something of a mystery before kickoff, and TCU fans can expect to learn something about their team in this Power 5 road game.
Sept. 10 – Tarleton State
The first home game of the season will be a lay-up against an FCS opponent. I expect to see Dykes' offense erupt after a difficult road test the week before.
Sept. 17 – Bye
Once again, TCU's bye week comes too early in the season to be of much use. However, it will give Dykes and the Horned Frogs plenty of time to prepare to travel across the Metroplex for the Iron Skillet game.
Sept. 24 – at SMU
This will be one of the must-see games of the early season. TCU luring Dykes away from SMU is only more fuel on the fire of this rivalry. Who wins is anybody's guess, but I'm setting the over/under for on-field brawls at 1.5.
Oct. 1 – Oklahoma
October and Big 12 football go together like beer and hot wings. The Sooners will be in Fort Worth for probably the last time as conference opponents, and if TCU is 3-0, the atmosphere will be electric. It's as difficult to say what the 2022 Sooners will be like as it is to say what the 2022 Frogs will be like, but this has the makings of a very fun game.
Oct. 8 – at KU
Kansas came close to winning in Fort Worth in 2021, and Lance Leipold seems to have the Jayhawks on the upswing. Might KU be dangerous in Lawrence next season? That may be expecting too much of the Jayhawks; time will tell.
Oct. 15 – Oklahoma State
From here, Oklahoma State appears to have ascended to the status of the team to beat in the Big 12. After the whooping the Cowboys put on the Horned Frogs in 2021, TCU will be looking for revenge, and with the game at home, there might be a chance.
Oct. 22 – Kansas State
TCU stays home to face K-State, which has won the last three in the series. Skylar Thompson will no longer be behind center for KSU, but RB Deuce Vaughn and DE Felix Anudike-Uzomah will be back. This could turn out to be a fun game.
Oct. 29 – at West Virginia
While we'll have to see how WVU looks without Leddie Brown and Darius Stills, there is no doubt that Morgantown will remain a tough place to play. Without being able to forecast the weather, West Virginia is beautiful in the fall, and the weekend before Halloween would make a great time for a road trip to Country Roads country.
Nov. 5 – Texas Tech
Tech is another mystery team that will be breaking in a new head coach to start the season. As when TCU faces any other team from Texas, a lot will be on the line when it comes to recruiting and bragging rights.
Nov. 12 – at Texas
This is a big one. What will Texas look like in the second chapter of the Steve Sarkisian era? Or, if things go anything like they did in 2021 for UT, will the Sarkisian era already be over? TCU has had Texas' number as a member of the Big 12, and it would be nice for the Horned Frogs if they could get one last win in Austin before Texas moves on to the SEC.
Nov. 19 – at Baylor
The Revivalry alternates back to Waco, and Dave Aranda's Bears will be looking for revenge. After shocking the college football world in 2021, Baylor is clearly heading in the right direction. This is going to be a tall order for the Frogs.
Nov. 26 – Iowa State
The Cyclones are losing a ton of production on both sides of the ball this offseason, and it will be interesting to see how the team shapes up in 2022. Whatever the 2022 versions of the Cyclones and Horned Frogs will be, they'll have long taken shape by the time this game kicks off.
SUMMARY
It was a disappointing season for TCU. Expectations were high, and many believed the Horned Frogs would end up playing in the Big 12 Championship. Things went in the complete opposite direction and resulted in TCU parting ways with a legend. However, as Earnest Hemmingway said, the sun also rises. It's a new dawn for TCU football, and the 2022 season will be fun to watch.