Trending Now
EA Sports Aims to Re-Launch NCAA Football in 2023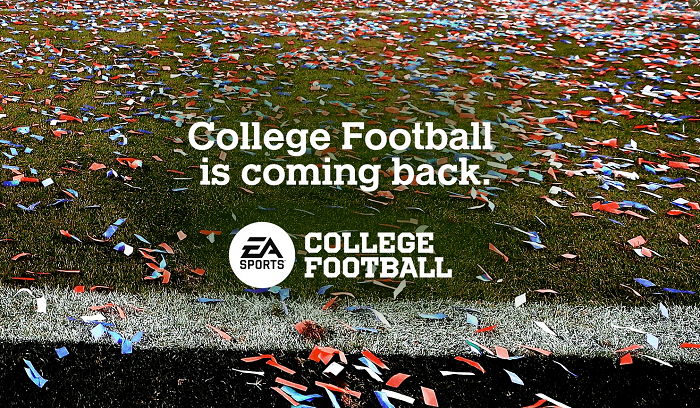 One of the most popular sports game franchises ever was announced to be returning back in February. Well, NCAA14 fans rejoice; we have a timetable for the release of the new College Football game from EA Sports. According to a report from Brandon Marcello, EA Sports is aiming to reboot the beloved franchise in the summer of 2023.
When the announcement was made earlier this year, no timetable was released for the new installment but back in June, a document was recovered by Matt Brown of Extra Points that showed an EA Sports/CLC proposal to FBS schools for licensing starting July 1, 2023. That timetable was confirmed by Cory Moss, CEO of Collegiate Licensing Co., on Thursday at the Sports Business Journal Intercollegiate Athletics Forum in Las Vegas.
If EA Sports can get their new title out in July of 2023, it will be almost exactly 10 years to the day without an NCAA football game. We have been left to suffer with the Madden franchise and all of its pay-to-win MUT glory. Madden just doesn't scratch the same itch that firing up NCAA14 does. In fact, the NCAA franchise was, in my circle of friends, better than Madden and it wasn't particularly close.
NIL deal and the everchanging landscape of college athletics is really what made this reboot possible, and back in July EA Sports released a statement on how the new NIL policies have changed the game:
"We are watching the recent developments regarding student-athlete name, image and likeness very closely. It's still very early stages at this point, and we plan to explore the possibility of including players in EA SPORTS College Football. For now, our development team is focused on working with our partners at CLC to ensure the game authentically showcases the great sport of college football and the more than 100 institutions signed on to be featured in our game."
Now, EA can negotiate with college athletes, both as a whole and individually, and that makes it possible to have their name, image, and likeness in the game while being compensated for the rights to use them.
So hold on college football fans, just a little bit longer. Use the CFB Revamped version of NCAA14 to get you by for a couple more seasons and before you know it, we will be playing "Road to Glory" online with friends again.