Big 12 News
Oklahoma State AD Chad Weiberg Won't Commit to Bedlam Future in Football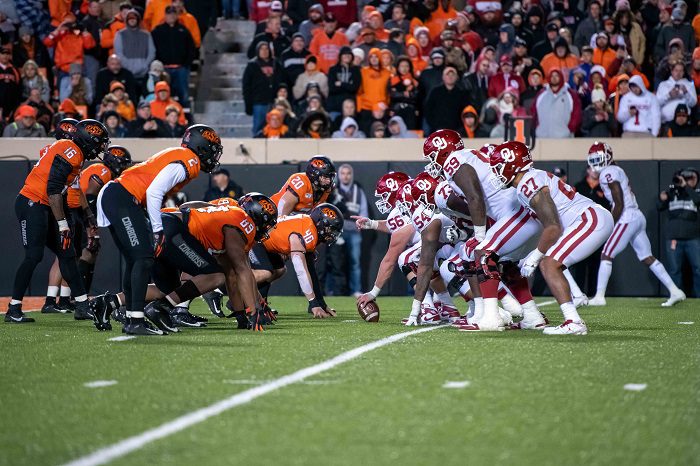 It sounds like the Bedlam Trophy will continue to travel between Norman and Stillwater, but just not in the sport that produces the most revenue.
Brett McMurphy reported on Thursday that Oklahoma State athletic director Chad Weiberg would like to continue playing Oklahoma in all sports but football because continuing Bedlam in football is "trickier."
"I'm not saying we would never play them," Weiberg said. "But logistics need to be worked out. There are a lot of unanswered questions (w/future schedules)"
The problem that could arise is the SEC potentially moving to nine conference games in the future, while the Big 12 already has nine. Right now, the SEC has a contingency in place for rivalry games to end the season (South Carolina vs Clemson, Florida vs. Florida State, Georgia vs Georgia Tech) so it's likely that something couldn't be worked out between the in-state rivals if both parties want the game to happen.
If you are Weiberg though, it's easy to see the allure of not playing Oklahoma anymore. You just won your 19th game in 116 tries and have the chance to go out on top against the Sooners. It's a no-brainer to stop playing Bedlam football from a competition standpoint because OSU is more than competitive in the other sports. Football is the outlier.
However, the one thing that gets swept under the rug is season ticket sales when Oklahoma comes to Stillwater. Oklahoma State fans purchased more season tickets in 2017 and 2013 than they have in any other year. Do you know who was on the home slate in those years? Yep, you guessed it. Oklahoma.
It's not a coincidence that OSU sells more season tickets in odd years and Oklahoma sells more in even years. That's when each team hosts Bedlam. It's a gigantic part of the season for both teams, and I would wager that they find a way to make it work.