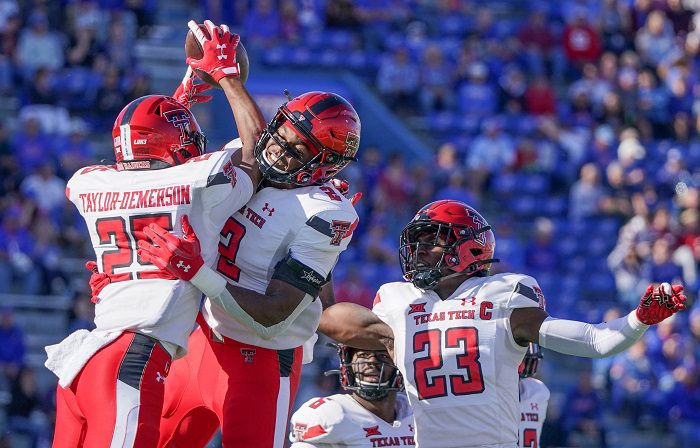 Texas Tech upset Iowa State to get bowl eligible before dropping its final two games of the season against Oklahoma State and Baylor. Tech's reward is a spot in the Liberty Bowl against a good but not great SEC West team coached by Texas Tech legend, Mike Leach. The downside is Leach is probably more fired-up about getting to face his former employer than Texas Tech is about facing Leach.
Mississippi State is what you'd expect from a Mike Leach team: an Air Raid offense run by a gunslinging quarterback with speed all over the field. Mississippi State is more like an old-school Big 12 team than any of the Big 12's 2021 teams. The closest analog in the Big 12 to Mississippi State would probably be Oklahoma, but even that is a tenuous comparison at best.
However, like Oklahoma, Mississippi State isn't a team to be trifled with and its offense can strike from anywhere on the field. To better get to know the Bulldogs, here's a look at their 2021 season followed by some humble, non-expert analysis of the team and how it matches up against Texas Tech.
MISSISSIPPI STATE'S 2021 SEASON
RECORD: 7-5, 4-4 in the SEC (tied for 3rd in the SEC West)
BEST NONCONFERENCE WIN: NC State, 24-10
NC State finished the season ranked 18th at 9-3, 6-2 in the ACC.
WORST NONCONFERENCE LOSS: at Memphis, 31-29
Memphis finished the season at 6-6, 3-5 in the AAC.
NOTABLE SEC WINS: at #15 Texas A&M, 26-22; vs. #12 Kentucky, 31-17; vs #17 Auburn, 43-34
Texas A&M followed up a home loss to Arkansas with a home loss to Miss State. However, the Aggies handed Alabama its only loss of the season a week after falling to the Bulldogs. A&M finished the season ranked 25th at 8-4, 4-4.
Kentucky was highly overrated at 12th, but the Wildcats finished the season ranked 22nd at 9-3, 5-3. While Kentucky is probably still overrated at 22nd, this was a quality win for the Bulldogs.
Despite Auburn's four-game losing streak to close the 2021 season and its 6-6, 3-5 record, winning at Auburn is never easy.
NOTABLE SEC LOSSES: vs LSU, 28-25; vs #5 Alabama,49-9
Despite piling up nearly 500 yards of offense and holding the ball for over 35 minutes against LSU, the Bulldogs struggled with early turnovers and failed to punch in a touchdown on 3rd and Goal from the LSU 2 in the 2nd quarter. They also failed to capitalize on LSU's only turnover of the game and missed a 33-yard 3rd quarter field goal from the LSU 15. MSU didn't find the endzone until LSU had pulled out to a 21-3 lead.
The Bulldogs could get nothing going offensively against Alabama, and MSU finished the game with 19 rushing attempts for -1 yards. Meanwhile, the Tide offense erupted with 543 yards of total offense, including 348 yards and four TDs through the air on a 20-of-28 day for Bryce Young.
STATISTICAL LEADERS
Passing: QBWill Rogers (Sophomore) – 473 completions on 630 attempts for 4,449 yards; 35 TDs; 8 INTs; passing efficiency: 150.19 (40th nationally).
Note: Rogers is not a threat to run the ball (56 attempts for -70 yards), but he is tied for 2nd nationally in passing yards with Virginia's Brennan Armstrong. For comparison, Iowa State's Brock Purdy leads the Big 12 in passing yards with 2,984 (tied for 24th nationally).
Rushing: RBDillon Johnson (Sophomore) – 423 and 4 TDs on 80 carries (5.4 yards per carry).
Note: Johnson's production on the ground is more like that of reserve running back in the Big 12 than a featured back. In fact, RB Jo'quavius Marks has more rushing attempts on the year (101 for 397 yards and 6 TDs). However, Johnson and Marks are also threats in the passing game. Marks has 79 receptions for 464 yards and 3 TDs. Johnson has 62 receptions for 396 yards and a touchdown. He is also good at taking care of the ball as he has yet to fumble in two seasons with the Bulldogs.
Receiving: WR Makai Polk (Junior) – 98 receptions for 989 yards and 9 TDs.
Note: Polk has had a breakout season after logging less than 20 catches in both the 2019 and 2020 seasons. However, Polk has had a reception of 50 yards or more in all three of his seasons with the Bulldogs.
Polk's 989 receiving yards ranks 33rds nationally, and he would be the leading receiver in the Big 12 ahead of Texas' Xavier Worthy (981 yards, 35th nationally) and Iowa State's Xavier Hutchinson (953 yards, 37th nationally).
Sacks: LB Tyrus Wheat (Senior) – 6.
Note: Mississippi State's linebackers are responsible for 13 of the team's 27 sacks on the season.
Tackles: LB Jett Johnson (Junior) – 84 (35 solo, 49 assists, 0 sacks)
Note: MSU's second-leading tackler, LB Nathaniel Watson has 77 tackles (28 solo, 49 assists) and 4 sacks. Linebacking is a strength for the Bulldogs' defense.
OFFENSIVE STATS
Points per game: 31.1
3rd down efficiency: 45.81% (71 of 155)
4th down efficiency: 64.29% (9 of 14)
Passing yards per game: 385.7
Rushing yards per game: 63.9
Yards per game: 449.6
Average time of possession per game: 34:03
DEFENSIVE STATS
Points allowed per game: 25.25
3rd down defensive efficiency: 41% (68 of 166)
4th down defensive efficiency: 42.9% (6 of 14)
Passing yards allowed per game: 230.1
Rushing yards allowed per game: 100.8
Yards allowed per game: 449.6
ANALYSIS
Defense
The Bulldogs defend the run well, and their linebackers make plays all over the field. The secondary is susceptible but does a decent job of creating turnovers with 11 interceptions to along with 21 passes broken-up on the season. However, the Bulldogs have surrendered 1,591 yards-after-catch this season. The pass rush is strong with 115 hurries on the season, but it relies a good deal on blitzing linebackers and safeties. Tackling has been an issue at times for the Bulldogs as they've missed 111 tackles on the season.
Offense
It's all about the passing game for Mike Leach's team. Will Rogers is the real McCoy, and the wideouts are dangerous. However, the offensive line allowed 2.5 sacks per game through the regular season (30 total), and the rushing game doesn't do much to give defensive pause when blitzing. Nonetheless, despite poor performances against Alabama and Ole Miss, the offensive line is stout and typically pass-blocks at a high level. The primary running backs, Marks and Johnson, are very good at pass protection as well.
VERDICT
First team 42 wins.
This is a winnable game for Texas Tech, but it's not a favorable match-up. Tech's pass-rush wasn't strong enough throughout the season to confound Rogers, and Tech struggled against the Big 12's more prolific receivers. The ability of MSU's running backs to be a factor in the passing game is also a worry as Tech had some difficulty matching up with Big 12 backs in the passing game.
To win, Tech will need to protect the ball and create turnovers while getting the running game going just enough to give the passing game more room to operate against MSU's pass rush. Getting the ball to WR Erik Ezukanma on the edge will be critical for Tech as the Red Raiders tend to find success when Ezukanma plays a major role in the offensive game plan.