Big 12 Basketball
Watch: Iowa State Coach T.J. Otzelberger Tears Up After Beating Iowa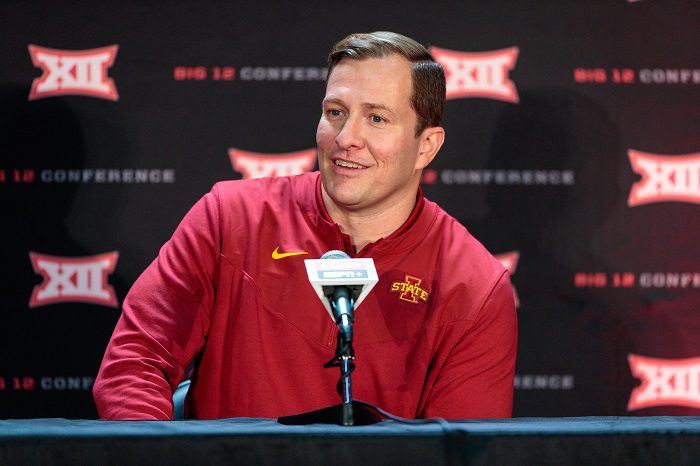 No. 17 Iowa State made a statement in their 73-53 win over the Iowa Hawkeyes last night. That statement? These are not your 2020 Cyclones. ISU senior guard Izaiah Brockington had 29 points and 10 rebounds in the victory and the 'Clones held Iowa to a season-low 53 points.
"First and foremost, I think we made them uncomfortable," Brockington said. "We knew we had to make them uncomfortable. That would lead to misses."
Remember, this is a Hawkeyes team that has averaged just over 90 points per game this season. Iowa State looked like the better team from start to finish and head coach T.J. Otzelberger couldn't have been more proud of his guys and how they performed.
You've got to love it when a coach is overcome with emotions after a win like that, especially as the first-year head coach at a place like Iowa State. Jamie Pollard has created a family atmosphere for his entire athletics department, and it has seeped out into the fan base as well. The crowd was absolute electric last night in the Hilton Coliseum and they helped their team dominate in an absolutley monumental in-state rivalry game.
The Cyclones will host the Jackson State Tigers this Sunday, and should have a good opportunity to get to 10-0 after three impressive wins over No. 25 Xavier, No. 9 Memphis, and Iowa.