Big 12 News
Bob Bowlsby Planning Two Divisions for New Big 12 Conference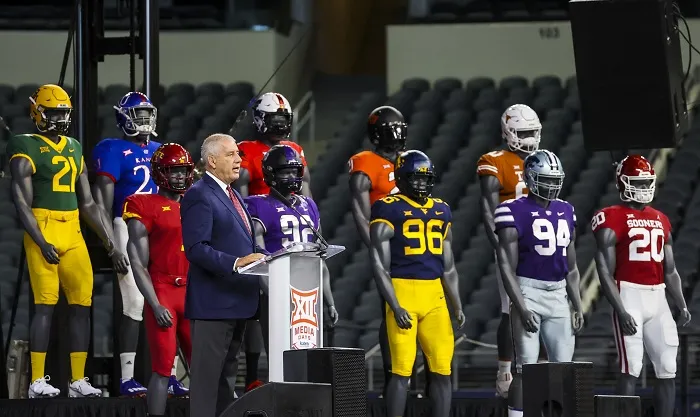 The Big 12 Conference is gearing up for a unique period of time as they transition from 10 teams to 12. Oklahoma and Texas are leaving for the SEC, while Cincinnati, UCF, Houston and BYU are all set to join the conference over the next few seasons.
Since the Big 12 went from 12 to 10 a decade ago, the league removed divisions and instead have operated with a true round robin in football and a double-round robin in basketball. Then in football, the conference does No. 1 vs. No. 2 for the league title. It's allowed the Big 12 to hang their hat on the moniker "One True Champion".
However, it looks like they will have to drop that as Bob Bowlsby said last week at the Big 12 Championship Game that they are working on creating divisions for each of their major sports. This was always expected, as there would have been no way to do a round-robin type schedule with any more than 10 teams in the conference without reducing the three-non conference games, which would not be of interest to most of the league (especially given the SEC still gets away with four non-conference games and never gets called out on it).
Bowlsby said subgroups have formed to classify the Big 12 teams into divisions. "We've got a football subgroup, a men's and women's basketball subgroup, there's baseball and softball and I think one or two other sports …So that process is underway," the commissioner noted.
It's not clear on if the league would go North vs. South or East vs. West. The latter may make more sense, given the fact that the conference is the only Power 5 to be located in three time zones as it stretches from Provo, Utah to Orlando, Florida.
There has been plenty of speculation as to how to break it down, but my quick thoughts would look like this:
West: BYU, Texas Tech, TCU, Baylor, Houston, Oklahoma State
East: Kansas, Kansas State, Iowa State, West Virginia, Cincinnati and UCF
But of course, this debate will continue for quite some time in league offices as they try to figure out the best plan that maintains rivalries, works logistically for travel, and much more.
Of course, when the Big 8 increased to the Big 12, the league broke down North vs. South, which worked given the regional nature of the conference.
Bowlsby said July 1, 2024, continues to be the target deadline for the full expansion of the Big 12 Conference.