Baylor Bears
Former Baylor QB Bryce Petty: Bears 'Run the State of Texas'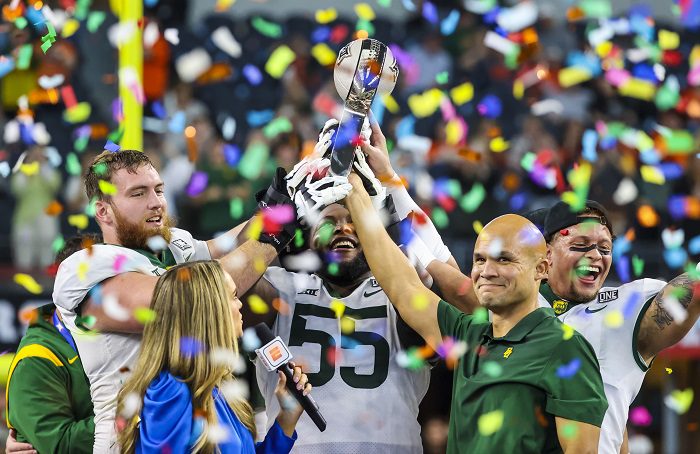 The Baylor Bears are Big 12 football champions after a thrilling win over Oklahoma State last week. It continues an incredibly impressive run for Baylor athletics, especially in the revenue-making sports, as the Bears won the Men's NCAA Tournament last season.
And with that as the back drop, former Baylor quarterback Bryce Pretty is fired up about his alma mater and went on SiriusXM Radio and said Baylor runs the state of Texas, putting them above Texas, Texas Tech and TCU, as well as Texas A&M from the SEC.
"I think as we grew up, you had a UT banner over your bed and you wore burnt orange,. And I think that has changed over the last couple years to your point where Baylor runs the state of Texas and I love saying it. I'll go to blows with whoever about it."
Petty then went on and backed up his comments by saying, "I mean, when you're talking about what Scott Drew's done on the basketball court … We've got a new women's head coach, but with Coach (Kim) Mulkey, what she did on the basketball court for women's basketball, it has become a mecca of sports to where there is a standard of winning. I can't imagine, the last six, seven years, any program (being) able to do what Baylor's accomplished over the span of these last six years. I just keep coming back to having your head down and having a chip on the shoulder and I think that's really what it has always been. A big piece of Waco is just … no pun intended, but a chip on your shoulder when you come in."
The former QB then pointed out that the chip-on-the-shoulder mentality serves Baylor players well, adding, "I think guys kind of embody that. When we came in, we were going to set the tone and … you could turn down (Texas). You could turn down Oklahoma or for some of the guys like myself that didn't get an offer from either of those guys, that was what you want on your chest. But now it's something where guys are actually coming, guys and girls are coming to Baylor because they want to win a championship."
Petty has certainly made a strong case, but my guess it he would get plenty of pushback on this across the Lone Star State.
You can listen to the audio here as well.