Big 12 News
Isheem Young, Four Other Iowa State Players Enter Transfer Portal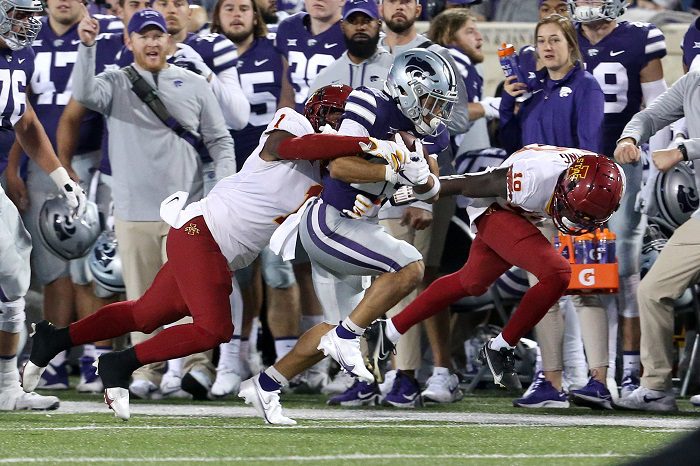 In a shocking development for Iowa State Football, five players on the current roster have entered the transfer portal on Monday. Starting defensive backs Isheem Young and Kym-Mani King are the biggest hits, but Aric Horne was a rotational player at linebacker and Corey Suttle was an important depth piece along the defensive line and was expected to push for more playing time in 2022.
Wide receiver Ezeriah Anderson was going to get a chance to contribute as the Cyclones had already lost veteran pass-catchers Tarique Milton and Joseph Scates to the portal. The sudden mass exodus in Ames has people wondering just what is going on inside the program. Since November 29th, the Cyclones have lost 10 players to the transfer portal, and have had three decommitments since November 16th.
Here is the current list of departures/decommitments for Iowa State.
Aric Horne – Rotational Linebacker (Transfer Portal)
Isheem Young – Starting Safety (Transfer Portal)
Kym-Mani King – Starting Cornerback (Transfer Portal)
Ezeriah Anderson – Backup Wide Reciever (Transfer Portal)
Xavier Townsend – Three-Star Running Back (Decommitted)
Corey Suttle – Rotational Defensive Lineman (Transfer Portal)
Joseph Scates – Rotational Wide Receiver (Transfer Portal)
Noble Thomas – Three-Star Cornerback (Decommitted)
Jaquan Amos – Backup Safety (Transfer Portal)
Virdel Edwards – Backup Safety (Transfer Portal)
Ar'Quel Smith – Backup Linebacker (Transfer Portal)
Tarique Milton – Starting Wide Reciever (Transfer Portal)
D'Angelo Hutchinson – Three-Star Safety (Decommitted)
It hasn't surfaced yet, but something seems to be going on in Ames and when it does we will have it covered. For now, the Cyclones need to regroup and prepare for the Cheeze-It Bowl against No. 19 Clemson on December 29th.