Trending Now
New LSU Head Coach Brian Kelly Has Embarrassing Moment No. 2 in Recruiting Video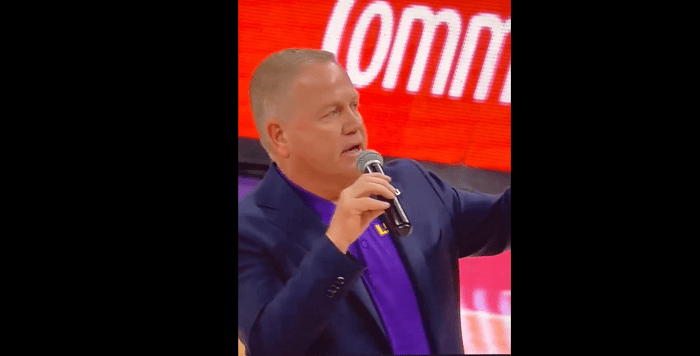 There are two things we now know new LSU head coach Brian Kelly can't do: put on a southern accent and dance.
Kelly has only been the Tigers head coach for a couple of weeks, but he's made a lot of news for reasons that probably aren't ideal, unless the end goal is just attention, regardless of what it's for.
Two weeks ago he faked a southern accent when he was introduced at an LSU basketball game. This from a guy who has never lived south of the Mason-Dixon line.
Then, this latest gem came on Twitter after five-star recruit Walker Howard tweeted a commitment video Sunday night confirming he'll play for the Tigers. But there's Brian Kelly's appearance as he attempts to dance to "Callin' Baton Rouge".
Does Brian Kelly have any self-respect?
It's probably safe to answer that one on your own as the guy did leave Notre Dame when his team still had a chance of making the College Football Playoff. It's also safe to say that Kelly is unlikely to end up on Dancing with the Stars any time soon. That would be hideous.