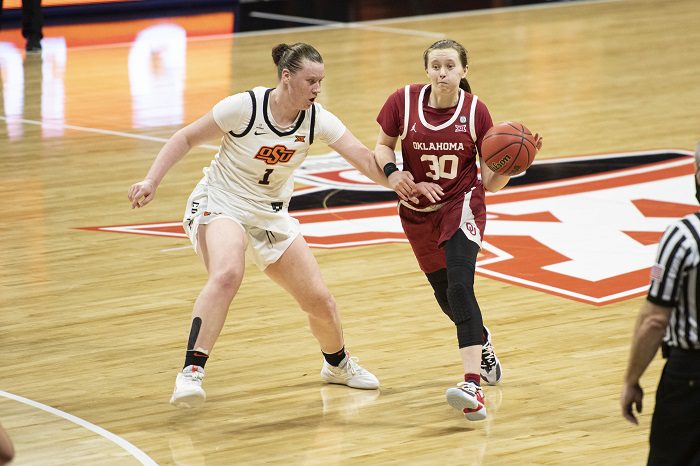 The Big 12 Conference hit Week 5 of its 2021-22 women's basketball season last week. Just some of the things that happened last week:
Iowa State broke a five-game losing streak to Iowa in the Cy-Hawk series.
We broke down the initial NET ratings for men and women.
TCU's Lauren Heard and Kansas State's Serena Sundell earned Big 12 superlative honors.
Baylor would be a No. 2 seed if the NCAA Tournament started today (per ESPN).
Also check out our Big 12 Basketball Tracker for updated men's and women's news every day.
That, and so much more, happened in Week 5. Here are our three takeaways.
TCU's HUGE Sunday
The biggest upset of Big 12 non-conference action may be what the TCU Horned Frogs did to No. 18 Texas A&M on Sunday.
It didn't even register as a trap game to me. Texas A&M had lost one game, and it came at the hands of Texas, a Top 15 team. TCU was one of two teams in the Big 12 with a losing record entering the contest. Plus, TCU, historically, had beaten A&M just four times in more than 40 tries.
So, of course, the Horned Frogs flipped the script and executed an incredible 12-point win over the Aggies.
How? Well, defense first. The Aggies shot horribly to start the game, less than 30 percent in the first quarter. You need your opponent to be a little off, whether you cause it or not. And the Horned Frogs definitely caused some of it.
The Aggies shot better as the game went on, including a 61.5 percent clip in the fourth quarter. But what the Horned Frogs did on offense staved off any Aggie attempt at a comeback.
TCU shot 45.8 percent for the game, but shot 57.1 percent in the third quarter, a critical juncture where Texas A&M, down by 20, was furiously trying to rally. Aja Holmes had a career-high 22 points and a career-high six 3-pointers (75 percent of TCU's output from the arc). Lauren Heard scored a whopping 33 points, but she drew trip after trip to the free-throw line and went 18-of-21.
The Horned Frogs also kept a tall Aggie front line off the glass, outrebounding A&M 45-26. TCU had an 18-9 edge on the offensive side.
TCU needed all of it because there was one key area where they did NOT win — turnovers. TCU had 27 turnovers to Texas A&M's 17. Now, if you know how Aggies head coach Gary Blair coaches basketball, you know that's how he coaches defense.
TCU hasn't had an impressive non-conference slate. The Horned Frogs hosted two Power 5 teams (North Carolina and Florida) and lost both games. TCU absorbed an overtime loss at Tulane and were blown out by Cal Baptist in November.
But this is a huge psychological win over the Horned Frogs. Maybe it's a catapult for them, with three non-conference games left against Incarnate Word, UC Riverside and Davidson, all at home. This could be exactly what TCU needs as their Big 12 opener with Kansas on Jan. 2 draws near.
Kansas State's Secret to Success
Kansas State enters the week 9-2. The Wildcats are building a resume for inclusion in the NCAA Tournament. Sometimes, when reading game notes, one comes across a hidden reason for a team's success.
For the Wildcats, it may be assists.
Kansas State entered last week games No. 2 in the Big 12 and in the Top 15 in assists per game. By Sunday, after the Wildcats had defeated Omaha and South Dakota State — both of which were on the road — the Wildcats were No. 7 in the nation with 19.6 assists per game.
Now, assists are great because they also mean that you're making baskets (you can't have one without the other, right?). Well, oddly, the Wildcats are only No. 7 in the Big 12 in field-goal percentage (43.3). Plus, the Wildcats are only No. 6 in scoring (74.2). So, that doesn't tell the whole story.
But, follow the bread crumbs. In the Big 12, Kansas State is No. 3 in scoring defense (53.9), No. 3 in field-goal defense (33.5 percent) and No. 1 in assist-to-turnover ratio (1.74). In fact, Kansas State is No. 1 in the NATION in assist-to-turnover ratio.
If you combine a good passing team and a good shooting team with one that can efficiently possess the ball and avoid turnovers, you get a team that can be dangerous once Big 12 play begins.
Statement Weekend
The Big 12 was 3-0 against ranked teams last week. Thanks Iowa State, Oklahoma and TCU.
But, this weekend, and the few days after, the Big 12 has a chance to make some real statements about where it is at as a league.
Kansas State hosts Oregon on Dec. 18, which is a great measuring stick game for the Wildcats. The Ducks were ranked at one time this season and the Ducks handed Oklahoma its only loss so far this season.
Baylor catches No. 13 Michigan in a neutral site game on Dec. 19 in Uncasville, Connecticut. This will be Baylor's biggest test since falling to Top 10 Maryland in November. It also comes on the same day of the WNBA Draft Lottery, where the winning team may get the right to select Baylor's NaLyssa Smith, a player some consider to be the potential No. 1 overall pick in the 2022 WNBA Draft.
Also on Dec. 19, Texas faces Arizona in Las Vegas. The Wildcats are No. 4. It will be the fourth ranked team Texas has played in non-conference.
Finally, Texas Tech is in Lake Wales, Florida, for a tournament on Dec. 21 and 22. The Lady Raiders will face Ole Miss and No. 22 LSU, the latter being a reunion with former Baylor head coach Kim Mulkey.
The Big 12 is trying to distinguish itself as a six-, or even seven-bid league, for the NCAA Tournament. A great weekend would help.
You can find Matthew Postins on Twitter @PostinsPostcard.