Uncategorized
Transfer Portal Created in Good Faith, But is Out of Control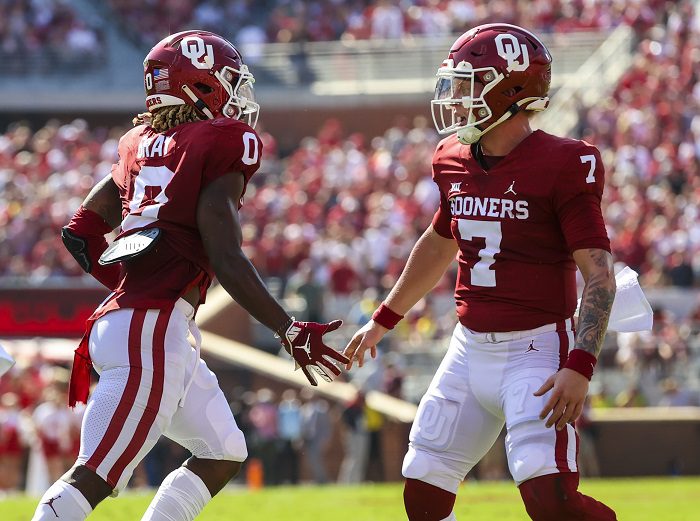 The transfer portal was born on October 15, 2018, and was intended to make the transfer process quicker and easier for players and coaches alike. It was intended to give the players more power through the transfer process, allowing them to leave a situation that was toxic or simply just wasn't working for them. What it has turned into is free agency at the college level. There used to be a rule in place that if you were to transfer out of your current program, you would have to sit out for a season to become eligible again. It seemed a bit harsh to give up 25% of a player's time to transfer, and that would only have been waived for "extenuating circumstances."
Then, the COVID-19 pandemic created an opportunity for the NCAA to do a trial period, of sorts, for student-athletes to transfer with immediate eligibility following the 2020 fall semester. Obviously, the NCAA liked the results of the trial period, because, on April 28, 2021, the NCAA Board of Directors approved the "one-time transfer rule," allowing all student-athletes to transfer one time without being required to sit out for a year.
"The Division I Board of Directors ratified the adoption of legislation expanding the one-time transfer exception to all student-athletes, no matter what sport they play," the NCAA said in a release. "The Division I Council adopted the legislation, which allows all student-athletes who have not transferred in the past the opportunity to compete immediately after transfer once in their period of eligibility.
This legislation has changed college athletics forever and has had a particularly profound impact on college football.
"Free Agency" in College Football
There are currently well over 1,000 players in the NCAA transfer portal and potentially thousands more to come after the conclusion of the bowl season. Players are taking advantage of their opportunity to find greener grass when things aren't going well in their current situation. The portal is great for some student-athletes and gives them a way to escape situations that involve nepotism or maybe even something unethical. Hell, it's great for when you have a change in coaching regimes and a player doesn't like the guy that is hired. But, the portal needs some restrictions or guidelines to protect the players and the sport itself.
You can forget having a backup quarterback that knows the system in-and-out because he's been there for three years. Gone are the years of players waiting for their turn to see the field. Why would you wait, when you can go somewhere else and start right away. Recruiting has completely changed this season, as high school players around the U.S. are having previous offers revoked because high-profile players in the portal are ready to play right away and require no development like a kid coming from high school. The highest-rated players already flock to magnet schools or academies like Mater Dei and IMG because that's where the top schools look for talent. The portal just drives a deeper canyon between those "diamonds in the rough" players and a big opportunity. College football is constantly in a state of winning now, and that is something that college coaches, administration, boosters, and certainly fans are aware of. If there is a former-four star LB that leaves a top-tier program after two years, isn't he going to be more sought-after than a four-star recruit out of a small-town high school that is going to need a year before he's ready to contribute?
It's not really even fair to call the transfer portal "free agency" because, in the NFL, you must complete a contract before hitting the free-agent market. Players have an obligation and a responsibility to stick with their team until the contract is up. In the new world of college football, a freshman can decide to transfer in the middle of his first season if things don't go his way. What is that teaching an 18-year-old kid? To run when things get tough, or that the grass is greener somewhere else. I feel like I was told just the opposite growing up, and I definitely didn't think to transfer when I was a student-athlete. I had to stick it out through injury after injury until life decided that it was time for me to do something else after three years. I don't think that there is a cut-and-dry answer to fixing the portal, but we need to figure something out.
The Transfer Portal Needs Rules to Succeed
The portal does allow players to do what they feel is best for their future, and that can't be understated. Players like Austin Stogner and Spencer Rattler are able to follow a familiar face (Shane Beamer) to a new program and start over fresh after disappointing starts to their careers. Players like Henry To'oto'o can transfer and play for Nick Saban after Tennessee gets gutted after recruiting violations. NIL deals are starting to take root across the country, and those are sure to be a factor in recruiting and transferring soon. How can the NCAA help student-athletes make the right choices for their futures, while maintaining enough structure that things don't spiral out of control? The portal is a great thing for players, as long as the decision to transfer is a calculated one and not emotionally based. I believe that a few rules needed to be added to the transfer policy to help players and coaches through this transitional time in college athletics.
The Transfer Portal needs to be closed during the regular season and players become eligible to transfer after their team has played their final game of the season. This would allow time for players and coaches to work out their differences midseason and keep players from making brash decisions. Too many times, a young player leaves a good situation to find that the grass isn't greener somewhere else and ends up essentially ruining his career. The move can be hard on the players and their families as well because as soon as a player enters the portal, the player's current school is under no obligation to keep that player on scholarship. With the amount of turnover on college rosters from year-to-year it's usually easy to stay under the 85-man roster limit for football. But what if a team is getting close and there is a player testing the waters of the portal? That's an easy fix to the coach's issue and he's letting go of a player that didn't want to be there. Things can get messy if you make decisions in the heat of the moment, and waiting until the season is over can help alleviate some of that mess. Waiting until the end of the year allows both player and coach to assess the situation moving forward without worrying about game prep or in-season roster management. It's a win-win for both sides.
Another rule that needs to be put in place is a restriction on freshman transferring unless it's due to an extenuating circumstance. When a player commits to a university, it was intended to be a four-year commitment. Well, that thinking is something of the past, and now if things don't go like a player thinks they should, he can just go somewhere else. If there was a restriction on freshman transferring, it would keep players committed to their decisions and teach them to stick around and work through the hard times. Adversity is part of the game and it always has been. I have a few years of experience coaching at the high school level, and I can tell you that adversity breeds success. When a kid struggles through the challenges that present themselves through football but comes out on top, it is a feeling unlike any other, for both the player and the coach. It is a critical part of the sport and something that most players need to experience to succeed. If things don't work out and you can't find the field during your first year, then you can burn the redshirt. That's what it's there for.
The new transfer portal and NIL legislation have made the 2021 football season one of the wackiest in history and it also presented some unique challenges to the sport. Is it perfect? No, and it probably never will be. This is another monumental change in the sport, just like the forward pass or concussion protocol and awareness. The sport will be better for it in the long run, but it's going to take time to get it right. Eventually, the programs' players, coaches, and administration will settle into the new norm, but it could take some rule changes to get us there. Nonetheless, college football will remain one of the greatest sports in the world and there is nothing that's going to change that.