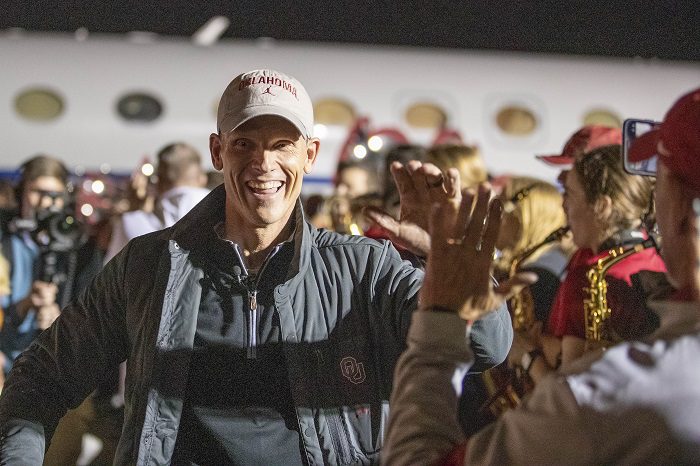 Gavin Sawchuck leads a class chock full of four-star recruits signed by the Oklahoma Sooners during the opening day of the early signing period for the 2022 football recruiting class.
Sawchuck, a running back out of Valor Christian in Littleton, Colorado, was the Sooners' highest-rated signee, as 247Sports.com rated him as the No. 73 player in the country and the No. 5 running back.
While the Sooners lost a pair of five-star recruits late in the process after its coaching change, the Sooners did manage to reel in 11 four-star players, including Flower Mound, Texas, quarterback Nick Evers, who was committed to Florida until the Gators had a coaching change.
The list of other four-star players includes linebacker Kobie McKinzie, wide receiver Jayden Gibson, tackles Jake Taylor and Jacob Sexton, wide receiver Nicholas Anderson, linebacker Kip Lewis, safety Robert Spears-Jennings, cornerback Jayden Rowe, and tight end Kaden Helms.
The Sooners finished the 2021 season with a 10-2 record and will play Oregon in the Alamo. Lincoln Riley left the program after the regular season and took the head-coaching job at USC. The Sooners replaced Riley with Brent Venables. Former Sooners head coach Bob Stoops will be the Sooners' head coach in their bowl game.
2022 Oklahoma Early Signing Class
(Class listed by 247Sports.com player ranking)
Four-Star Players
RB Gavin Sawchuk, Valor Christian (Littleton, CO), 5-foot-11, 185 pounds
LB Kobie McKinzie, Cooper (Lubbock, TX), 6-foot-2, 245 pounds
WR Jayden Gibson, West Orange (Winter Garden, FL), 6-foot-5, 185 pounds
QB Nick Evers, Flower Mound (Flower Mound, TX), 6-foot-3, 188 pounds
OT Jake Taylor, Bishop Gorman (Las Vegas, NV), 6-foot-6, 290 pounds
OT Jacob Sexton, Deer Creek (Edmond, OK), 6-foot-5, 285 pounds
WR Nicholas Anderson, Katy (Katy, TX), 6-foot-3, 195 pounds
LB Kip Lewis, Carthage (Carthage, TX), 6-foot-1, 200 pounds
S Robert Spears-Jennings, Broken Arrow (Broken Arrow, OK), 6-foot-1, 195 pounds
CB Jayden Rowe, Union (Tulsa, OK), 6-foot-3, 210 pounds
TE Kaden Helms, Bellevue West (Bellevue, NE) 6-foot-5, 225 pounds
Three-Star Players
TE Jason Llewellyn, Aledo (Aledo, TX), 6-foot-5, 240 pounds
DL Cedric Roberts, Hendrickson (Pflugerville, TX), 6-foot-3, 275 pounds
DL Alton Tarber, Deerfield Beach (Deerfield Beach, FL), 6-foot-1, 305 pounds