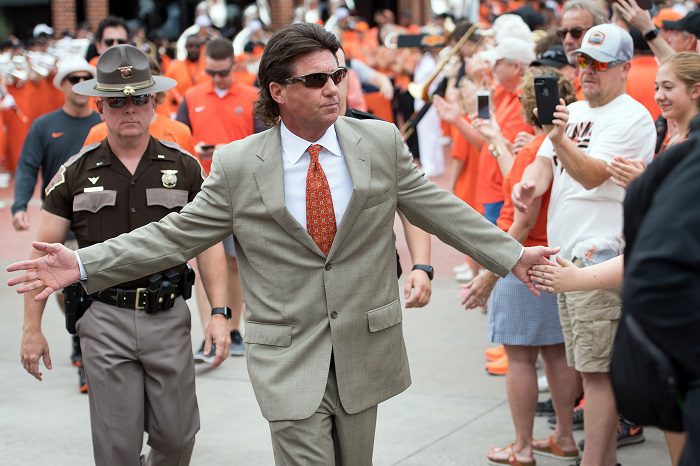 Talyn Shettron leads five four-star recruits signed by the Oklahoma State Cowboys during the opening day of the early signing period for the 2022 football recruiting class.
Shettron, a 6-foot-3, 185-pound wide receiver, is from Santa Fe High School in Edmond, Oklahoma.
Five of the six four-star players are coming from the prep ranks. That includes Trinity (Euless, Texas), running back Ollie Gordon; Bixby (Oklahoma) ATH Braylin Presley; Beggs (Oklahoma) running back CJ Brown; and Lone Star (Frisco, Texas) quarterback Garret Rangel.
The sixth four-star recruit is from the junior college ranks, as the Cowboys signed New Mexico Military offensive lineman Tyrone Webber, who comes in at 6-foot-5, 290 pounds.
The rest of the class is rated as three-star players per 247Sports.com.
The Cowboys finished the 2021 season with an 11-2 record, reaching the Big 12 Championship Game, where they lost to Baylor 21-16. Oklahoma State will play Notre Dame in the Fiesta Bowl next month.
2022 Oklahoma State Early Signing Class
Class listed by 247Sports.com player ranking
Four-Star Players
WR Talyn Shettron, Santa Fe (Edmond, OK), 6-foot-3, 185 pounds
RB Ollie Gordon, Trinity (Euless, TX), 6-foot-1, 201 pounds
RB CJ Brown, Beggs (Beggs, OK), 5-foot-11, 175 pounds
ATH Braylin Presley (Bixby, OK), 5-foot-7, 155 pounds
QB Garret Rangel, Lone Star (Frisco, TX), 6-foot-2, 175 pounds
OT Tyrone Webber, New Mexico Military Institute (Roswell, NM), 6-foot-5, 290 pounds
Three-Star Players
Edge DeSean Brown (Choctaw, OK), 6-foot-3, 230 pounds
CB Cameron Epps, Chaminade (Saint Louis, MO), 6-foot-3, 180 pounds
WR Mason Gilkey, Pawhuska (Pawhuska, OK), 6-foot-4, 185 pounds
DL Landon Dean, Frontenac (Frontenac, KS), 6-foot-4, 230 pounds
CB Dylahn McKinney, Colleyville Heritage (Colleyville, TX), 6-foot, 175 pounds
OT Austin Kawecki, Lebanon Trail (Frisco, TX), 6-foot-4, 265 pounds
DL Jaleel Johnson, Putnam City North (Oklahoma City, OK), 6-foot-4, 235 pounds
Xavier Benson, Tyler J.C. (Tyler, TX), 6-foot-3, 210 pounds
LB Gabe Brown, Stillwater (Stillwater, OK), 6-foot-2, 210 pounds
OT Calvin Harvey, Ridge Point (Missouri City, TX), 6-foot-8, 330 pounds
TE Tabry Shettron, Santa Fe (Edmond, OK), 6-foot-4, 215 pounds