Big 12 News
Caleb Williams Surprised By Lincoln Riley, Praises Brent Venables Hire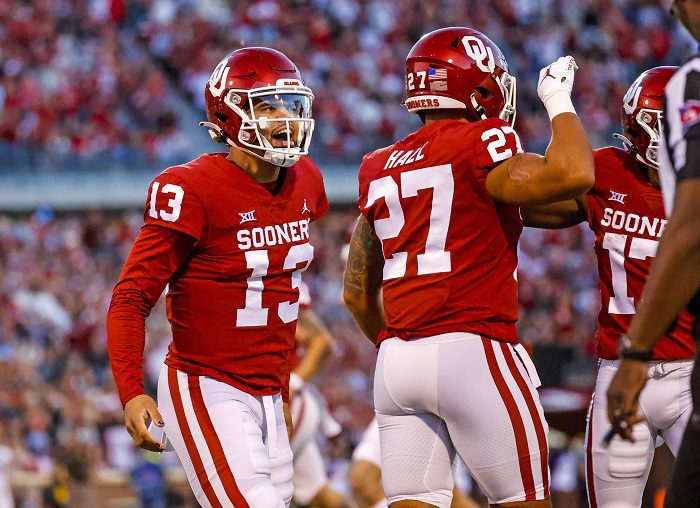 Sooner Nation has been collectively holding its breath for about two weeks now, and it will probably be a couple more before they get to take their next breath. Freshman-phenom quarterback Caleb Williams is still on the roster as of December 16 and has done all the right things to suggest that staying in Norman is a strong possibility. He has been spotted at OU basketball games, showed continuous engagement with his fans, and on Tuesday he spoke for his first time in a public forum.
"The Podcast on the Prarie" is hosted by Sooner H-backs Jeremiah Hall and Brayden Willis and is something I listen to weekly. Their podcast gives a peek behind the curtain of the Oklahoma program from the unique perspective of a current player. Hall and Willis like to bring on guests, mostly current or former players, and just talk football and life. They typically stay out of analysis or in-depth breakdown of practices, games, etc. but they do bring some things to light that Sooner fans might not know about otherwise.
Well, this week they had their biggest episode yet and that was because their special guest was none other than Superman himself, Caleb Williams. As noted above, Williams had never spoken publicly since coming to Oklahoma because of Lincoln Riley's rule against freshmen doing so. Williams however, did not sound like a freshman conducting his first public address but seemed rather comfortable in the spotlight. They stayed away from the "Big Topic" of whether Caleb plans to stay at Oklahoma, but he did give a lot of insight on his feelings toward the coaching change and his feelings about Lincoln Riley leaving.
"I like Riley, I've always liked Riley as you know," Williams said. "I mean I came here to be coached by him. Happy for him, his family, that situation that they are at. I haven't been mad at the guy, I was just a little surprised by it."
While Williams expressed some surprise with Riley's departure, he did seem optimistic and excited for the future under new head coach Brent Venables.
"I've known Coach BV (Venables) for awhile now just because of all the Clemson visits I used to go on," Williams said. "He's always had a lot of energy even to the times, I didn't watch Oklahoma then, but even to the times that all the fans can look back to when he was here at Oklahoma. He had a whole lot of energy then, he still has a whole lot of energy, he's going to keep having a whole lot of energy. I think it was a great hire to have Coach BV here."
Sooner fans will surely overanalyze Williams' body language and tone in this interview in an effort to find Caleb's intentions going forward, but at the very least it seems as if his relationship with Oklahoma and Coach Venables is positive for the time being.
Caleb Williams is expected to play against No. 14 Oregon in the Valero Alamo Bowl on December 29 and should announce his decision sometime shortly afterward.