Trending Now
BYU vs. UAB: Independence Bowl Preview and Prediction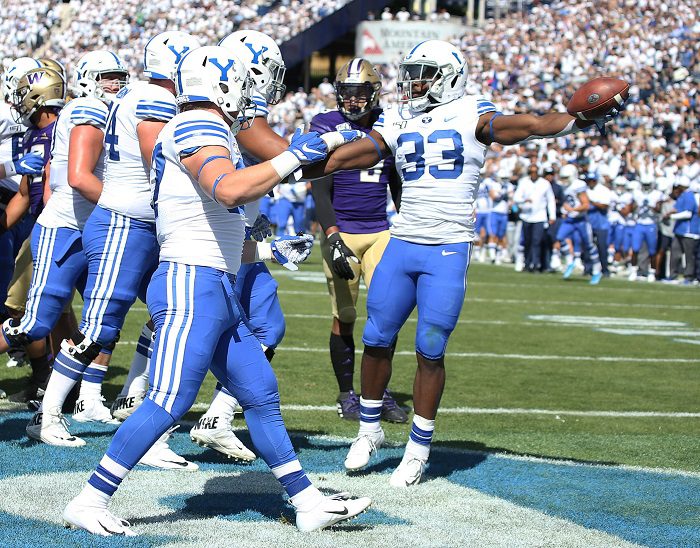 Here is everything you need to know about the Independence Bowl featuring BYU vs. UAB.
GAME INFO
2:30 p.m. CST/1:30 p.m. MST, Saturday, Dec. 18, 2021, Independence Stadium, Shreveport, La.
TV: ABC (Roy Philpott, Cole Cublic, Paul Calcarerra)
Sattelite Radio: Bowl Season Radio, Sirius XM, and online 84 (JD Byars, Hans Olsen, Chris Mycoskie)
BYU Radio: BYU Sports Network, Sirius XM 143, BYU Radio, BYUCougars App, KSL 1160 AM in Provo (Roy Philpott, Cole Cubelic, Paul Calcaterra)
UAB Radio: WJOX 94.5 FM in Birmingham, Ala., (David Crane, Steve Irvine, Trey Ragland)
BYU Head Coach: Kalani Sitake (Other than 2020, 37-27 in 5 seasons, same overall)
UAB Interim Head Coach: Bill Clark (Other than 2020, 42-23 in 5 seasons, same at FBS level)
Series History: First Meeting. BYU is 39-12-1 against Conference USA.
Opening Line: BYU -7
Over/Under: 56.5
Moneyline: BYU -250/UAB +215
Fun Facts: BYU is 6-1 vs. Power Five Conference teams and finished 5-0 against the Pac-12, including a 26-17 victory over Pac-12 Champion Utah.
KEY PLAYERS
BYU (10-2, W 35-31 AT USC)
RB Tyler Allgeier
If you don't know his name by now, then you haven't paid attention to BYU football. Allgeier is a former walk-on linebacker who almost quit football to pay for tuition. He is now on scholarship, made the switch to running back and the rest is history. He is the catalyst for BYU and will almost certainly play on Sundays soon.
LB Ben Bywater
UAB has an experienced offensive line. While Bywater is just a freshman, he leads BYU in tackles and tackles for loss. If he's getting into the backfield, it could start opening up holes for the defensive line to break through. UAB is a run-first team, but they can be explosive when they decide to pass the ball. Placing pressure on the quarterback will be necessary, but stopping the run will be as well.
UAB (8-4, W 42-25 VS. UTEP)
WR Trea Shropshire
When you look at the stat sheet, the passing game is not impressive. However, there is one stat that makes Shropshire the player to watch: average yards per reception. Shropshire leads the nation with 27 yards per reception. Thus, if UAB finds him throughout the game, BYU is going to have a long day. Shropshire needs to be covered at all times.
LB Noah Wilder
Wilder leads one of the nation's top defenses in tackles. He's added an interception and has produced 5 tackles for losses.
KEY STORYLINES
BYU
BYU is looking to finish the season in the AP Top 25. It would provide for a major boost in recruiting as the Cougars will become members of the Big 12 Conference soon. BYU is currently at No.12. Teams ranked No.5-11 are all playing against each other. Thus, if BYU wins this game convincingly, there should be no reason for them to be outside the AP Top 10 in the final rankings. A loss, however, could see BYU plunge outside the AP Top 25. That scenario is unlikely, but a major drop will certainly happen as UAB failed to win its division. At one point, the Blazers even lost to a 4-8 Rice squad.
UAB
A glaring omission in the UAB game notes is the program's record against ranked opponents. The record isn't good, and the Blazers are 0-2 this year having lost at Georgia and at UTSA. UAB has only sponsored football for 24 years and a 2-year hiatus at one point. That being said, BYU is the highest-ranked team to ever play in the Independence Bowl. The previous top-ranked team was No.15 LSU in 1997. UAB only has one bowl victory in five appearances. There is no shortage of motivation here for the Blazers, but can they take advantage?
Prediction: BYU 33 UAB 24
BYU has rarely played a complete game this season. It wouldn't surprise me to see UAB jump out in front, but BYU finds ways to win. Good teams, like UAB, know how to win. Great teams find ways to win. This also may be Tyler Allgeier's swan song, thus the redshirt sophomore running back will want to boost his draft stock just in case he decides to enter the NFL Draft. I don't think BYU lacks the motivation to win this game despite the disappointment of the abhorrent and discriminatory College Football Playoff rankings. Yes, BYU should be ranked ahead of Utah. There's a reason the Cougars are No.13 and not No.12. The committee wanted no part of BYU potentially being in a New Year's Six Bowl. That being said, this is a great opportunity for the Cougars to finish the season in the AP Top 10 for the first time since 1996 and they get the job done.