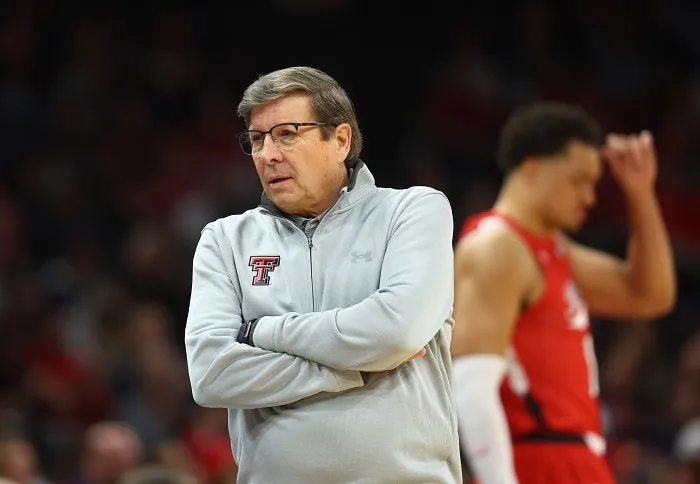 The Texas Tech Red Raiders broke into the Top 25 this week ahead of a huge Saturday match up against the No. 5 Gonzaga Bulldogs at a neutral site location in Phoenix, Arizona for the Jerry Colangelo Classic. Tech was looking for its second Top 15 win in three games after beating No. 13 Tennessee 57-52 last week. And to make matters more difficult, Tech had to play this game without its best player in Terrence Shannon Jr., who has been dealing with back spasms. Texas Tech fell to 8-2 with the loss and will take on Eastern Washington next Wednesday night.
Here are three thoughts on Texas Tech's 69-55 loss against Gonzaga.
Zags 14-2 Second Half Run
The Red Raiders trailed the entire game, but early in the second half there was a moment when Tech made a push and found itself right back in the game. The Red Raiders were down at halftime 34-26 and were trailing 42-33 at the under 16-minute timeout. But then, a hot streak came for Texas Tech. Over the next two minutes, Tech went on a 7-0 run to pull to within two points with 14 minutes remaining. But after that, the Zags got back into their groove and ran away with the ball game as they went on a 14-2 run in the next two and a half minutes. Two of the first three buckets during that run were three-pointers from Andrew Nembhard. From there, it felt like the game was out of reach.
Tech Not Enough Fire Power
Texas Tech just isn't a team built to play from behind, especially when they're playing without their best player. This team entered the game allowing just 59 points per game, which ranks in the top half of the Big 12 Conference. However, Gonzaga had 58 points with nine minutes remaining and the Red Raiders couldn't really slow down a Bulldogs team that shot 43% from the floor and 42% (13-31) from three-point range. For a Texas Tech team that was holding teams to 31% from three-point range, this proved to be too much for the Red Raiders to overcome on Saturday.
Turnovers Make the Difference
Texas Tech was already needing to play a nearly perfect game to beat a Top 5 team in Gonzaga without their best player on the court. But there were too many key turnovers, and they lost the turnover battle as it wasn't even close. That's tough to swallow for a team that entered the game averaging +3.33 per game in turnover margin. But Texas Tech had 12 turnovers on the day and lost the turnover battle 10-12. However, this number is even deceiving, as the turnover difference was 6-11 as the game got out of reach for the Red Raiders.