Big 12 News
Casey Thompson's Dad Expresses Disappointment in Texas Coaching Staff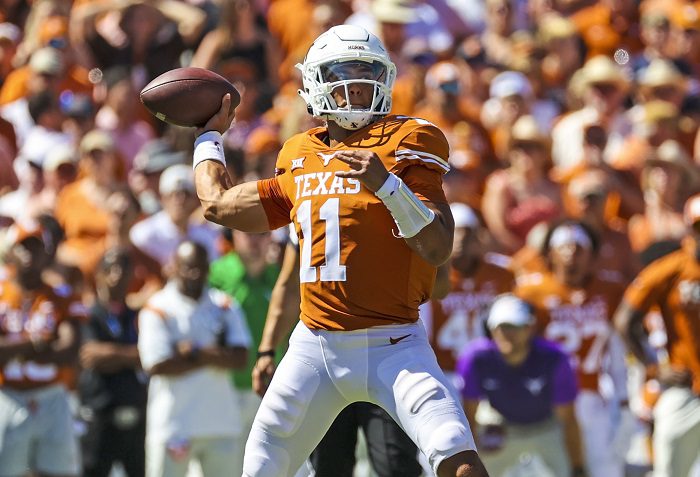 Casey Thompson's father, Charles, shed some light on the events that led to his son entering the transfer portal on Friday. Charles Thompson, a former quarterback at Oklahoma, says that he and his son are thankful for the opportunities that Casey had at Texas, but he is not happy with the way things ended.
"To say the job was 'open' after a guy starts 10 games and leads the Big 12 in passing touchdowns and breaks some school records while playing hurt in his first year as a starter, it just felt like there was no one in Casey's corner," Charles said to 247Sports' Chip Brown.
Casey Thompson's decision to enter the transfer portal comes after Texas signed former five-star recruit and Ohio State transfer quarterback Quinn Ewers, along with 2022 four-star quarterback Maalik Murphy earlier this week.
Texas head coach Steve Sarkisian said that he spoke to Thompson and Hudson Card, who began the 2021 season as Texas' starting quarterback, about the plan to bring in more competition at quarterback.
"I told them we were trying to bring two guys in, one of which would probably be a transfer and that the job would be open," Sarkisian said. "It's the same thing we told them late in the season: the job would be open. We'll let the guys compete, but that there would be, at a minimum, two new guys in that quarterback room, one of which would more than likely be a transfer."
Thompson led the Big 12 in touchdown passes in 2021 with 24 while throwing nine interceptions. He completed 63.2 percent of his passes (165 of 261) to go along with 157 rushing yards on 55 carries and four rushing touchdowns. Thompson also became the first quarterback in Longhorn history to throw for five touchdowns three different times in a season (against Texas Tech, Oklahoma, and Kansas).
Charles Thompson said he is optimistic about his son's future, telling 247Sports that "we're confident Casey will end up at a place that appreciates his talents, leadership and work ethic. He also added that Casey "has some strong Power Five options."
The Texas Longhorns finished the 2021 season with a 5-7 record, but on the recruiting trail Texas had a great first full class under Steve Sarkisian, who has landed a Top 5 recruiting class in the country.