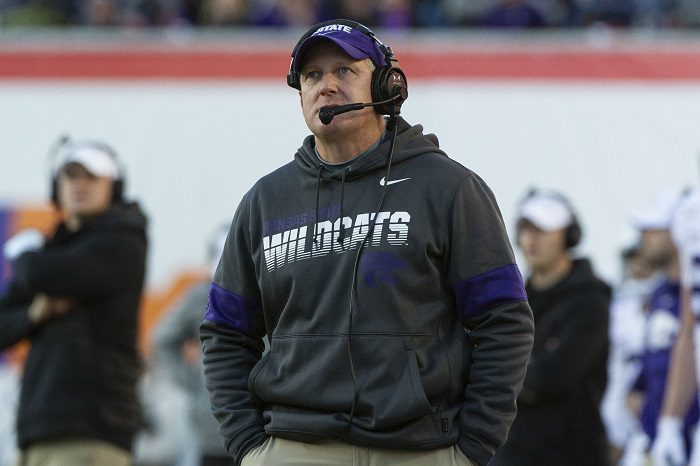 Despite reaching seven wins to become bowl eligible a (Covid) season after winning just four games, Kansas State ended the 2021 regular season on a sour note, falling to Texas, 22-17, in a season finale that the Cats really should have won. Despite its offensively numb performance against Texas, K-State (7-5, 4-5) wound up in a decent bowl against a marquee opponent coming off a disappointing season.
LSU had a rocky season that saw the Tigers part ways with head coach Ed Orgeron just 21 months after he led the team to an undefeated season and a national championship. Orgeron was allowed to finish out the regular season, but the decision and announcement that the 2021 season would be Orgeron's came after LSU lost to Kentucky by three touchdowns to fall to 3-3 on the season.
After getting bowl eligible at 6-6 by upsetting #15 Texas A&M in the season finale and Orgeron's final game as LSU's head coach, the Tigers are transitioning to Brian Kelly era in Baton Rouge and prepping to meet K-State in the Texas Bowl. Neither Kelly nor Orgeron will coach LSU in the bowl game; instead, offensive line coach Brad Davis is filling in as interim head coach while Kelly focuses on building his 2022 staff and team.
With a coaching change and a general malaise that grew throughout a disappointing season for a program with the highest of expectations, a lot of transfer portal craziness has already taken place in Baton Rouge, and more is almost sure to come along with opt-outs before the bowl game.
That makes it's difficult to tell what kind of team LSU will field against K-State. However, it's safe to assume that LSU's players and coaches will be motivated to win the Texas Bowl simply to avoid being a part of LSU's first losing season since 1999.
Win the Texas Bowl, impress the new coach, and LSU's streak of winning seasons stretches to 22. Lose and LSU's long streak of winning seasons ends on your watch. So don't listen to anyone who says this is a meaningless game for LSU. It's not. The Tigers want to win, and they'll pour everything they can into the game.
To better get to know the Tigers, here's a look at LSU's 2021 season followed by some brief, non-expert analysis of the team and how it matches up against K-State.
LSU's 2021 SEASON
RECORD: 6-6, 3-5 in the SEC 10 (6th in the SEC West)
BEST NONCONFERENCE WIN: Central Michigan, 49-21
LSU is an SEC team, so you know the non-conference slate isn't brutal and includes an extra creampuff game in November on a sunny Saturday in the Deep South with game time temps around 70 degrees while everyone else in P5 football is fighting tooth and nail in conference snow globe games that actually do just mean more. However, Central Michigan is a solid MAC team that finished 8-4 and tied for first in the MAC West with a conference record of 6-2. However, a 39-38 loss to the eventual MAC champ, Northern Illinois, prevented CMU from representing the West in the MAC Championship.
LSU demolished CMU from the start, jumping out to an early 21-0 lead and carrying a 35-7 lead into halftime. LSU QB Max Johnson completed 25 of 35 passes for 372 yards, five touchdowns, and an interception while WR Deion Smith picked up 135 yards and two touchdowns on five receptions. LSU gobbled up yards like chocolate cherries to finish the game with 484 yards of total offense.
Defensively, the Tigers were as stingy as a bayou frat daddy with his last bottle of Abita Christmas Ale, particularly against the run. LSU held the Chippewas to just 56 yards rushing and 228 yards of total offense.
WORST NONCONFERENCE LOSS: at UCLA, 38-27
Give LSU credit for leaving the South on opening day to face a P5 opponent on the road. While all SEC teams face off against one P5 nonconference opponent each season, they rarely leave the South to do so (and extra kudos to Auburn for traveling all the way up to Penn State this season – I'd love to see an SEC make a trip that far north in November when there's snow on the ground).
UCLA was not a bad team this season, and opening day on the road can be tricky, but we all remember the images of the Rose Bowl dominated by LSU fans, and despite UCLA's 8-4 finish, the Bruins did beat a single team with a winning record all season; in fact, aside from LSU, UCLA's best win was either 5-7 Cal or 6-7 Hawaii.
LSU entered the game ranked 16th and probably should have won, but the Tigers couldn't get the running game going with just 48 yards on 25 attempts (1.9 yards per). Meanwhile, LSU's defense simply gave up too many big plays on the way to allowing 210 yards on the ground and 260 through the air.
Johnson did just about everything he could to carry LSU, throwing for 330 yards and three touchdowns. He had a costly interception on the first drive of the second half, however, that resulted in UCLA pushing its lead out to 11 for the first time in the game.
In the end, LSU's one-dimensional attack wasn't enough to outscore the Bruins' balanced attack. This was not a horrible loss, but it immediately cast a shadow over the season.
BEST SEC WIN: vs #15 Texas A&M
LSU's win at Mississippi State, 28-25, is an impressive, underrated win. The win versus a grossly overrated #20 Florida, 49-42, looked good at the time but in the big picture only provides a lesson in how easy it is to overrate SEC teams.
A&M was probably a little overrated at #15 entering the season finale against LSU; nonetheless, this was an impressive win for the Tigers against a very good football team.
LSU's defense held the Aggies to just 3 of 14 on 3rd down and smothered the run as A&M only mustered 54 yards on the ground (77 not counting sacks). The Tigers sacked A&M QB Zach Calzada four times and had nine tackles for loss.
Johnson completed 22 of 38 passes for 306 yards and three touchdowns to do most of LSU's damage offensively. LSU RB Tyrion Davis-Price outrushed the entire A&M offense with a game-high 84 yards, and as statistics show, the team that wins the rushing battle wins the game more often than not.
Despite LSU's superiority through the air and on the ground, in the end, it was Cade York's 50-yard field goal on LSU's opening drive of the game that proved to be the difference.
WORST SEC LOSS: at #16 Kentucky, 42-21
Kentucky was another SEC team that found itself overrated at times this season, largely due to how overrated the Florida Gators were when the Wildcats beat them. That is not to say that Kentucky is not a good team, however.
While Kentucky certainly was a good team, LSU had a horrible day in Lexington, and it's hard to reconcile a 21-point loss at Kentucky with a six-point loss in Tuscaloosa to #2 Alabama. Maybe LSU wasn't good enough to beat Kentucky, but it shouldn't have lost this badly.
Kentucky ran the ball down LSU's throat, totally 330 rushing yards and three touchdowns on 45 carries (7.3 yards per). Two Kentucky rushers surpassed the 100-yard mark, and LSU only stopped the Wildcats behind the line of scrimmage three times all day, and one of those times was a sack.
LSU's offense got going in the second half after being shut out in the first half, and Davis-Price ran for 147 yards and two touchdowns on the day, but it was too little too late as Kentucky literally ran away with the game.
STATISTICAL LEADERS
Passing: QB Max Johnson (Sophomore) – 225 completions on 373 attempts (60.3%) for 2,815 yards; 27 TDs; 6 INTs; passing efficiency: 144.39 (55th nationally)
Johnson is transferring to Texas A&M, so any further discussion of him is irrelevant to the Texas Bowl. LSU requested a waiver from the NCAA to allow freshman Garrett Nussmeier to play in the Texas Bowl, which would be his fifth game of the season, and retain his redshirt. However, a day later, senior Myles Brennan, who had entered the transfer portal in late October, has elected to exit the portal and remain at LSU.
Brennan broke his non-throwing arm while fishing (for gators?) before the season began, requiring surgery, and did not play in the 2021 regular season. Whether Brennan could be available for the Texas Bowl if Nussmeier is unable to play is unclear to me at this time.
Rushing: RBTyrion Davis-Price (Junior) – 1,003 yards and six TDs on 211 carries (4.8 yards per carry)
Davis-Price is a punishing power back with the ability to create big plays simply by running over tacklers. He doesn't have the lightning-in-a-bottle agility or video game moves of K-State RB Deuce Vaughn, but he is deceptively quick, and he hits holes without hesitation.
Given a lane, Davis-Price will explode through the line like a Harley-Davidson Livewire with its throttle open wide, and woe to the secondary defenders who get caught beneath those cleated tires. However, he is not nearly as good when trying to cut into creases.
Davis-Price made Gator gumbo in his best game of the season, the 49-42 win over Florida, with 287 rushing yards and three touchdowns on 36 carries (8 yards per). This evisceration of Florida's defense included a season-high 40-yard touchdown run to give the Tigers a 14-point lead in the third quarter. After Florida tied the game at 35, Davis-Price added another long touchdown run, this time for 25 yards, to regain the lead early in the fourth quarter.
Receiving: WR Kayshon Boutte (Sophomore) – 38 receptions for 509 yards and 9 TDs
Unfortunately, Boute was lost for the season to a leg injury sustained in the loss at Kentucky. Had he been able to play the entire season, he likely would have eclipsed 1,000 yards receiving.
While freshman Jack Bech has the second-most receiving yards on the season for LSU (489 and three TDs on 43 receptions), the Tigers' best receiver available is probably junior Jaray Jenkins. Jenkins, who has 479 yards and five TDs on 33 receptions, finished the season strong by grabbing eight catches for 169 yards and two touchdowns in the win over A&M.
Jenkins is a long, tall receiver at 6-4 with decent speed (netting 140 yards-after-catch this season). He caught 63.5% of his targets in 2021 and only dropped four passes.
Sacks: DE BJ Ojulari (Sophomore) – 6
Ojulari netted all six of his sacks on the season in the first eight games. His best game was against Florida with nine tackles and a sack. He also had 2.5 sacks in the win over Central Michigan.
Ojulari regularly applied pressure on opposing quarterbacks all season, finishing the season with 49 QB pressures, including 31 hurries and 11 QB hits. He's also a very sure tackler and only missed one tackle all season.
Tackles: LB Damone Clark (Senior) – 136 (78 solo, 58 assists, 5.5 sacks)
Clark logged double-digit tackles in eight games this season, including a season-high 19 in LSU's 31-17 loss at Ole Miss. At 6-3, 245 pounds, he's a monster middle linebacker who will sometimes play the weak side.
Clark's 138 tackles include 46 drive-ending stops. He can stop the run cold, blitz, and cover the pass. Clark will almost certainly demand a little extra attention in K-State's blocking schemes.
OFFENSIVE STATS
Points per game: 27.1
3rd down efficiency: 37.36% (68 of 192)
4th down efficiency: 62.07% (18 of 29)
Passing yards per game: 264.2
Rushing yards per game: 109.3
Yards per game: 373.5
DEFENSIVE STATS
Points allowed per game: 25.33
3rd down defensive efficiency: 37.9% (66 of 174)
4th down defensive efficiency: 63.2% (12 of 19)
Passing yards allowed per game: 234.9
Rushing yards allowed per game: 137.2
Yards allowed per game: 372.2
ANALYSIS
Defense
LSU's defense has generally been very good against the run this season; however, it seems vulnerable to balanced attacks and elite running backs. The Tigers have plenty of speed and pop on defense, and they should be able to keep K-State from running all over them. However, they haven't faced a back like Deuce Vaughn, and K-State is relentless efficient at creating big plays. The Tigers' defense is good, but it's probably not good enough to completely contain a rested K-State offense with a healthy Skylar Thompson.
Offense
It's difficult to know what to expect from a team that is missing its starting quarterback, and while Davis-Price is a good running back, it seems very unlikely that LSU can simply lean on the running game and expect to beat a K-State with a stout rushing defense. While LSU will probably be able to get a big play on the ground against K-State, it has often struggled to move the ball on the ground against defenses that are at least statistically inferior to K-State's. LSU will need to pass the ball to win.
VERDICT
First team to 24 wins.
This will be a defensive battle with neither team giving up a lot of yards. Given the questions LSU has entering the game and K-State's potential to out-rush the Tigers, this feels like a game K-State should win.