Trending Now
Three Thoughts on BYU's 31-28 Loss to UAB in the Independence Bowl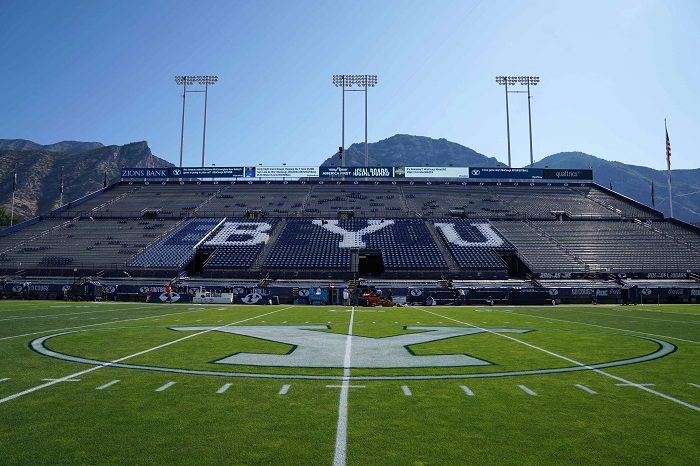 UAB pulled off its first ever upset over an AP Top 25 team when it defeated the No.12 BYU Cougars 31-28 in the Independence Bowl Saturday in Shreveport, La. Despite the loss, sophomore running back Tyler Allgeier managed to rack up a whopping 193 yards on 27 carries. He outrushed UAB's DeWayne McBride, whom had one more carry than Allgeier. The young BYU back also broke the BYU single season rushing record as a part of his effort. With the chance to finish in he AP top 10,
BYU was unable to capitalize without its regular starting quarterback Jaren Hall, who was sidelined with an injury sustained during the USC game. As he's shown before, Baylor Romney proved to be a capable replacement, finishing 15-of-23 for 195 yards. Although he did not throw any touchdown passes, he also did not throw any interceptions. UAB took an early 14-0 lead, but BYU fought back to tie it up with 8:19 remaining in the first half. After falling back down twice, the Cougars took a 28-24 lead on a 1-yard Tyler Allgeier rushing touchdown with 14:33 remaining. BYU would not score again while UAB found the end zone with 6:17 remaining. The Cougars seemed to be on a potential game-winning drive until Samson Nacua dropped what was consider a reception despite the ball never reaching his chest and Nacua never being touched by a defender. UAB picked up the loose football and the officials ruled the ball in possession of the Blazers. With the loss, BYU finishes the 2021 campaign an impressive 10-3 with six victories over Power Fives schools. Below are three thoughts on BYU's Independence Bowl loss. 
1. I still don't know what a catch is
Does anyone know what a catch is? On BYU's final drive, Samson Nacua bobbled a pass which eventually fell to the ground. UAB pounced on it and the officials called it a fumble. From my perception, the replay showed Nacua had it in his hands but could not bring it to his stomach. A hit did not jar the football from his grasp. He simply just lost it. Again, the ball was never controlled to the point where he could start running with it. It was almost as if he tried to run first, then catch the football. This debate still happens at every level of football. No one knows what a real catch is. It seems to be a subjective call from the officials. I've seen passes controlled better ruled incomplete.  
2. UAB wanted this game more 
I'm not going to say BYU "wasn't motivated". There were definitely plays made in this game that required motivation. For instance, Masen Wake performed one of the best hurdles ever seen over a defender late in the fourth quarter. Tyler Allgeier outrushed DeWayne McBride.  After being popped in the mouth with a 14-0 deficit, BYU fought back and took the lead. BYU was definitely motivated to win, but UAB just simply wanted this game more. For UAB, this was a chance to take down a top 15 program. I'm not one for the lame excuses. Yes, BYU should have been in the New Year's Six Bowl. They also had plenty of reason to go into this game looking for a win. A victory likely would have propelled BYU into the AP top 10 in the final rankings.  
3. Tyler Allgeier is the best running back in BYU history 
Allgeier broke the BYU single season rushing record, which had stood since 2002. The previous record of 1,582 yards was set by Luke Staley. Allgeier, a sophomore who joined the program as a walk-on linebacker, needed 174 yards. He finished with 192 on 27 carries. Additionally, he outrushed the opposing running back DeWayne McBride with one fewer carry. While Staley's record is certainly impressive, some may say Allgeier had a tougher road. BYU faced two Power Five schools in 2002, and one of them finished with a 4-8 record: Syracuse. Georgia Tech was the other, finishing with a 7-5 record. Racking up over 1,500 yards is still no small feat, but BYU played in a young Mountain West Conference in which the best team was 10-4 Colorado State.
Only three of the eight teams finished bowl eligible. Allgeier acquired this record against eight bowl eligible teams, three of which won their conference. Two of those conference champions are in Power Five Conferences and will play in a New Year's Six Bowl. It's unlikely Allgeier will play in the Big 12 Conference, but there is a chance and we certainly hope he does.