Big 12 News
Former USC Players Expected Trojans to Hire Matt Campbell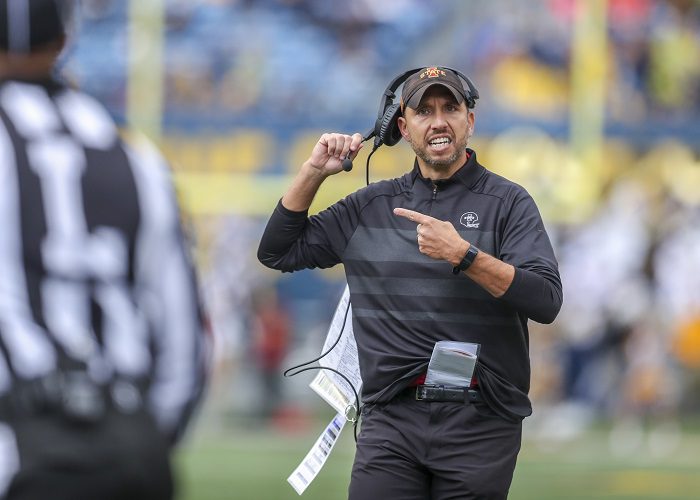 In a story by ESPN's Paolo Uggetti, titled, "Lincoln Riley has USC Trojans starting to believe in themselves again", a few layers of the Lincoln Riley story were pulled back a bit more on Monday.
After telling the story of Lincoln Riley's life over the past few weeks, Uggetti dropped a miniature bombshell when he said that former USC players were expecting Matt Campbell to be the next guy leading the Trojans before Lincoln Riley left Oklahoma to take the job.
Here is the excerpt from Uggetti's story, detailing what a few anonymous USC alums were saying about the new hire:
Inside a group chat of former USC players on Sunday, Nov. 28, the flurry of sporadic texts picked up and suddenly turned into an avalanche. Someone dropped in the news that Riley was headed to USC.
"It was completely out of left field," one former player said. "We were in the mindset that it was going to be Matt Campbell, or a Matt Campbell kind of guy, and to end up 12 hours later with [Riley] as the head coach? It was wild."
Can you imagine how different things would look for the Sooners and Cyclones if that would've happened? Would Lincoln still be at Oklahoma, or would he have jumped ship to Notre Dame to escape the SEC? Who would Iowa State go after for their head coach if Campbell headed west?
I guess we will never know the answer, but I would venture to say that both fan bases are happy with the current state of things, even the Oklahoma fan base has solidified and shown a new excitement for Brent Venables and his new staff. Either way, things are the way they should be as Lincoln Riley is right at home in LA, Brent Venable is back home in Norman, and Matt Campbell gets to stay in Ames.