Oklahoma Sooners
Four Things That Should Be On Brent Venables' 2021 Christmas List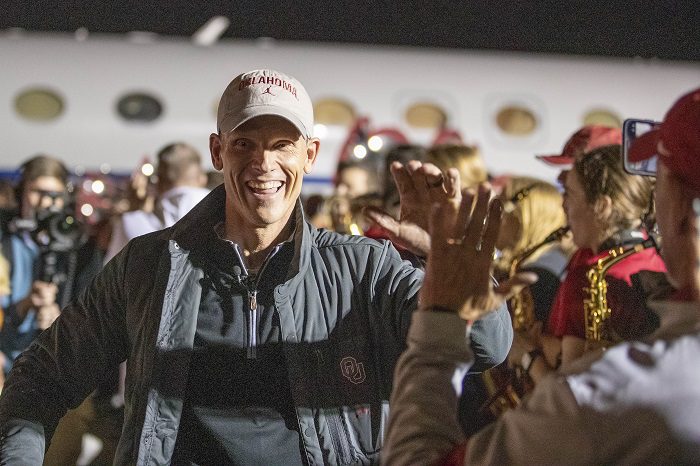 Brent Venables has the task of picking up the pieces that Lincoln Riley left in Norman as he slunk up the chimney after cleaning out the staff and future recruiting classes to his liking. Yes, I used a Grinch reference, and it's not hard to draw the comparison; Riley essentially cleaned out the underside of Oklahoma's Christmas tree on his way to LA and did so like a thief in the night.
Now, the Sooners have stabilized under their new head coach and things look to be taking an upward trend. Truth be told, this "rebuild" that Venables has before him could be the easiest in history because if a few things break his way, the Sooners could be right back in business next season.
Now, here are three things that Coach Venables could ask Jolly Saint Nicholas for, heading towards the 2022 season.
1. A Physical, Punishing, Relentless, Suffocating Defense
I didn't come up with that. Brent Venables did, in his opening press conference. That kind of defense hasn't been played in Norman, since, I don't know, 2009? Who was running the defense at Oklahoma back then? The same guy that intends to bring it back here in 2022. Oklahoma has been better defensively than it was from 2014-2019, but it hasn't consistently been any of those four words as of late. The talent is there; Oklahoma has one of the five most talented rosters in the country every year. All it needs is the right mind, like Brent Venables'.
2. "Big Fish" Hires at Cornerback and D-Line Coaches
What could help with installing a new defense in Norman? How about bringing in some of the top defensive assistants in the country? Oklahoma just lost Calvin Thibodeaux and Jamar Cain, two of the best defensive recruiters in the game. Venables has already added Miguel Chavis as the defensive ends coach, but still lacks someone to coach the defensive line. Enter Todd Bates, the Clemson defensive line coach who just received a raise in order to entice him into staying with the Tigers. However, Bates is the only name that has caught any traction as Oklahoma's next target for D-Line coach and could be headed to Norman after the bowl season. For cornerbacks, the name Jay Valai has been thrown around quite a bit. Currently the cornerbacks' coach at Alabama, Valai was at Texas in 2020 at the same position and had a previous stint with the Kansas City Chiefs (2018) and Georgia (2016-17). If Venables can land those two coaches, it would go a long way in building a strong defensive staff for the future.
3. Land More Elite Talent in February
There are several big names out there that Oklahoma is in the running for, like Javontae Barnes, Jahlil Florence, R Mason Thomas, Ahmad Moten, and Devon Campbell. There are rumors that Javontae Barnes is Oklahoma-bound and will announce at the Under Armour All-American game on January 2nd. The Sooners are already expected to sign four-star CB Gentry Williams and four-star athlete Jaren Kanak in February, and if they can add just a few of the names from above the class could end up being elite yet again. There are sure to be a couple of surprises in there as well and things are looking bright for Venables and Co. in 2022.
4. Caleb Williams is the Starting Quarterback for Oklahoma in 2022
This is arguably the biggest gift that Brent Venables could land this Holiday. If Williams sticks around, the Sooners are automatically national title contenders in 2022. His return to Oklahoma would keep other elite talents like Mario Williams and Marvin Mims in Norman for the foreseeable future and if Jeff Lebby can pull enough strings to get those guys excited and involved next season, Oklahoma could have a scary offense to pair with a Brent Venables defense. That's a nightmare for the Big 12 and an immediate contender going into the SEC in 2023.
Oklahoma fans hope that Santa gives Brent everything he's asking for this year because if he does Oklahoma might be better off than it was under Lincoln Riley a few weeks ago.
Oklahoma will take on Oregon in the Valero Alamo Bowl on December 29th in San Antonio, Texas.