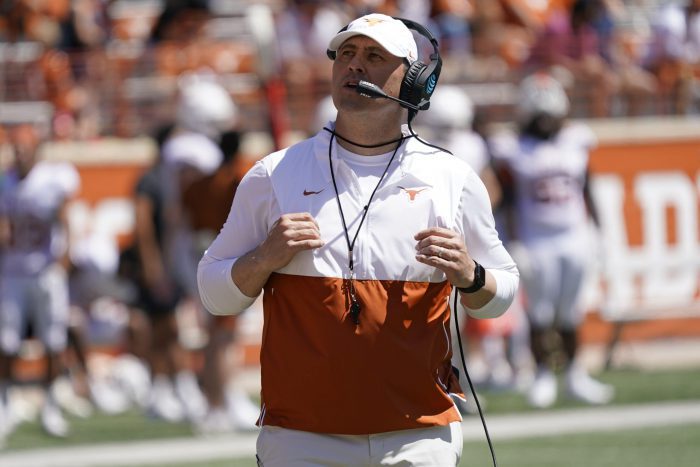 Steve Sarkisian might get a lump of coal in his stocking if Texas fans have anything to say about it. Or maybe instead of a Christmas bonus, Texas boosters will just get him a membership to the Jelly of the Month Club.
While I'm sure that Sark would appreciate his membership more than Clark Griswold did, I don't think that he's going to be getting anything that resembles a bonus after the 5-7 egg he just laid in Austin this season. Texas had its worst losing streak in half a century and that was topped even because the Longhorns lost to Kansas for the second time in five years. This is certainly a year that Sarkisian and his staff are ready to put to bed and look ahead to 2022, so what is he hoping to change going forward?
Here are three things that we think Steve Sarkisian should be asking Santa for when he squeezes himself down the chimney on Friday night.
1. Quinn Ewers is Everything He's Supposed to be
This one almost goes without saying, but Texas has lacked a few things over the past decade and elite quarterback play is one of them. Yes, Sam Ehlinger was special and I don't want to take anything away from that man, but if Quinn Ewers can do what is expected of him, they won't even be on the same planet. Ewers was the sixth player to ever receive a perfect 1.0000 247Sports Composite Score and is projected as a Top 10 pick when he leaves college football. If he lives up to that status, Texas will have the scariest backfield in college football with Ewers and Bijan Robinson lined up aside one another in 2022.
2. Vastly Improved Rushing Defense
Texas ranked 113th nationally in rushing defense in 2021, allowing 201.6 yards per contest. That number was second to last in the Big 12, better than only Kansas who was 129th, just one spot from dead last in the country. In a season where Big 12 offenses seemed to move the ball on the ground rather than through the air, that led to several bad performances and thus, a seven-loss season. How does Texas turn it around? Well, for starters, let Pete Kwiatkowski get one cycle of players under his belt. Talent has never been the issue at Texas, and the Longhorns are set to land the top recruiting class in the Big 12 yet again this year. However, Kwiatkowski was working with a leftover cupboard when he stepped onto campus. If there isn't an improvement in 2021, then it might be time to move on. Another thing that would be to get guys like Gary Patterson on staff. A veteran defensive mind like that would surely seal some of the cracks in Texas' defense.
3. Continued Grace From Administration in 2022
Steve Sarkisian just had one of the worst seasons in Texas history, losing six straight games for the first time since 1956 and going 5-7 for the first time since 2016. Now, to be fair, it was his first year and Texas has been a puzzle that nobody could quite solve since Mack Brown left a decade ago. Texas AD Chris Del Conte is adamant that Sarkisian has the full support of his administration and isn't "coaching for his job." Sark needs to hope that remains the case going into 2022, because expectations are going to be sky-high in Austin. The addition of Ewers, a fantastic offensive line recruiting class coming in February, and Bijan Robinson returning will culminate double-digit wins in the minds of many around the program. If Texas is unable to get more than nines, things could turn on Sark quickly. One more thing worth noting is that Texas will host Alabama in Week 2 of the 2022 season. If that game goes badly, which it could with a plethora of young players for Texas, Sark could immediately be on the hot seat.
If all three of these Christmas wishes come true for Sark, then Texas will be in good shape for the foreseeable future. If things go well and Texas goes 9-3 or 10-2 next season, they could be among the favorites to win the national title in 2023, even if they are transitioning into the SEC.