Trending Now
UCF vs. Florida: Gasparilla Bowl Preview and Prediction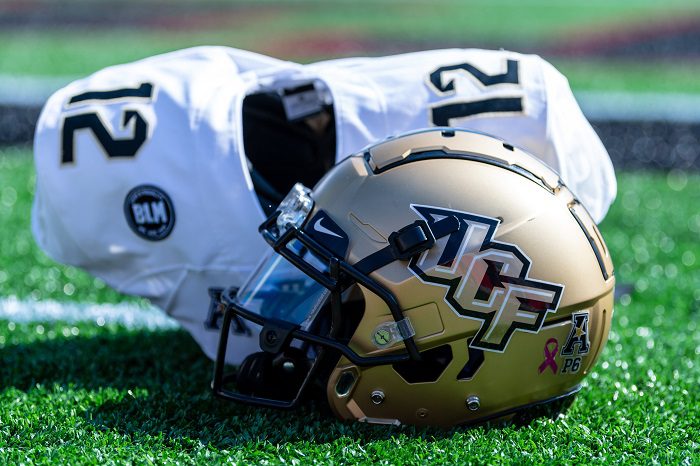 Here is everything you need to know about the Gasparilla Bowl in our UCF vs. Florida
GAME INFO
7 p.m. EST/6 p.m. CST, Thursday, Dec. 23, 2021, Raymond James Stadium, Tampa, Fla.
TV: ESPN (Wes Durham, Roddy Jones, Taylor Davis)
Sattelite Radio: Bowl Season Radio, Sirius XM, and online 84 (Brian Hanni, John Denton, Despina Barton)
UCF Radio: AM 740/FM 96.9 in Orlando (Marc Daniels, Gary Parris, Scott Adams)
Florida Radio: Gator IMG Sports Network, Sirius XM 190, National 84 (Mick Hubert, Shane Matthews, Tate Casey)
UCF Head Coach: Gus Malzahn (8-4 in 1 season, other than 2020, 79-38 overall in 10 seasons)
Florida Interim Head Coach: Greg Knox (1-0 at Florida, 2-0 overall as an interim head coach)
Series History: Florida leads 2-0. The last meeting was on Sept. 9, 2006.
Opening Line: Florida -7
Over/Under: 56.5
Moneyline: Florida -305/UCF +255
Fun Facts: UCF has won more National Championships since Florida's Tim Tebow era than the Gators. UCF won the 2017 Colley Matrix National Championship. Tim Tebow's career at Florida ended Jan. 1, 2010, with a 31-24 victory over Cincinnati in the Sugar Bowl. The last time Florida won a National Championship was the 2008-09 season.
KEY PLAYERS
UCF (8-4, W 17-13 VS SOUTH FLORIDA)
WR Ryan O'Keefe
You could probably classify O'Keefe more as an athlete. He's contributed to this offense in just about every way imaginable. UCF's offense features a revolving door. The only certainty for this offense starting this season was Dillon Gabriel at quarterback. That changed when Gabriel fractured his clavicle against Louisville, costing him the rest of the season. Since, O'Keefe has led the team in rushing during a game on one carry, a 51-yard rushing touchdown, in a game this season. O'Keefe also has two touchdown passes. He is not the team leader in touchdown receptions by far, but that is likely because the defense keys on him. He is, however, the lead receiver in reception yards and it's not close. On 77 receptions, he's produced 727 yards and six touchdowns. O'Keefe is the playmaker for the offense, and if there is a trick play, he's probably running the show.
DL Big Kat Bryant
How can you miss a guy with 14 tackles for loss, including six sacks? Bryant followed head coach Gus Malzahn from Auburn to UCF. He was a freshman when UCF defeated Auburn in the 2017 Peach Bowl, which made UCF a National Championship winning program. Yes, the Colley Matrix named UCF its National Champion, so the Knights do have a crown to their name. The 6-foot-5, 245-pound graduate transfer will enjoy facing an SEC foe, and he will certainly want to lead the UCF Knights to becoming the top team in the State of Florida.
FLORIDA (6-6, W 24-21 VS. FLORIDA STATE)
QB Emory Jones
He's looking for a new contract. Jones has entered the transfer portal but is staying with Florida for the bowl game. He will likely be one of the few motivated Florida players in this game. Jones was benched earlier this season and has struggled. Despite his struggles, he leads the team in rushing and passing. He's thrown 19 touchdown passes, but 13 interceptions. On the other hand, he averages over five yards per carry. The offense relies on him to carry this team. Now, how motivated will his receivers be to catch the football? Will they be willing to take a shot on a 5-and-In going across the middle? Or, are they just trying to save their body for next season?
S Rashad Torrence II
Well, this is a consolation player. Zachery Carter, who has eight sacks and 11 tackles for loss is skipping the bowl game. Like I said, will this Florida team be motivated? Torrence is a sophomore with three interceptions. As a safety, he has 3.5 tackles for loss. Turnovers will be key in this game.
KEY STORYLINES
UCF
The Knights have a chance to prove they are the best team in the State of Florida. The Gators are currently 3-0 against teams in Florida having defeated Florida State, South Florida, and Florida Atlantic. Florida State holds a victory over Miami (FL), thus giving the Gators the not over the Hurricanes. If UCF scores this victory, it will be able to use quite the selling point on the recruiting trail. They own the most recent National Championship in the State of Florida. They beat Florida, who beat Florida State, who beat Miami (FL). Additionally, they're joining the Big 12 Conference. More than bragging rights, money, or pride, this is about recruiting. Coaches are starting to decline SEC jobs, which have already become a revolving door, to say the least. Gus Malzahn understands this first hand. If UCF beats Florida, the Knights just might overtake the Gators on the recruiting trail. It may not be this year or next year, but if Napier doesn't last past three seasons, Florida may become Vanderbilt. Don't believe me? Look at Florida State's first result of this season. #Brutal
FLORIDA
Florida might completely overlook this game. They are an SEC team playing against a program that joined the FBS in the 1990s, one which is currently in the Group of Five. The Gators have an interim head coach and may believe they don't have much to play for. However, there is plenty to play for. The future of Florida Gators football depends on this game. This could signal a change of hands in the power of college football in the State of Florida. The Seminoles are now struggling to compete in the ACC. Miami (FL) hasn't been relevant since joining the ACC. Here sits the Gators, having just fired their coach and allowing an FCS team with a losing record to score 52 points on their defense. My, how the mighty have fallen. Meanwhile, UCF has the most recent National Championship in the state for an FBS school. They are joining the Big 12 Conference, a Power Five Conference. Florida has not scheduled the Knights since 2006 and has only done so twice. Florida must win this game to prove they are still the premier program in the state. If the Gators lose this bowl game, it could be a changing of the guard for recruiting in the state. UCF might become the program recruits want to play at. With an enrollment of over 70,000, Disney and Universal right down the road, plus the invitation to join the Big 12 Conference, why would anyone want to go to towns in the middle of nowhere such as Gainesville or Tallahassee? Florida better be motivated for this game. The foreseeable future of its program depends on it.
Prediction: UCF 24 Florida 13
Cue up the excuses right now. Remember, the SEC only loses bowl games because of lack of motivation. This is going to be a prime example of such a loss. UCF really wants to win this game. Florida's players believe they're already in the NFL. They have an interim head coach. This was a program that has played in New Year's Six Bowls in recent memory. Florida is a program resembling a spoiled brat that has been given everything. We've seen this before. They are going to lay a stinker and then blow the loss off as "who cares". Well, let me tell you who cares: recruits. And Gus Malzahn is going to deposit this money into his 401K. Interest baby! Florida fans will have to live with this for a long time.