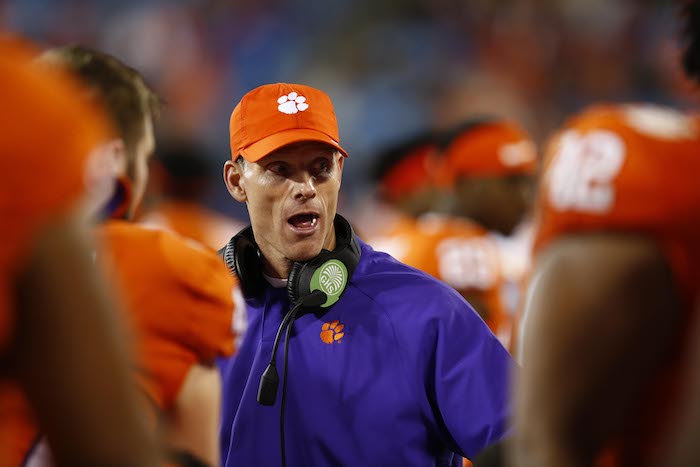 During his first stint at Oklahoma, Brent Venables was known as an enforcer or that guy that lost his mind on the sidelines when he was chewing a player out. While there is still some of that in Venables, he has changed significantly and owes a lot of that to Clemson head coach Dabo Swinney.
Swinney wears his faith on his sleeve and is outspoken about his approach to coaching men to be more than players and coaches. Venables opened up about his experience with Dabo and what his time at Clemson was like during an interview on ESPNU Radio.
"From coach Swinney, man, for me transformationally in so many ways probably has had the biggest impact on the man, the husband, the father, the coach, my spirit, he believed in me at times when I was having a hard time believing in myself, and he had no reason," Venables said. "He had no reason to believe in me but he did. He helped me connect in ways that I didn't know were possible, I'm just so thankful for his friendship and really the whole Clemson community and family. We've gotten way more out of it than we put in and I'll forever be grateful."
When Venables left Clemson he didn't want to take advantage of his former school by trying to lure guys into following him. Instead, he encouraged them to stick to their pledges with Clemson, quite the opposite of what Lincoln Riley did when he left Oklahoma.
"So what was it like? There was a few decommitments," Venables said during Oklahoma's signing day press conference. "That was hurtful for me. I know one, the need that they have for those young guys — Clemson doesn't just keep recruiting when they get a commitment. Some places just keep recruiting if they can get a better guy. They'll address it down the road and they might have to tell a guy, hey we don't have a spot for you, and guys are left without scholarships. That's not how Coach Swinney handles his business. By being upfront and honest and doing things the right way, sometimes that can hurt you in this game but overall it will serve you well. That's really kind of how it went down over the last week there with them. I even spoke to a few guys after they decommitted just to say, 'Hey, you need to rethink this,' and just try to help them and hopefully be another source that could bring a little clarity in a very difficult process for both the prospects and for the universities."
"I've not tried to continue to 'recruit' guys. My relationship with Coach Swinney goes so much further than the football field. He's family to me. The rest of the staff there is family to me. Again, I've got incredible respect and appreciation and thankfulness — just trying to do things the right way. In this profession, the pressure to win and to get players, I think people lose their way. For me, that's always been an easy philosophy and value system to have is just to do what's right. So I've tried to do that."