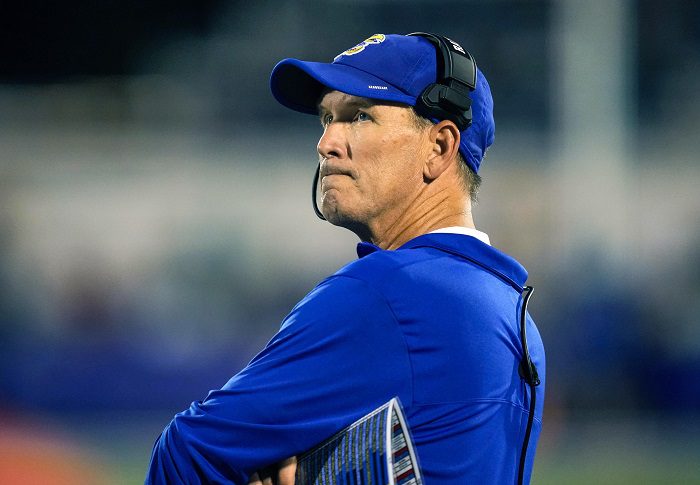 Lance Leipold was good, all things considered, in 2021. He took a 10-0 lead into halftime over Oklahoma, beat Texas 57-56 in overtime in Austin, and Kansas was competitive in eight of their 12 games in 2021. Kansas won twice as many games as I expected they would in year one, and that's good enough to land you on the "Nice List" if you ask me.
He has already had a few gifts show up early through the Transfer Portal and that should help him in year two, but more needs to happen in the Jayhawks are going to take the next step. Since Leipold ate all of his vegetables and kept his room spic-and-span all year long, what should he expect Mr. Claus to bring him early on Saturday morning?
1. Keep the Transfer Portal Rolling
Kansas has secured a few talented pieces through the transfer portal already, including LB/S Craig Young (Ohio State), CB Kalon Gervin (Michigan State), and LB Eriq Gilyard (UCF). Those additions should shore up the back end for Kansas going into next season and give them a chance to build some real depth defensively in Lawrence. However, they need more guys like that to head to Kansas. Leipold is showing proficiency in bringing players in for a second chance and clearly gets the most out of his players on the field. If he can continue to capitalize on that and add some pieces in the trenches it could help Kansas substantially in 2022.
2. Jalon Daniels and Devin Neal Take Over in 2022
The duo of Daniels and Neal was exciting to watch late in the season, maybe as exciting as Kansas football has been in years. In three and a half games, Jalon Daniels completed 81 of 117 passes (69.2%) for 860 yards and seven touchdowns. He also added 83 yards and three scores on the ground in that time. Devin Neal, in 11 games (he had one carry in the season opener) rushed for 707 yards on 158 attempts (4.5 ypc) and eight scores, adding another crucial receiving touchdown in the victory over Texas. Neal was injured against TCU but should be at full strength going into next season. This duo needs to be the center of Kansas' offense in 2022 because they completely changed the way Kansas looked on the field. In fact, in the three games that Daniels started for Kansas they scored three of their four highest point totals on the season and the final scores were decided by six points or less. This duo made Kansas competitive and that's not to be overlooked.
3. Close 2022 Cycle Out on a High Note
Kansas currently ranks 107th nationally for the 2022 class and 10th in the Big 12 per 247Sports. They finished the 2021 cycle ranked 63rd nationally and 9th in the Big 12, ahead of Texas Tech. Right now, the Jayhawks only have six commitments in this class and are in bad shape going into January. However, I do expect Leipold and staff to turn this thing around before February 3rd. Look for Kansas to add some pieces over the next month or so to help get Kansas on track. Yes, a bunch of the spots in this year's class as I mentioned above, but recruiting is the lifeblood of a college football program, and it's hard to build anything substantial on top of players who only have one or two years of eligibility left when they get to campus. Leipold knows that, and he will push hard to get a few more "big fish" in the boat.
If Kansas can pull this Christmas list off for Leipold, it will go a long way towards Leipold and the Jayhawks stealing a couple more games next year. At the end of the day, that's what this program needs; four or five wins in 2022 and go into year three of Leipold's contract ready to fight like hell to get to that ever-elusive 6-win mark.