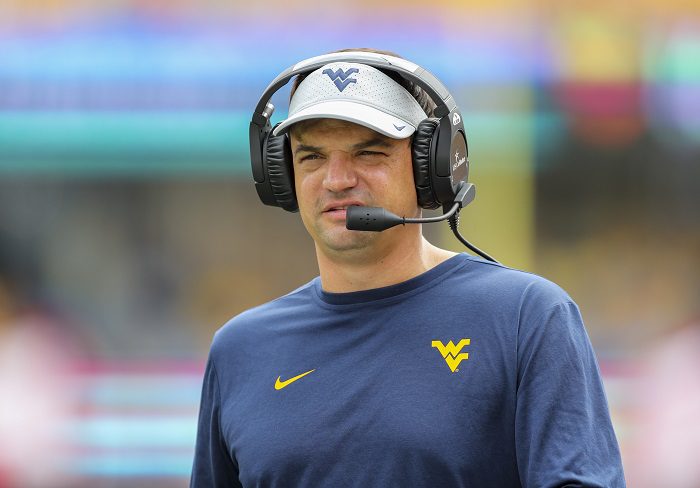 It's Christmas time and that means that Bowl Season is upon us, Despite a tough season, Neal Brown and the West Virginia Mountaineers made it to bowl eligibility for the second time in three years under Brown. WVU was wildly inconsistent in 2021 and lost a few games that they shouldn't have due to issues that fall squarely on the head coach's shoulders (clock management, poor execution, lack of discipline). Now, the Mountaineers are loading up for a battle with the Minnesota Golden Gophers in what could be a tough matchup for Brown's squad.
I'm sure there are those of you out there hoping that Brown isn't the guy in Morgantown by then, but in the spirit of Christmas, let's just say that he is. With that in mind, what are a few things that Brown could be hoping for going into the 2022 season?
1. A Bowl Win and/or Support From Administration
A win in the Guaranteed Rate Bowl next Tuesday would go a long way in helping Brown's cause with administration at West Virginia. Unfortunately, I'm not sure that will happen. For starters, Leddie Brown opted out of the game in preparation for the 2022 NFL Draft. He was the Mountaineers' main offensive weapon and that is a huge blow to WVU's chances. Secondly, Minnesota ranks fourth in the country in total defense this season and that is not a good matchup for Brown's squad, who has struggled mightily on the offensive side of the ball. So, what happens if he loses this game? Well, it could be the final straw, especially if it's ugly. However, if it's a hard-fought game that comes down to a final score, the West Virginia athletic department could give him one more shot. Regardless, whatever the outcome is, Brown's seat will hot in '22 or he will be sitting in a different seat.
2. Nicco Marchiol is the Answer in 2022
2022 four-star quarterback Nicco Marchiol's comparison out of high school is Kellen Moore, according to Blair Angulo of 247Sports. If that is true, and Marchiol becomes an all-conference type of player, West Virginia will be better in 2022. If he's not able to live up to the hype, then they might be stuck in the same rut they're in this year and Brown will be gone for sure. Poor quarterback play has been an issue at West Virginia since Will Grier left and that has been the difference during the Brown era. This season, Jarret Doege threw for 2,908 yards and 19 touchdowns; however, he threw 11 interceptions and averaged 7.5 yards per completion. That just isn't good enough, especially in a place where people have gotten used to Will Grier, Geno Smith, and Pat White. Hell, Mountaineer fans would take Skyler Howard at this point. The good news is, Marchiol certainly has the talent to be everything that Will Grier or Skyler Howard was and "Moore."
3. Recruiting Class Closes Strong in February
The one thing that has kept Neal Brown afloat at West Virginia through the turmoil has been his ability to bring talent into Morgantown. Well, last month two of the top recruits in the Mountaineers 2022 class, RB Justin Williams and WR Kevin Thomas, decommitted from the program. That looked like a sign of things to come, but as of right now things have settled for the Blue and Gold. Their class sits at 32nd nationally and fifth in the Big 12. If Brown can secure a couple of pieces between now and February it would help his case. It really feels like Brown is fighting for his job right now, and recruiting is his final lifeline. If that goes, he goes with it.
Neal Brown needs all of these things to fall his way if he wants smooth sailing going into next season. He could probably weather the storm if the Mountaineers lose close next week, but it would really help him to secure a victory and a winning season. I guess we will see which side of Santa's list he ended on.
The Guaranteed Rate Bowl, between West Virginia and Minnesota, kicks off at 8:15 p.m. CT on December 28th. The Golden Gophers are currently favored by 5.0 points.