Baylor Bears
Three Things That Should be on Dave Aranda's 2021 Christmas List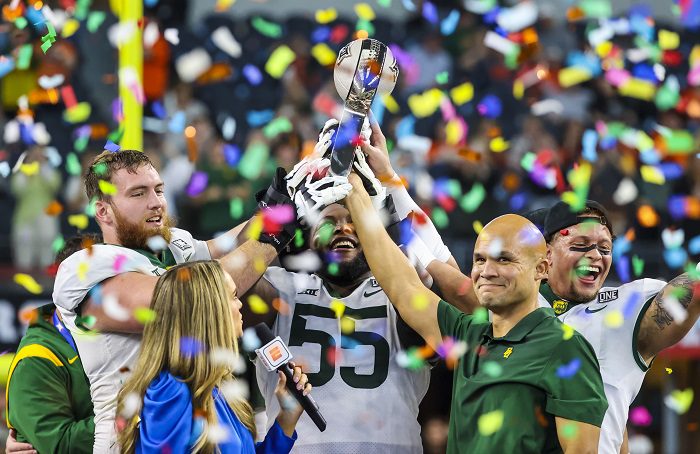 Dave Aranda is certainly on the nice list this Holiday season, as the second-year head coach led his Baylor Bears to their third-ever Big 12 Championship, an 11-2 record, and a berth in the Allstate Sugar Bowl.
Aranda's philosophy has trickled down into his locker room very quickly and his players bought in 100% in 2021 and it showed on the field. Gone are the days of Baylor being a doormat in the Big 12, as long as Dave Aranda is at the helm, Baylor will be a tough out for anyone in the conference.
Going into the bowl game and next season, what are some things that we should expect Aranda to go after to set up another run next season? Here are three things that we think Dave Aranda will be adding to his 2021 Christmas List.
1. A Quarterback Competition Heading into 2022
Yes, I know. Why would a coach want a quarterback competition when his starter is, in all likelihood, returning in 2022? Well, because I'm not so sure that his backup doesn't have the higher ceiling, and what's wrong with a little competition? True freshman Blake Shapen has started two games for the Bears and replaced starter Gerry Bohanon when he was injured against Kansas State. He has completed 72.1% of his passes (82% in the Big 12 Championship) for 596 yards and five scores to zero interceptions. Meanwhile, Bohanon has completed 64.3% of his passes for 2,160 yards, 17 scores, and six INTs. I'm not saying that Shapen should get the nod over Bohanon in the bowl game, or that he should be the starter going into next year. I'm just saying that the competition should be open because both players would benefit from competing for the spot in 2022.
2. Convince Some Senior Talent to Return
Probably the biggest reason for Baylor's magical run in 2021 has been the overload of senior talent on this roster, and if Dave Aranda can convince some of that talent to stick around for 2022 it would go a long way in running it back next year. Look at this list of starters that are eligible to come back for a super-senior year: R.J. Sneed, Terrel Bernard, Abram Smith, Jalen Pitre, Tyquan Thorton, Kalon Barnes, Josh Fleeks, JT Woods, Connor Galvin, Cole Maxwell, Christian Morgan, and several others that are significant depth pieces. Now, some of those guys, like Jalen Pitre, are probably headed to the league this year and are all but gone already but if Aranda can bring back a good portion of that group, it would be a big boost for the 2022 team.
3. Retain His Current Staff
"If it ain't broke, don't fix it" is a motto to live by. Dave Aranda was said to have an extension on the table about a month ago, yet there hasn't been a report confirming that has been signed just yet. I'm curious if Baylor and Aranda aren't having some negotiations to get his staff paid as well. His coordinators, Jeff Grimes (OC) and Ron Roberts (DC) are two names that Aranda needs to keep around amid the craziest coaching carousel that has ever been witnessed in the college game. That carousel isn't over by any stretch either, and Baylor needs to do everything in its power to keep everyone on staff together if they want to reach the heights of 2021 again next season. Now, Baylor being a private university, they are a little more privy about money, contracts, and things of that nature, so his extension could already be signed and the school could be holding that information until after the year. But if it isn't, he is sure to be making certain that his coaches are getting what they need to stay put going into 2022.
If Aranda can get everything on his Christmas List, I wouldn't be surprised to see the Bears near the top of the Big 12 once again next season. We should know more in the coming weeks, but for now, the Bears have a game to prepare for.
Baylor faces Ole Miss in the Allstate Sugar Bowl on New Year's Day in New Orleans, Louisiana. That game kicks off at 7:45 p.m. CT and the Bears are currently favored by 1.0 point.