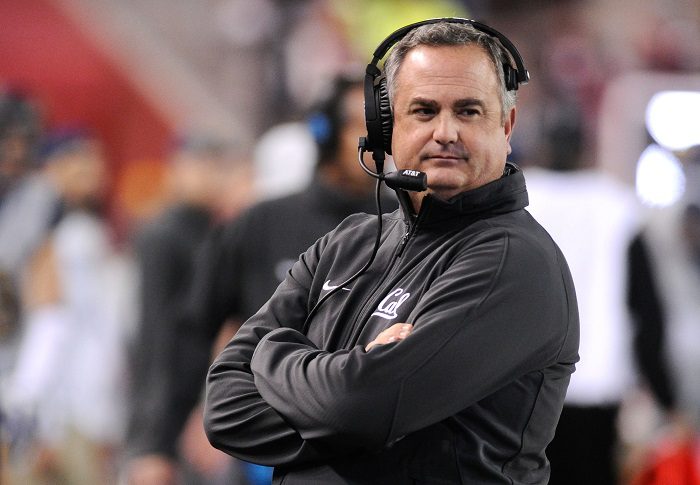 It's Christmas time and that means that Sonny Dykes and the TCU Horned Frogs are … waiting on 2022. As the Horned Frogs move on from the Gary Patterson era and start to get used to Dykes in the driver's seat, TCU's goal for 2022 is to at least be better than the 5-7 record it had in 2021.
With that in mind, what are a few things that Dykes could be hoping for going into the 2022 season?
1. SEPARATION AT QUARTERBACK
The Horned Frogs have seven quarterbacks on the roster right now — eight if you could their 2022 early signee Josh Hoover — but the only two that REALLY matter right now are Max Duggan and Chandler Morris. Duggan began the season as the starting quarterback and he threw for 2,048 yards and 18 touchdowns and rushed for another 352 yards last season. But, after Duggan was hurt, and Patterson was let go, interim head coach Jerry Kill installed Morris as the starter. All Morris did in his first start he threw for 461 yards and two touchdowns to lead the Horned Frogs past eventual Big 12 conference champion Baylor. Morris proved he has the talent to be considered for the job. Duggan isn't transferring or throwing in the towel either. The gift that Dykes needs from one of these two is for one to prove that they are, head and shoulders, the right player to start in the opener against Colorado. Dykes likely won't get to unwrap that gift until August.
2. A RECRUIT (OR TWO) TO STEAL IN FEBRUARY
TCU signed a nine-player class in the early-signing window, and that puts TCU at No. 62 overall per 247Sports.com. The Horned Frogs are also sitting on a three-star running back out of Monroe, Louisiana, named Ajay Allen. TCU has two Top-200 recruits signed on the dotted line right now in wide receiver Jordan Hudson and safety Chace Biddle. But, there are quite a few players in the Top 200 that aren't signed just yet. TCU's goal? Go steal one. The Horned Frogs' other goal? Get Gladewater (Texas) wide receiver, DJ Allen, across the finish line. Right now, 247Sports.com's crystal ball has Allen squarely in TCU's corner. The Horned Frogs need to keep him that way. That's a big reason Dykes imported assistant coach Ra'shaad Samples from SMU.
3. RELATIONSHIP-BUILDING
It isn't just Dykes that is in his first year at TCU. Most of the staff is in their first year at TCU. Samples, new offensive coordinator Garrett Riley, co-offensive coordinator, and offensive line coach AJ Ricker and defensive line coach Chidera Uzo-Diribe came with Dykes from SMU. New defensive coordinator Joe Gillespie came from Tulsa. Special teams coordinator Mark Tommerdahl came from Texas Tech. Outside receivers coach Malcolm Kelly, inside wide receivers coach Doug Meachem and safeties coach Paul Gonzalez, are holdovers from Gary Patterson's staff. Coaching is a small circle, of course. But this staff, and these players, need time to get to know each other, and that won't happen until the spring. This group could use some team-building. So, if someone has a Groupon for a mud run, camping trip, or bowl-a-thon, Dykes would appreciate you thinking of him and his team this holiday season. The Horned Frogs haven't needed this much get-to-know time in about 20 years.
Dykes needs all of these things to fall his way if he wants to get the Horned Frogs back to bowl eligibility in 2022.
You can find Matthew Postins on Twitter @PostinsPostcard.
**Want to win a $20 gift card? Go sign up here and join our conversation! The best poster each week wins a gift card to your favorite establishment!**