Baylor Bears
Our Time: Baylor Basketball Premieres Jan. 6 on ESPN+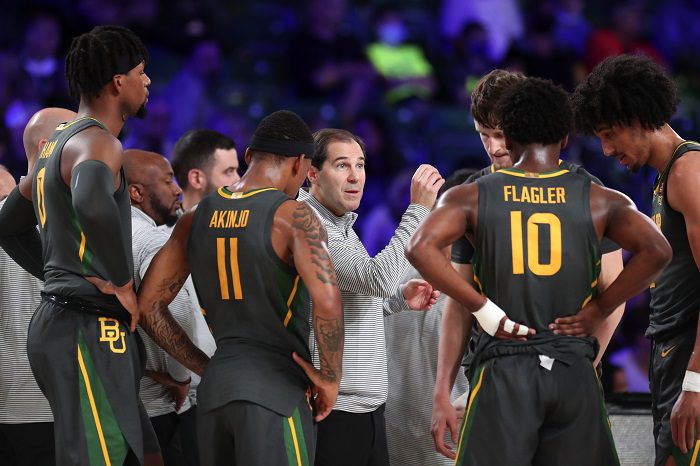 Our Time: Baylor Basketball, an behind-the-scenes ESPN documentary on the Baylor men's and women's programs, premieres on Jan. 6 on ESPN+.
The docu-series, which will feature 12 episodes and have new episodes each Thursday, promises a behind-the-scenes look at both programs, which are in the Associated Press Top 10.
The Baylor men are coming off their first national championship in April, while the women have won three national titles and have a new head coach in Nicki Collen.
This is the first time the Our Time series has followed basketball programs. The first two installments featured the Oklahoma State and UCF football programs. UCF will be joining the Big 12 in all sports in the coming years.
The Baylor men are currently undefeated and ranked No. 1 in the country. The Bears were also No. 1 in the most recent Heartland College Sports power rankings.
"Our Time is a great opportunity for fans to get a closer look behind the scenes of everything that goes into our Culture of JOY," said Baylor men's coach Scott Drew. "We're really excited that this will give basketball fans around the world a chance to get to know our players and our program on a deeper level."
The Baylor women are coming off a loss to Michigan on Sunday, but they have one of the top players in the country in defending Wade Trophy winner NaLyssa Smith, a player some believe could be the No. 1 overall pick in the WNBA Draft next year.
"We're excited for fans to get an exclusive inside look at the Baylor Women's Basketball program," Collen said. "Our Time is such a unique opportunity to provide a glimpse into everyday life here at Baylor and for people to get to know more about our players and program."
You can find Matthew Postins on Twitter @PostinsPostcard.