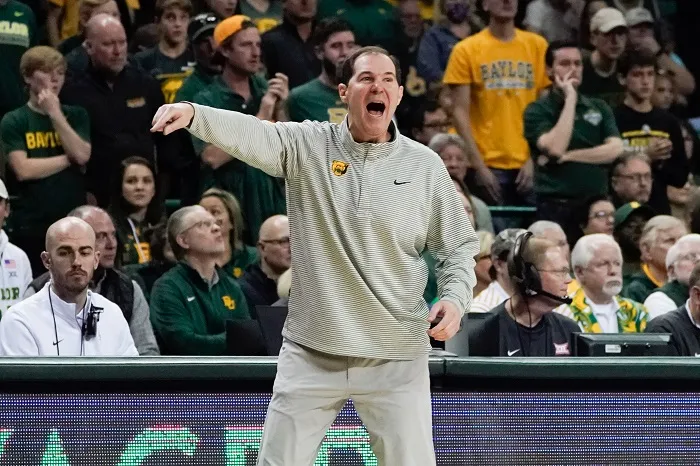 The Baylor Bears remained No. 1 in the Heartland College Sports Big 12 men's basketball power rankings after Week 7 of the 2021-22 season. It was a truncated week with the holiday weekend, so there are few changes in the rankings this week as we prepare for Big 12 play on Jan. 1. Our Power Rankings will appear every Monday.
1. BAYLOR (11-0) (Last Week: 1)
Baylor cruised in its final non-conference game before the holiday. The Bears have one more tune-up against Northwestern State on Dec. 28 before opening Big 12 play on Jan. 1 at Iowa State. Oh, that seems like a big deal.
2. IOWA STATE (12-0) (Last Week: 2)
The Cyclones wrapped up 2021 with a relatively easy win over Chicago State. The Cyclones will have been off more than a week when they host the Bears on Jan. 1. Will that be a factor in which team is sharper?
3. KANSAS (9-1) (Last Week: 3)
Kansas saw its pre-holiday break game with Colorado canceled due to a COVID-19 outbreak with the Buffs. Now, the Jayhawks are looking for a replacement game after losing its game with Harvard on Dec. 29 due to COVID-19 before hosting TCU to open Big 12 play on Jan. 1.
4. WEST VIRGINIA (11-1) (Last Week: 4)
The Mountaineers' only loss is to Marquette. The final tune-up against Youngstown State saw WVU play with great sharpness. After a nine-day break the Mountaineers will be in Austin to face Texas on Jan. 1. That's a heckuva way to get started.
5. OKLAHOMA (10-2) (Last Week: 5)
The Sooners cruised to a relatively easy win over Alcorn State before the break. Like several teams in this league, they won't play another game before Big 12 play begins on Jan. 1. The Sooners will look to open Big 12 play under Porter Moser with a win over Kansas State.
6. TEXAS (9-2) (Last Week: 6)
Texas gets a shot at a 10-win pre-Big 12 slate when it hosts Incarnate Word on Tuesday. Then, the Longhorns host West Virginia on Jan. 1. Remember this name — Dylan Disu. He's adding an interesting ingredient to the Longhorns' frontcourt.
7. TEXAS TECH (9-2) (Last Week: 7)
Texas Tech looks for win No. 10 against Alabama State on Tuesday, followed by the Red Raiders' Big 12 opener at home against Oklahoma State on Jan. 1. All head coach Mark Adams wants for the new year is a healthy Terrence Shannon Jr.
8. TCU (10-1) (Last Week: 8)
TCU is a sneaky 10-1, and odds are they'll be 11-1 after their final pre-Big 12 tune-up against Texas Southern on Dec. 29. Now, the Horned Frogs have a difficult assignment on Jan. 1 when they open Big 12 play at Kansas.
9. KANSAS STATE (8-3) (Last Week: 9)
The Wildcats host North Florida on Dec. 29 and then travel to Oklahoma to face the Sooners on Jan. 1 to open Big 12 action. Wouldn't that be a statement for the Wildcats, if they would win that one on the road.
10. OKLAHOMA STATE (7-4) (Last Week: 10)
The Cowboys' final tune-up with USC on Dec. 22 was canceled due to COVID-19. So, when the Cowboys go to Texas Tech to open Big 12 play on Jan. 1, they won't have played a game in two weeks. How fast can OSU shake the rust off?