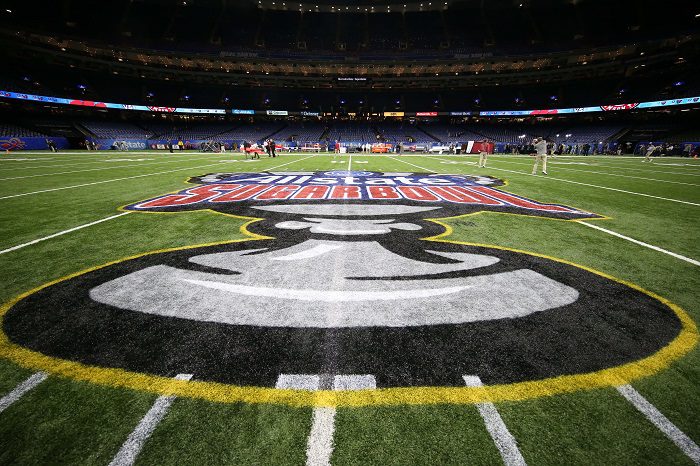 The 2021-22 Big 12 football bowl schedule is set with seven teams from the conference making bowl games. Unfortunately, no Big 12 teams made the College Football Playoff, but everyone should consider being a Cincinnati fan, as the Bearcats are a future Big 12 member. But the conference does have two teams playing in New Year's Six bowl games, with some other pretty attractive match ups on the calendar.
So with that being said, let's rank these Big 12 football bowl games from most interesting to least interesting.
1. Fiesta Bowl: Oklahoma State vs. Notre Dame
Date and Time: Saturday, January 1st, 2022, 12:00 p.m. CST
Any time a Big 12 team gets to take on a blue blood like Notre Dame in a NY6 game it deserves to be at, or near, the top of the list. And for Oklahoma State, it will be the last time we see the bulk of this historic defense on the same field at the same time against a Notre Dame squad that finished No. 5 in the country. Also, an interesting storyline surrounds the departure of Brian Kelly from Notre Dame, with Marcus Freeman the new head coach. This should be a defensive slugfest with the possibility of first one to 17 winning the game.
2. Sugar Bowl: Baylor vs. Ole Miss
Date and Time: Saturday, January 1st, 2022, 7:45 p.m. CST
The Ole Miss offense against the Baylor defense is the match up here to watch. The Lane Train against the steady, cool and calm demeanor of Dave Aranda certainly puts two guys with very different styles on the opposing sidelines. Also, any time a Big 12 team goes up against an SEC team it's a big deal. And given the events of the last six months, it's an even bigger deal. But always remember this, when an SEC team loses a bowl game it's because they "no longer care". That's how it works in that league: losses mean less and wins mean more. Well, it would sure feel nice if Baylor can hand them one of those lesser-meaning losses.
3. Liberty Bowl: Texas Tech vs. Mississippi State
Date and Time: Tuesday, December 28th, 5:45 p.m. CST
Mike Leach vs. Texas Tech? Are you kidding me?! If I had a few more beers before I started writing this, I might have put it in the No. 1 spot. The potential here is unbelievable. Will Leach, if he has the opportunity, try to curb stomp Tech? Will he be searching for former Tech chancellor Kent Hance on the sidelines to give him a piece of his mind? Who the heck knows, but regardless, the storylines around this game make it worth watching. Also, the Joey McGuire era gets more exciting by the day, so Tech fans have plenty of reasons to be tuned into this game as they unofficially begin the build toward 2022.
4. Cheez-It Bowl: Iowa State vs. Clemson
Date and Time: Wednesday, December 29th, 4:45 p.m. CST
This game has lots of fun storylines with Iowa State getting to face a team that is typically gearing up for the College Football Playoff this time of year. The Tigers still have a ton of talent, they just didn't put it together this year, by their own standards. Also, it will be the last time we get to watch this historic Iowa State senior class play together. From Brock Purdy to Charlie Kolar, Mike Rose and so many others, this class changed the trajectory of the Iowa State football program. There's no doubt that Cyclone Nation will show up in full force in Central Florida, and any time the stadium is full, that adds to the excitement of any bowl game.
5. Alamo Bowl: Oklahoma vs. Oregon
Date and Time: Wednesday, December 29th, 8:45 p.m. CST
It's two of the best programs in the country, however both teams fell short of expectations and neither fan base would have been happy with an Alamo Bowl before the season began. Also, many of the top players on both teams won't be playing in this game as they opt out to prepare for the 2022 NFL Draft. So while it's a game we should be excited about, given the match up, there isn't much juice here. Also, coaching changes in both programs creates more attention towards the recruiting trail for these programs than this bowl game.
6. Texas Bowl: Kansas State vs. LSU
Date and Time: Tuesday, January 4th, 8:00 p.m. CST
This game gets knocked down a few pegs for the simple fact that it's being played on Tuesday, January 4th. Who is taking their vacation that week to go watch a mediocre bowl game? It's a flaw in the system, but all bowl games should be done by January 2nd, at the latest. Everyone is back to work the Monday after New Year's, and by that date the bowl season "feels over", so it should be. Anyway, I'll get off my high horse and dive into this game in particular. Yes, Big 12 vs. SEC is intriguing, and also it's Skylar Thompson's last game in purple, assuming he plays, which should mean something the K-State fans. LSU is obviously in a transitionary phase with Brian Kelly coming in, so we will see what exactly the Tigers have in store for this game.
7. Guaranteed Rate Bowl: West Virginia vs. Minnesota
Date and Time: Tuesday, December 28th, 10:15 p.m. EST
Sorry, WVU fans, there just isn't much juice here at all. First off, their asking WVU and Minnesota fans to go all the way to Phoenix for the … Guaranteed Rate Bowl?! What! And then for the fans in Morgantown, it kicks off at 10:15 ET, meaning you could be up until nearly 2:00 a.m. watching this match up. What a brutal draw. But as always, getting to check out a glimpse of what's to come in 2022 is always fun. Plus, if you do make the trip, Phoenix in late December certainly beats Morgantown.