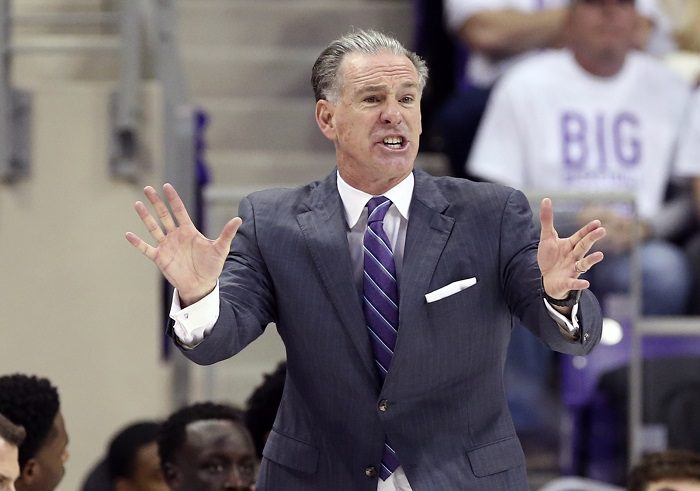 TCU announced that it has canceled its game with Texas Southern due to COVID-19 issues within the Horned Frogs' men's basketball program.
TCU announced the cancellation in a release on Monday. TCU was supposed to play Texas Southern on Wednesday.
The Horned Frogs (10-1) noted in the release that their program is on an indefinite pause. The release made no mention of TCU's Jan. 1 Big 12 opener at Kansas.
But, Drew Davison of the Fort Worth Star-Telegram, who covers TCU, reported that his source noted that Saturday's game would be postponed.
Shortly after Davison's posted report, TCU, Kansas and the Big 12 confirmed that the Jan. 1 Big 12 opener between the two teams would be postponed.
Also on Monday, the West Virginia women's program announced it was canceling its Wednesday game with Maryland-Eastern Shore due to COVID-19 issues at UMES.
Earlier on Monday, Oklahoma State and Kansas announced that it would postpone its Jan. 1 Big 13 opener to Jan. 13 due to COVID-19 issues at Oklahoma State.
The Oklahoma State women's program is also battling COVID, which has forced the cancellation of its last two non-conference games. The Cowgirls are set to open with Texas on Sunday. The Texas Tech women's program is also battling COVID-19 and has cancelled its final non-conference game.
Big 12 return to play rules were amended last week to allow teams to play if they have six scholarship players and one countable coach available for a game. So, even if there are COVID issues within a program, if enough players are eligible to play, the game should be played. In addition, games will be ruled no-contests and every attempt will be made to reschedule. The Big 12 has not, to this point, announced new rules related to COVID-19 isolation.
You can find Matthew Postins on Twitter @PostinsPostcard.
**Want to win a $20 gift card? Go sign up here and join our conversation! The best poster each week wins a gift card to your favorite establishment!**