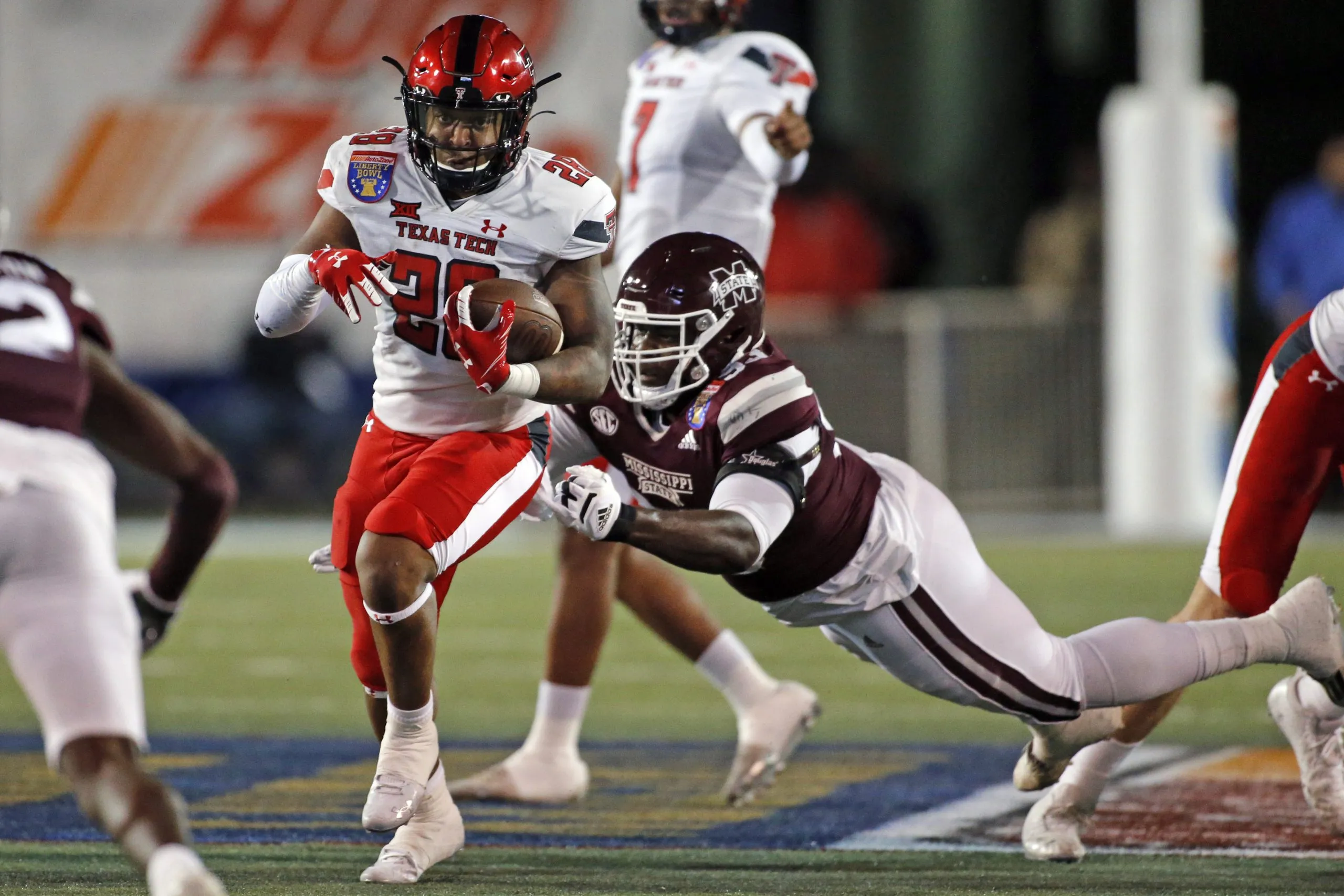 Bowl season is finally upon us in Big 12 country and what better way to kick off the conference bowl season than a good Big 12/SEC matchup. If that isn't enough to get you excited how about the game we had for the Liberty Bowl that featured Texas Tech going head-to-head with former head coach Mike Leach? It doesn't get much better than that and here are my five thoughts on Texas Tech's big Liberty Bowl win over Mississippi State.
1. The Run Game Was Working
By no means was Texas Tech's rushing attack unstoppable this season. The Red Raiders averaged 150.7 rushing yards per game this season and they were able to run all over Mississippi State's defense on Tuesday night. Tech ran for a whopping 260 yards against a Bulldogs defense that was allowing just 101.2 yards and had the third best run defense in the SEC. Tahj Brooks and SaRodorick Thompson led the way for the Red Raiders and both players averaged over five yards per carry. I also must give credit to the Tech offensive line for paving the way.
2. How About that Texas Tech Defense?
I have been very open about my issues with Texas Tech defensive coordinator Keith Patterson over the years. However, tonight he made me shut my mouth because his defense played lights out against a good Mississippi State offense. They got some pressure on quarterback Will Rodgers and were able to get some turnovers as well. Unbelievably Texas Tech held a Mike Leach coached offense to their lowest point total of the entire season as they held them to just seven points. Only one other team this season was able to hold Mississippi State's offense to under twenty points this year which was Alabama.
3. Donovan Smith Showed Promise
Smith has had his ups and downs this season, but I thought he played a clean game in the Liberty Bowl. He felt his way through the first half and there were plenty of times where got pressured. However, in the second half he came out throwing the ball downfield and it worked. On Tech's second drive of the third quarter, Donovan led the offense to an incredible 95-yard touchdown drive in just four plays. I know Tyler Shough will be the guy next year, but it will be interesting to see Donovan develop in spring ball and throughout the offseason.
4. Thank You Sonny Cumbie
It won't be talked about enough because he will be the new head coach at Louisiana Tech next year but give credit to Sonny Cumbie and this staff for getting these players ready. There could have easily been a letdown in a bowl game like this especially when your head coach gets fired but Sonny had this team ready from the start and they absolutely dominated for four quarters. Thanks to Sonny and his players, Texas Tech just won their first bowl game since the 2013 Holiday Bowl.
5. It Just Means More
I have no idea what rock Paul Finebaum is hiding under right now because the SEC is now 0-4 in bowl games. Texas Tech just crushed Mike Leach as if Leach owed them money instead of the other way around. Of course, it's always fun to hear the excuses coming out of SEC country about how these teams didn't want to be there but you already know that excuse doesn't fly here. Don't look now but the new look Big 12 is 3-0 against the SEC this bowl season as Houston, UCF, and Texas Tech now have bowl wins over SEC opponents.